Director, External Relations for Talent Programs, Discover Partners Institute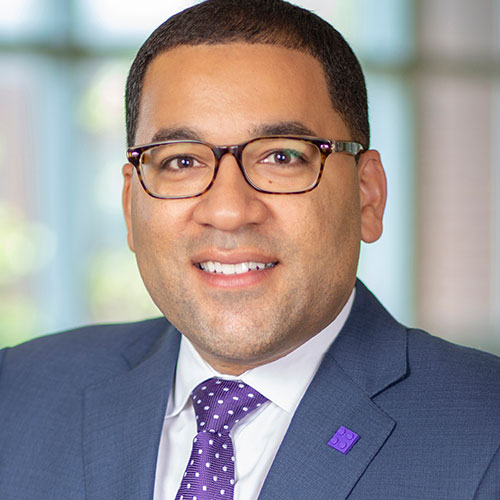 Eric Lugo currently serves as Director of External Relations for Talent Programs at Discover Partners Institute, leading efforts to build partnerships with key systems, corporate, community and civic organizations in scaling efforts to support and develop technology talent across the city, region, and state. Prior to DPI, Eric served as Executive Vice Chancellor and Chief of Staff at City Colleges of Chicago. In this capacity, he oversaw advancement, community and legislative affairs, economic and workforce innovation, institutional branding and strategic marketing, and special initiatives. Eric played a leadership role in securing over $30 million in new private and public resources for innovative initiatives, including expanding scholarship distribution by 300%, launching a 5-year strategic plan with Chicago Public Schools; scaling work-based learning and apprentice opportunities with the Chicago Apprenticeship Network; building new credentialing programs to meet industry demand with leading technology companies; launching the Fresh Start Debt Forgiveness program; and providing critical emergency supports for students in crisis.
In 2015, Eric launched Conciencia Ventures LLC, an innovative practice with a mission to connect entrepreneurial and creative strategy to the social impact sector. He previously held the role of Vice President in Global Philanthropy at JPMorgan Chase & Co., where he was responsible for the local implementation and communication of the global philanthropic strategy in Illinois and Minnesota. In this capacity, Eric led activities in three core areas – workforce readiness, financial capability, and small business development. Eric additionally played a leadership role in designing and launching the firm's signature global workforce initiative, New Skills at Work. Prior to JPMorgan Chase, Eric was the Senior Development Officer at Instituto del Progreso Latino, a leading workforce development, education, and civic organization, where he played a transformative role in the institution's growth.
Eric is a member of the Chicago Council at the United Way of Metro Chicago, as well as serves on the Board of Directors of the Chicago Learning Exchange and the Latino Policy Forum. In 2018, he was presented the Damen Award by Loyola University Chicago - Quinlan School of Business which recognizes alumni who have shown exemplary leadership in the community, accomplishments in industry, and service to others. He is a 2018 Pahara NextGen Fellow. In 2017, he was selected by the BMW Foundation in partnership with the Chicago Council on Global Affairs - Transatlantic Core Group to participate in the Connected Cities immigrant integration exchange in Hamburg, Germany. In 2015, Eric was selected for the prestigious Marshall Memorial Fellowship, the German Marshall Fund's flagship leadership development program. He is a 2016 Inaugural Hispanics in Philanthropy NextGen Fellow and a member of the 2012 Inaugural Class of the Edgar Fellowship, developed by former Governor Jim Edgar in conjunction with the University of Illinois at Urbana-Champaign – Institute for Government and Public Affairs. Eric received his Bachelor's Degree in Anthropology and an interdisciplinary minor in Latina/o Studies from the University of Illinois at Urbana-Champaign, and earned an MBA and MSIMC from Loyola University Chicago, Quinlan School of Business. He currently resides in Hermosa, on Chicago's Northwest side with his partner Teresa and daughter Teddy.