A Keynote by Charles Adler, Kickstarter Co-founder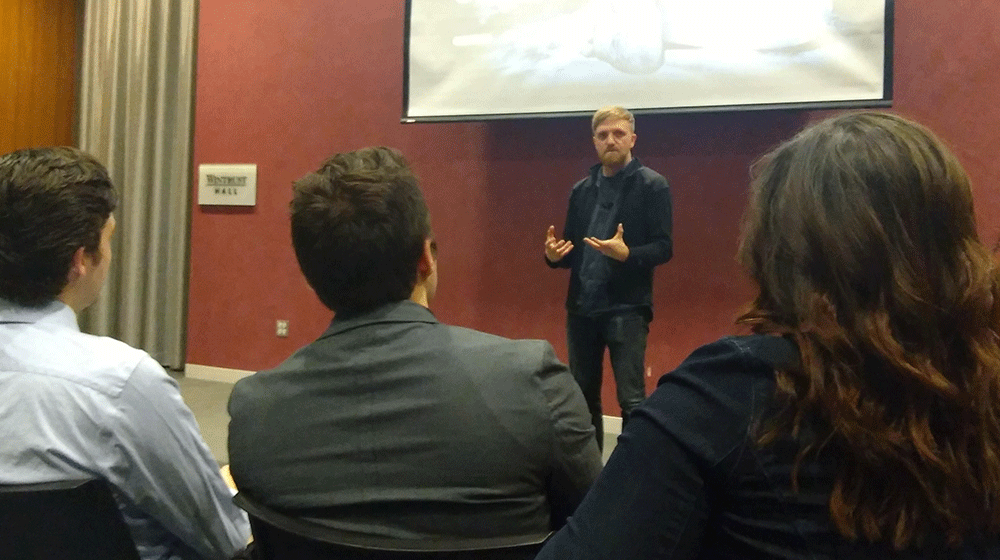 The Baumhart Center recently paired with Loyola Limited to host social entrepreneur Charles Adler. Adler is the co-founder of Kickstarter, which has raised over $2 billion from over 6.4 million people for over 75,000 successful entrepreneurial projects since 2009. When welcoming Adler to the podium, Baumhart Center's Founding Director Seth Green introduced him as "the essence of social business leadership"; Adler lived up to this title.
Adler began his address by offering a brief background about his early-days as a webmaster and designer. Although his title sounded creative, he recalled feeling like nothing more than "a pawn in a financial game" as he noticed how "industrialized" jobs, people and creativity had become. After spending his days in a rigid office environment, he would spend evenings at clubs with poets, painters and photographers with views similar to his own. He felt that this underground, anti-establishment culture was far more vibrant and exciting, but noticed a struggle to get its ideas and products out to the market. The desire to enable anyone to put their work out into the world is what ultimately led to the founding of Kickstarter.
Kickstarter was created to serve as a platform where entrepreneurs can explain their ideas to an online audience. If members of that audience are intrigued by an idea, they pledge their support. Over the last nine years, this public benefit corporation has helped creative-minds find funding and support for their original projects – ranging from millions of dollars to as little as $35. The idea, Adler explained, is to "give [aspiring creators] courage to take risks entrepreneurially" instead of feeling bound to centralized production. This has led to the creation of 300,000 new jobs, 9,000 new companies/non-profit, and 5.3 billion dollars in economic impact. Adler explained that his favorite part about Kickstarter is the sense of community. "Every one of those dollars pledged is an expression of something else," he explained, "an act of love, of genuinely wanting to bring something new into the world."
As a true leader in cutting-edge entrepreneurship, Adler could not sit still for long. After the success of Kickstarter took off, he began thinking about other phases in the creative process— specifically the earliest planning stages. He felt troubled by the idea of "rich, creative, and cultural ideas" becoming abandoned as artists lost their access to top-of-the-line equipment after graduating from school. This tension led Adler to found his second creative network, Lost Arts. The Lost Arts community provides spaces to design, prototype and build new ideas ranging from furniture to fashion and art. In the same fashion as Kickstarter, Lost Arts' goal is to empower creative community.
While wrapping up his presentation, Adler explained to the audience that he does not believe the world is black or white, but rather a shade of grey. To him, it does not have to be either philanthropy or capitalism because it can be both. He described his inspiration by coining the term "philo-capitalism." This combination of two very different ideas allows for the true maximization of profit by making use of creative idea's for how to increase the overall well-being and excitement within a community. He reminded the students in the audience that they must ask questions that have never been asked before in order to keep creating a better world. When it comes to being an entrepreneur, "there's no right or wrong way to do it," he asserted, "just do it."