Business Leaders Share Strategies for Social Responsibility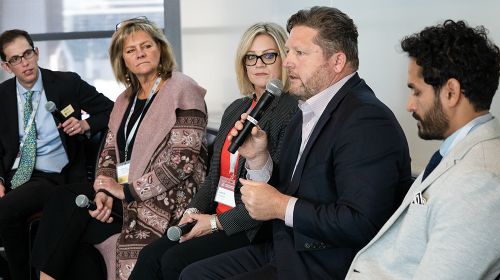 The Loyola Business Leadership Hub's Solutions Summit brought together more than 150 leaders to explore a wide range of business topics. Speakers included leaders of multinational companies, a professional sports team, corporate foundations, and nonprofit organizations. Topics ranged from business transformation to block chain to developing leaders.
As part of the Summit, the Baumhart Center hosted a panel titled, "Cross-Sectoral Partnerships that Enhance Your Business and Community Impact." The panel featured three business leaders and one nonprofit executive: Laura Freveletti, Senior Program Officer of the Allstate Foundation; Rosemary Maztl, Vice President of ITW; Matthew Summy, Regional Vice President, External Affairs, Comcast; and Imran Khan, CEO and Co-Founder of Embarc.
According to the panelist, these partnerships are mutually beneficial for nonprofits and for-profits alike. The best partnerships have shared visions and complementary assets, as was the case for the panelists. Each panelist shared their company's approach:
ITW has partnered with Noble Charter Schools to establish the ITW David Speer Academy. Serving 1,100 students, the Speer Academy develops core competencies in STEM and aims to instill values and good moral character. With this partnership, ITW is building tomorrow's workforce at a time when many family-sustaining-wage roles in the manufacturing industry remain unfilled.

The Allstate Foundation has two goals: to have a presence in their community and to address pervasive issues that their customers find most important. To achieve these goals, they work with a wide array of nonprofits, including WE.org, to promote the development of social and emotional learning, to encourage safe driving among teens, and to end domestic violence. This work leads to an enhanced awareness of the insurance company based on genuine philanthropic action.

Comcast and Embarc work together to provide Chicago students with transformational experiential learning and to close the digital divide by making sure everyone has access to the Internet and that they know how to use it. Embarc has extraordinary relationships with youth and families and Comcast has a deep commitment to expanding opportunity and connecting all families to the internet. Together, they are ensuring families have the tools to thrive.