Harnessing the power of social business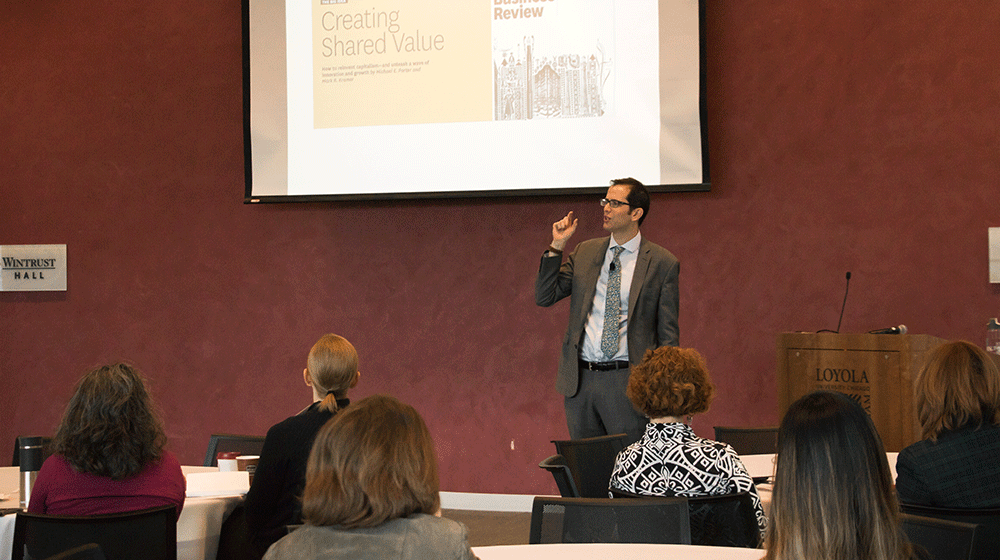 More than 75 Chicago leaders gathered Wednesday, January 17 in Loyola's Schreiber Center to discuss how to implement social business strategies in their organizations and companies.
The event, hosted by Wintrust, featured Seth Green, Founding Director of Loyola's Baumhart Center for Social Enterprise and Responsibility. Green described social business as "uniting social purpose and business strategy to advance the greater good."
Social business accelerating across sectors
Green explained how corporations, entrepreneurial ventures, nonprofits, and governments increasingly leverage the power of social business.
Corporations, for example, have increased social responsibility investments and reoriented core business strategies around co-creating value for shareholders and society. "More than ever," Green said, "businesses are creating shared value by identifying long-term investment opportunities where they can build a competitive advantage and positively impact society at the same time."
Green also noted the growth of the social enterprise sector, with 2,297 B-corporations operating in 50 countries across 130 industries. The growth of impact investing has been an impetus for this rise.
"We know there are businesses that can make more impact," contributed William Towns, Executive Director of Benefit Chicago, a $100 million impact investment fund. "Social enterprise investing is a new source of capital for these ventures."
Another cause for the rise of social enterprises, Green explained, is that many entrepreneurs, such as the founders of Grubhub, Medicity, and Groupon, have pursued "social sequels" to their first entrepreneurial success.
"We're seeing, with the private equity movement, people are selling their entrepreneurial companies earlier," Green said. "After their success, it's almost a natural for them to want to apply their entrepreneurial talents to social good."
Social business is also rising in the nonprofit and government sectors, with social and public sector agencies increasingly applying business acumen, marketing models, and measurement tools to scale their impact.
How to integrate business thinking into nonprofits
Attendees had the opportunity to discuss anticipated challenges of social business and learn from the experiences of others, especially those applying business strategies in nonprofit settings.
Jack Crowe, Executive Director of Year Up Chicago and former COO of the Cristo Rey Network, shared how he used business strategy to drive social impact. Crowe explained how these organizations "use the market to solve a social ill" by placing low-income students in entry level jobs.
Brenda Swartz, President and CEO of Concordia Place, offered advice for nonprofits stepping into the social enterprise world.
"Make sure the mission is not getting diluted," Swartz said.
Green advised attendees to measure and evaluate their social impact outcomes and encouraged them to embrace the potential of social capital investments. "There's a new world of financing emerging for a new model of social impact," Green said. "Leveraging this growing social business movement presents a critical opportunity for you to grow your impact. Embrace it."