Executives explore strategies for collective impact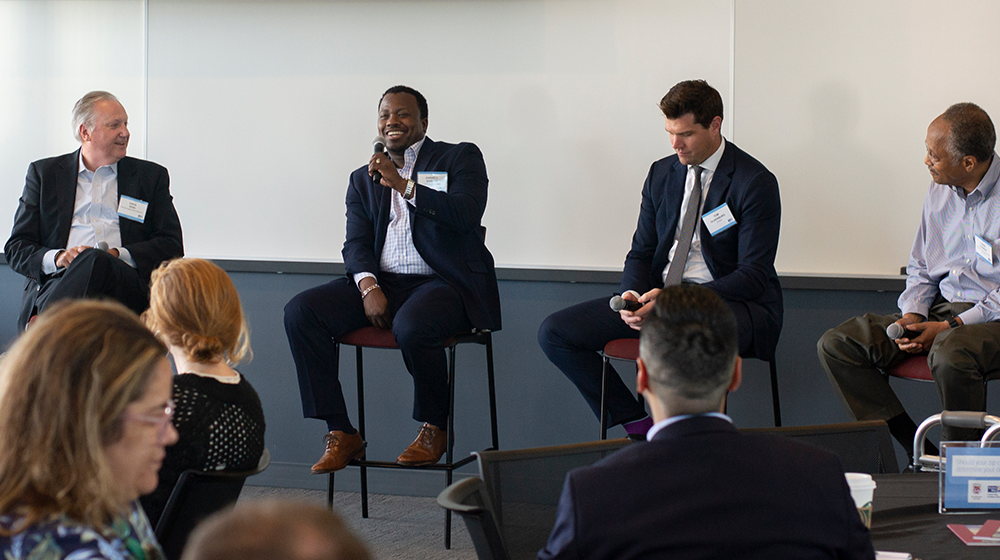 By Erin Lippert, Student Reporter
Should your zip code determine your destiny? This was the question posed by the United Way of Metro Chicago at their "Collective Impact Breakfast," on July 11, 2019.
Obviously, no, a five-digit number should not be clairvoyant, but sometimes it seems to be. From 60626 in Rogers Park to 60620 in Roseland to every number in between, opportunity is often unevenly distributed in Chicago. However, this is a reality that is beginning to change due to the incredible work of local leaders and their financial partners.
The "Collective Impact Breakfast," co-hosted by the Baumhart Center, brought together over seventy-five cross-sectoral leaders from different Chicago neighborhoods, corporations, and foundations, and featured a panel of leaders and investors from the revitalized communities of Austin and Pullman.
Panelists Darnell Shields of Austin Coming Together (ACT), Craig Howard of the MacArthur Foundation, David Doig of Chicago Neighborhood Initiatives, and Thomas Oldenburg of US Bank shared the progress they have made so far.
In 2018, ACT received $1 million from the MacArthur Foundation through its Chicago Commitment grant program. As described on the foundation's website, this grantmaking program was "designed with the priorities of Chicagoans in mind—taking heed of what residents and leaders believe are the most urgent concerns and promising solutions." Speaking on how to ensure concerns are addressed and solutions are effective, Craig Howard, internal advisor on community and economic development, stressed the importance of investing in the "scaffolding" of the neighborhoods: "Invest in the leaders, the influencers that hold the community together." ACT is the scaffolding of the Austin neighborhood.
Beginning as a small group of community leaders, ACT has grown to include over 400 residents and community stakeholders dedicated to being "advocates for unity, commitment, transparency, collaboration, and action" in order to bring about "systemic change" in Austin. After residents shared their needs and priorities at three "Community Summits," ACT and its executive director, Darnell Shields, created the Quality of Life Plan. The plan has seven focus areas, including education and public safety, and over eighty action steps to be completed over the course of five years.
About twenty miles southeast of Austin is the neighborhood of Pullman. After the steel and rail manufacturing industries left, Pullman was on track to become one of Chicago's largest food deserts and had an unemployment rate creeping toward 30 percent. But Chicago Neighborhood Initiatives (CNI) and its president, David Doig, were determined to work with this historical community to make a change. After attending over sixty community meetings, Doig and Pullman residents developed a revitalization plan with four key pillars: job creation, food security, affordable housing, and quality indoor recreational space. According to CNI's website, the implementation of this plan has led to 1,100 new jobs and attracted over $225 million in investments. One of these investors is US Bank.
Park National Bank invested in Pullman's revitalization plan until it was acquired by US Bank in 2009, but US Bank continued the direct community investment. Thomas Oldenburg, vice president of business development of US Bank's Community Development team, describes community development as a "conscious effort" and US Bank is "in it for the long haul . . . Community development financing will always be impacted by the ebbs and flows of the greater economy. Partnerships carry a lot of this weight, and neighborhood revitalization takes decades. Without trust in these partnerships, you won't survive."
Luckily, Oldenburg, Doig, Shields, and Howard have trust in their respective partnerships and, as they look toward the future of their work, they pose compelling new questions for the Chicago community:
How do we replicate the impact made in these neighborhoods? How do we do more?