Executives gather to discuss "Good Business"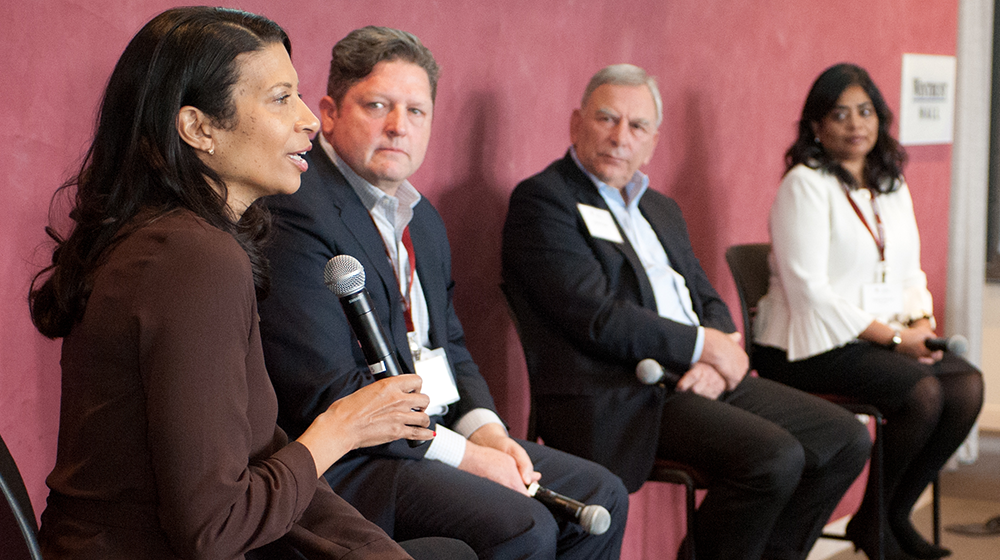 By Erin Lippert, Student Reporter
The room was filled to capacity at the Baumhart Center's Good Business Breakfast on November 4, as executives learned about the social impact being pioneered by Chicago businesses.
Power of neighborhood-based efforts
To start the morning off, Chicago's new commissioner of planning and development, Maurice Cox, called for everyone to seize the moment.
"We are at a historic pivot for the city," he said. "We have Mayor Lori Lightfoot, who is working for equity in a city where genius is equally distributed, but opportunity is not."
Cox pointed to the power of neighborhood-based efforts to assist in Mayor Lightfoot's work. He argued that it is here that the "soul of the city" resides, but where the "power of opportunity" has yet to be unleashed.
"There is enormous opportunity for entrepreneurs and business leaders, but it is going to take a sustained level of alignment to make this renaissance happen," he said.
Supporting the renaissance of Chicago
Seth Green of the Baumhart Center then moderated a discussion with four panelists who are dedicated to supporting this renaissance in the neighborhoods of Chicago:
Nicole Johnson-Scales, SVP and Head of Community Development, Fifth Third Bank
Matthew Summy, Vice President of External Affairs, Comcast
Pallavi Verma, Senior Managing Director-U.S. Midwest, Accenture
David Vitale, Former Chairman, Urban Partnership Bank, and Former President, Chicago Board of Education
Each shared what they are doing to empower Chicago and why they are doing it.
Nicole Johnson-Scales and Fifth Third Bank
"Fifth Third's corporate social responsibility strategies were only going to be successful if they aligned with Fifth Third's business strategies and leveraged the bank's resources," said Johnson-Scales. Fifth Third Bank believes that the best way to leverage its resources is by helping bridge the resource gaps in the neighborhoods. They did so by supporting small businesses and by encouraging other banks to follow suit. "We are better together…the need is so great that there is no competition," she said.
Matthew Summy and Comcast
Comcast uses the internet to connect and empower people and uses the "power of their spend" to vitalize communities. While nearly all of Chicago is covered by Xfinity, many people still lack access to the internet and to the computer skills to harness the power of the internet. Comcast was determined to remove both barriers. "If we, as the largest internet provider, were not going to step up," Summy explained, "no one was." Indeed, Comcast's Internet Essentials program has connected 300,000 low-income Chicagoans to the internet, and Comcast has built strategic partnerships with the Chicago Public Library and nonprofits to help Chicagoans develop internet and computing skills.
Pallavi Verma and Accenture
Accenture is embracing a culture of "responsible business," said Verma. As a corporate citizen, Accenture is always looking for ways to help innovate for society and to leverage people and technology to improve the world. One of Accenture's main priorities is to reskill those who have been disrupted by technology. By partnering with organizations such as the Chicago Apprentice Network and City Colleges of Chicago, they work to provide opportunities for everyone and have pledged to double their Chicago apprenticeship program to 180 apprentices by 2022. Verma and her colleagues always ask, "How do we create an inclusive, sustainable environment?" One of their current goals is that by 2025, 50 percent of their global workforce will be women.
David Vitale and Urban Partnership Bank
Vitale had had a long and distinguished career in banking when, in 2003, Mayor Richard M. Daley asked him to be the chief administrator of Chicago Public Schools. In this role, Vitale revitalized the system by reorganizing the resource distribution process, providing performance incentives, and decentralizing the schools. These changes ultimately shaped the way that he thought about banking and, as executive chair of Urban Partnership Bank from 2010 through early 2019, he focused on how finance could be harnessed to expand capital and, ultimately, opportunity in neighborhoods.
Event photos
View photos from the Good Business Breakfast in the gallery below or in Quinlan's Flickr album.
Social media
See what event attendees and Quinlan School of Business were posting during the event.
Learn more