Donor accelerates student learning and social impact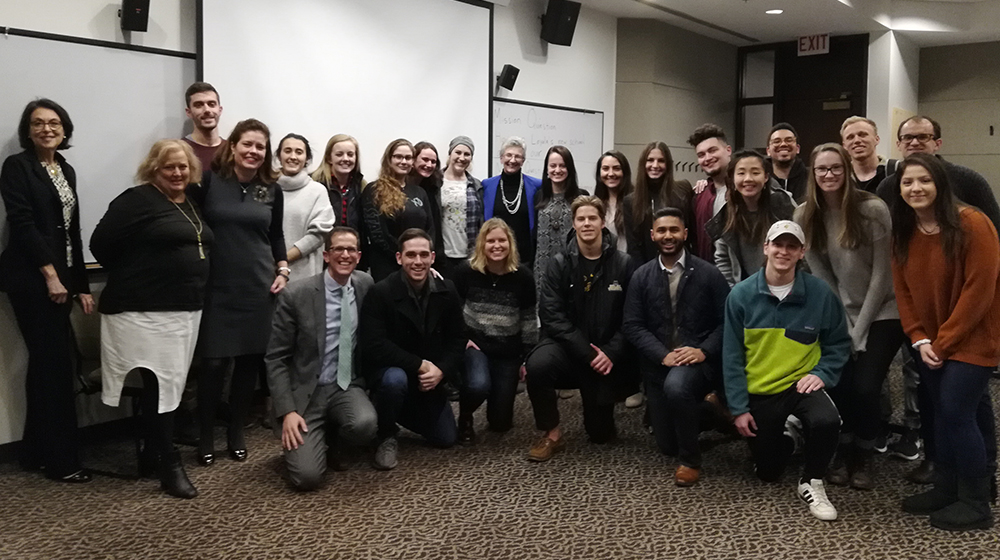 By Brittany Grosser-Basile, Student Reporter
Students in Loyola's course on Managing Nonprofit Organizations are asked to serve as fundraising consultants to nonprofit clients. Along the way, students develop a "Theory of Change," draft a grant proposal, and finish the semester with a fundraising pitch. This year's class became all the more rewarding thanks to generous gifts from the donor-advised fund of Ruthellyn and Ron Musil.
The Musils were inspired to give after Ruthellyn, who is a Trustee of Loyola University Chicago and a Board Member of the Robert R. McCormick Foundation, spent an afternoon serving on a "mock grantmaking panel" where she heard the students' fundraising pitches. She was so impressed by the students and the nonprofit clients they served that her family foundation decided to make a gift to each organizational partner. Inspired by the Musils' generosity, the McCormick Foundation matched the Musils' gift two-to-one.
"Everyone in the class clearly was engaged with each of their nonprofits," Musil said. "It was obviously much more than just a casual assignment; students rolled up their sleeves and got involved. They saw first-hand how the nonprofits operate and what the challenges are in real life. I found the interaction extraordinary and the professionalism with which the class was organized outstanding."
Five organizations participated in the class and benefited from the students' hard work and the Musils' philanthropy: Admiral on the Lake, In Her Shoes Foundation, Mercy Home for Boys & Girls, Prismatic, and Top Box Foods.
"The mission of each non-profit was well-defined. Whether a small or larger organization, each focused clearly on needs within the Chicagoland community and presented creative ways to address specific issues," Musil said.
The donations were a great finale for a course that enriched students' knowledge about the social sector and fueled their passion for purpose-driven work.
"My group partnered with Prismatic," senior Hannah Puvalowski said. "Through the hands-on assignments for class, I felt as if I was making a meaningful contribution to the organization. As a senior, the course inspired me to seek mission-driven work in my future career path."