Leaders discuss integrating impact into business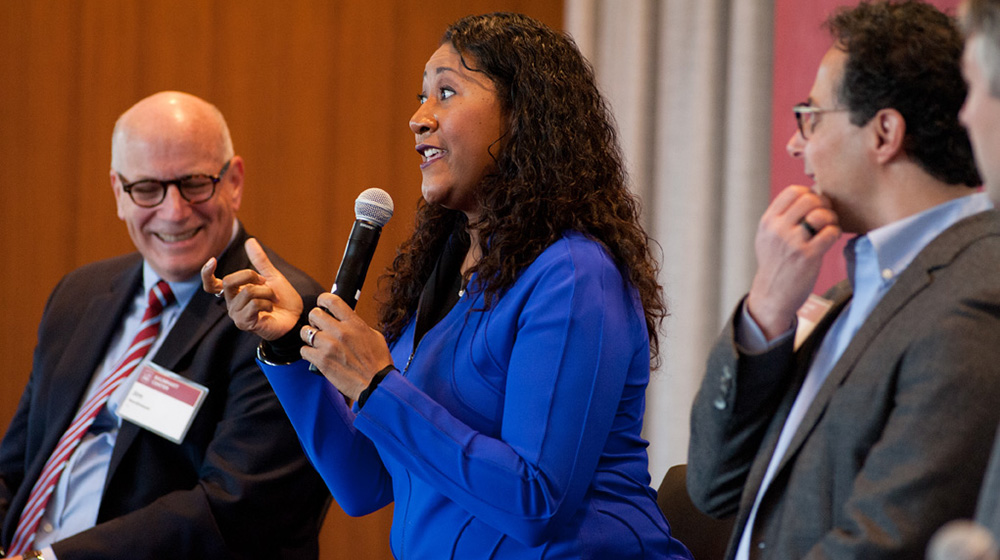 By Brittany Grosser-Basile | Student reporter
Chicagoland leaders gathered at Leading Business for Good to discuss how business can tackle social issues and how business schools can better equip students with the skills to do well and do good in their careers.
Bob Parkinson, chair of Loyola's Board of Trustees, began the Baumhart Center event by emphasizing "the potential that the business community in this country can play in addressing social issues."
The panel that followed, moderated by Jennifer Griffin, Raymond C. Baumhart, S.J. Professor of Business Ethics, consisted of four executives, each making a big impact in their industries:
Steve Collens, CEO of Matter
Mike Evans, Co-founder of GrubHub and Founder of Fixer
Dorri McWhorter, CEO of YWCA of Metropolitan Chicago
Jim Nordmeyer, Vice President of Global Sustainability of O-I
Key takeaways
Among many insightful remarks and suggestions, four key takeaways emerged from the event:
1. Be intentional and define success
Evans said, "Intentionality and the personal definition of success are critical." He recommended defining what success looks like at each stage of your life, including students defining educational success while they are in school.
He also argued that "impact businesses should have a higher than index return for whatever the index is for startups because the intentionality and the thoughtfulness of the founders outweighs any limitation in market scope."
Collens similarly spoke to the importance of being intentional. He said it is important to ask, "What do I have to do as the leader of this organization in order to make sure that everybody on the team understands how what they're doing every day relates to the larger mission?"
2. Overcome the inevitable tension
The panelists agreed that there will always be tension between business and social impact work. The tension can play out in large decisions, as well as in small, tactical decision-making such as word choice.
"It's a matter of asking the right questions, engaging in a dialogue, and understanding what the parties are looking for," Nordmeyer said. Organizations should seek to create a win-win situation for all parties.
3. Develop strategic partnerships
McWhorter spoke about how YWCA Chicago always looks at what partnerships they can develop that will support their mission. Their business integration strategy has led them to numerous successful partnerships.
For example, YWCA formed a partnership with the rideshare company Uber to support its mission to economically empower women. YWCA drove female driver recruitment in Chicago, encouraging women to earn money through the Uber platform. Chicago now has the highest percentage of female Uber drivers in an urban market.
According to McWhorter, YWCA looked beyond the surface and saw how the partnership could help their mission. They have since replicated this strategy across a number of industries.
4. Prepare students to do well and do good
The panel emphasized the importance of integrating impact and thinking critically. McWhorter said, "You're always making an impact," so it is important to teach students from day one to consider whether that impact is good or bad.
Event photos
View photos in the gallery below or on Quinlan's Flickr page.
Learn more