Leaders explore the latest trends in philanthropy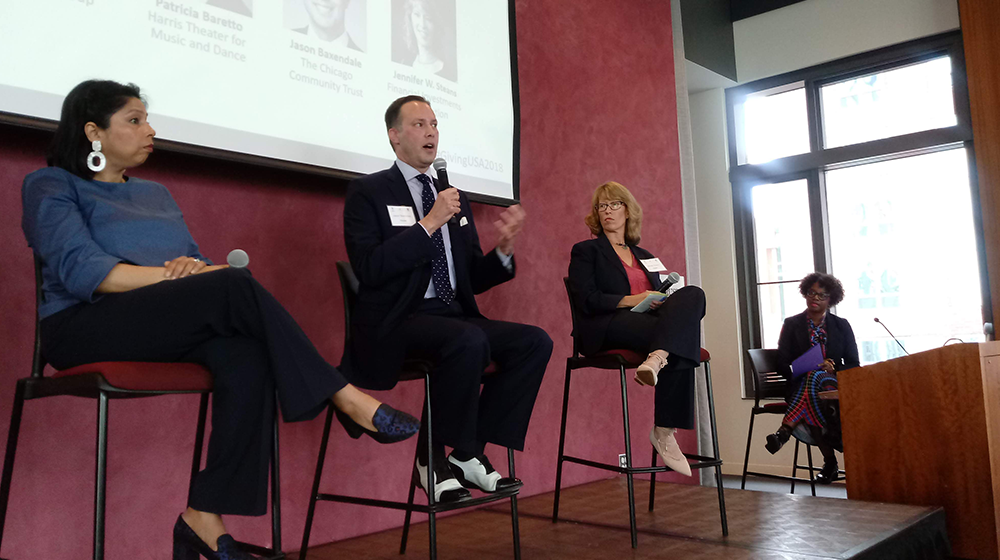 By Brittany Grosser-Basile | Student reporter
Nonprofit leaders from across Chicago filled Wintrust Hall in June for the wait-listed event As Good as It Gives: America's Philanthropy Today. The event, hosted by the Alford Group, Lipman Hearne, and the Baumhart Center, explored the climate of philanthropy in America today and the importance of storytelling in fundraising.
The event started with good news: philanthropy in the U.S. is growing, according to Giving USA 2018. The Alford Group's Sharon Tiknis and Diane Knoepke noted that an estimated $410.02 billion was given in 2017. This is a 3% increase from 2016, with inflation adjusted dollars. Also in 2017, the top 10 donors gave charitable gifts equaling $10.2 billion.
Megadonor archetypes
This led to the question: how do the philanthropic wealthy make their decisions? Lipman Hearne's Colleen O'Grady and Sara Stern began by looking through the personal statements of those who have made the Giving Pledge—an open invitation by Warren Buffett and Bill Gates to the world's billionaires to pledge half or more of their wealth to charities during their lifetime.
They then presented five megadonor archetypes, and suggested that understanding which archetype best characterizes an organization's donors can help fundraisers better understand and connect with their donors.
The event culminated with Brenda B. Asare, president and CEO of the Alford Group, moderating a discussion featuring the following three panelists:
Patricia Barretto, President & CEO, Joan W. and Irving B. Harris Theater for Music and Dance
Jason Baxendale, Chief Development Officer, The Chicago Community Trust
Jennifer W. Steans, President and CEO, Financial Investments Corporation
Key takeaways
During the discussion, three common themes appeared:
Listen to your donors and their motivations for giving
To understand donors, one must listen. Baxendale emphasized that the key to marrying "donor motivation and our mission is to listen." Steans later built off this point, saying "There's a broad array of motives that donors have, so you can channel your story by listening to their motives."
Be true to your organization and its mission
Barretto said that "our number one goal is the art of telling our stories and doing it succinctly." It is important to keep in mind that the story told needs to appeal to the donor, while authentically reflecting the core values of the organization. She continued, "At the end of the day, it is my responsibility to keep the mission."
Large or small, all gifts help organizations further their mission
An audience member posed a question of whether smaller donors leave when they hear about "mega gifts." Barretto responded by saying that it certainly can be a challenge because smaller donors "think their gift won't be as significant." But she emphasized that "gifts of all sizes are equally important, and we welcome all gifts."
Learn more