Leading social entrepreneur visits Quinlan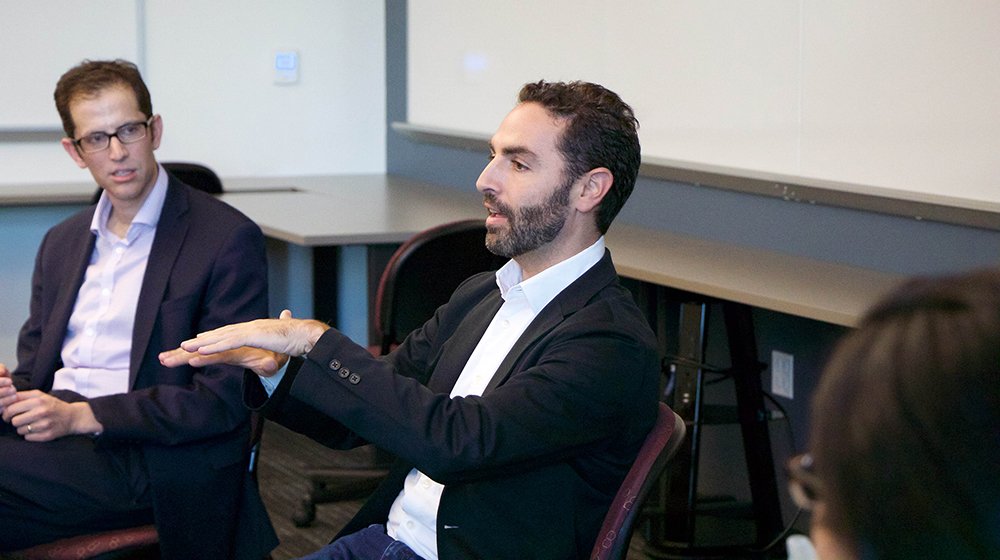 Students from across the Quinlan School of Business engaged in a lively and interactive dialogue with leading social entrepreneur Mark Hanis as part of a leadership conversation series hosted by the Baumhart Center.
Social Enterprise Journey
Hanis began the dialogue with students by sharing the highlights of his social enterprise journey, which originally started when he was a college student himself.
Hanis is the grandson of four Holocaust survivors and grew up hearing the mantra "never again." Then, during his senior year, the U.S. government formally recognized the genocide in Darfur, but took no clear actions to stop it. Hanis described sitting in his college cafeteria with friends, discussing the tragedy and ultimately deciding to take action to address it.
With his peers, Hanis co-founded United to End Genocide (originally Genocide Intervention Network and Save Darfur), a movement that mobilized nearly a million supporters behind ending genocide. As Hanis described it, "A lot of people discounted us because we were young and idealistic. We wanted to show that we could lead change and make a difference on these issues as young leaders."
After seven years leading the anti-genocide movement, Hanis went on to co-found Organ Alliance, an organization that saves lives by promoting organ donation, and the Beeck Center for Social Impact & Innovation at Georgetown University, a center that seeks to prepare leaders to drive social change at scale.
Mapping Civic Activism
Hanis's entrepreneurial journey is still underway and he asked students for their help with his current venture. Hanis is starting a new social enterprise called Action Map, which he described as "a centralized citizen-centric platform for easy and effective action across multiple issues."
Comparing the idea to a well-known travel website, Hanis called it "a Kayak for civic activism." Looking out at the audience as a focus group, Hanis sought input on the idea and wanted to know if and how students might use it to enhance their social change efforts.
Students Respond to the Conversation
Students described being both engaged and energized by the conversation.
"Having the opportunity to hear directly from someone like Mark Hanis, a true entrepreneur with a focus on creating social change, was more than inspiring," said Emily Nordquist, an MBA student at Quinlan. Nordquist went on to express her excitement for future conversations that will be organized by the Baumhart Center.
"I think events like this going forward can bring students together and provide a platform for discussing issues they care about and get to the meat of how to tackle them together."

Learn More
Baumhart Center for Social Enterprise and Responsibility →