Loyola students partner with social enterprises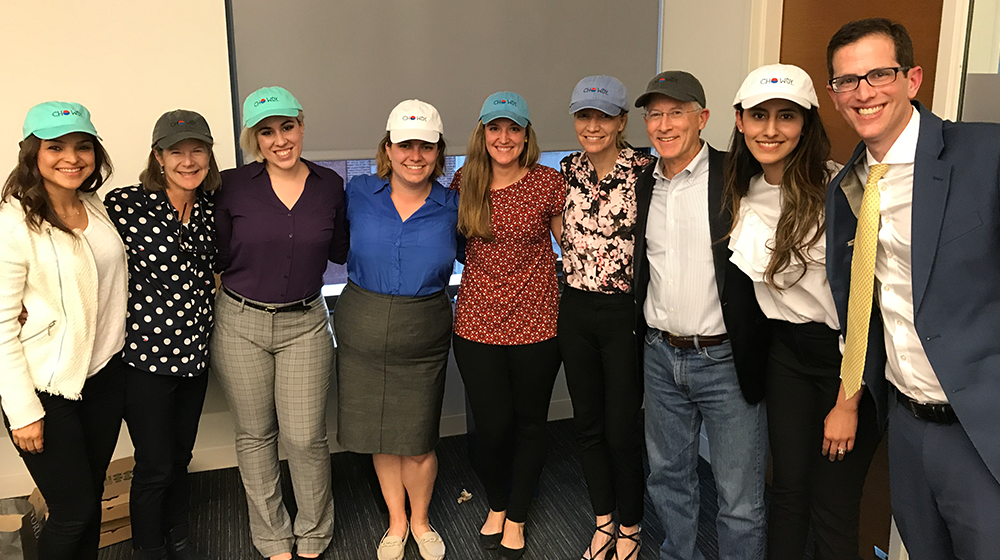 By Brittany Grosser-Basile | Student reporter
Students in Loyola's graduate course on social enterprise immersed themselves in real-world learning and impact this spring. The interdisciplinary course, supported by the Baumhart Center, built students' understanding of the growing social enterprise sector and challenged them to apply their knowledge on behalf of a social enterprise client.
One student team was assigned to work with Chowdy, a social enterprise that aims to destigmatize mental illness by fostering improvements in the way society approaches mental health.
Addressing mental illness through Chowdy
William Parkinson, or Willy P as his friends called him, created Chowdy in 2012 to help people with mental illness.
More than 60 million Americans experience mental illness every year, and approximately 25% of college students have some form of mental illness. Even with the treatment options that can lead to better health, there is still a stigma surrounding the issue and numerous other challenges.
William, who suffered from bipolar disorder, created the name Chowdy by combining the words "chill" and "rowdy," representing the lows and the highs in life. After William's passing, his parents, Andrew and Elizabeth Parkinson, and a family friend, Raymond Britt, worked together to launch the organization.
The social enterprise encourages people to find their Chowdy by seeking non-screen activities that bring joy to their lives, such as dancing, cooking, flying a kite, or walking on the beach.
"I live my Chowdy by being in the moment," Elizabeth Parkinson said. "I learned that when my son was sick. I learned that I couldn't control it, that worrying about it and stewing about it wasn't productive."
Building Chowdy's capacity
In the social enterprise course, a team of MBA and graduate social work students worked together to develop a conceptual framework and detailed social enterprise model for Chowdy.
Coming from different backgrounds, each student brought something unique to the table. Group member Taylor Sticha had experience working in nonprofits, so she was able to give perspective on how Chowdy's outreach and product sales could support existing nonprofit initiatives to address mental health. Other group members had strengths varying from marketing skills to experience in social work focused on young adults.
"Not only was the class a call to change our world, but we were also encouraged to think creatively and pull from all our backgrounds to envision such change," said group member Susan Antonini.
Chowdy finds its stride
With Loyola students' social enterprise strategy guidance now behind them, the Chowdy social enterprise is fully in motion. Chowdy is focusing on engaging people in the 15- to 29-year-old demographic, and they hope to destigmatize mental health while giving people an outlet to willingly tell their story to other people who have similar challenges.
Already, Chowdy trademarked their logo and began selling hats that feature the logo. They also hosted the "Chowdy Games" with family and friends. Ideas for the future of Chowdy, many of which were recommended by Loyola students, include sponsoring music festivals and running races, continuing to add new products, such as shirts and stickers, and hosting fun events that anyone can participate in.
Baumhart Center partners for impact
This was one of more than ten projects supported by the Baumhart Center that Loyola students worked on this year to help social enterprises and nonprofits needing business strategy support. Other clients ranged from an early childhood education center to a millennial-driven fundraising app. All of the projects immersed students in leveraging their business skills and social impact expertise in advancing the greater good.
"Learning about social enterprise is something that can be life changing for anyone in any career," Antonini said. "The class challenged us to think about how we could look at our careers, no matter what our fields, and how we could make them unique in the spirit of helping people who are marginalized."