Meet Seth Green, director of the Baumhart Center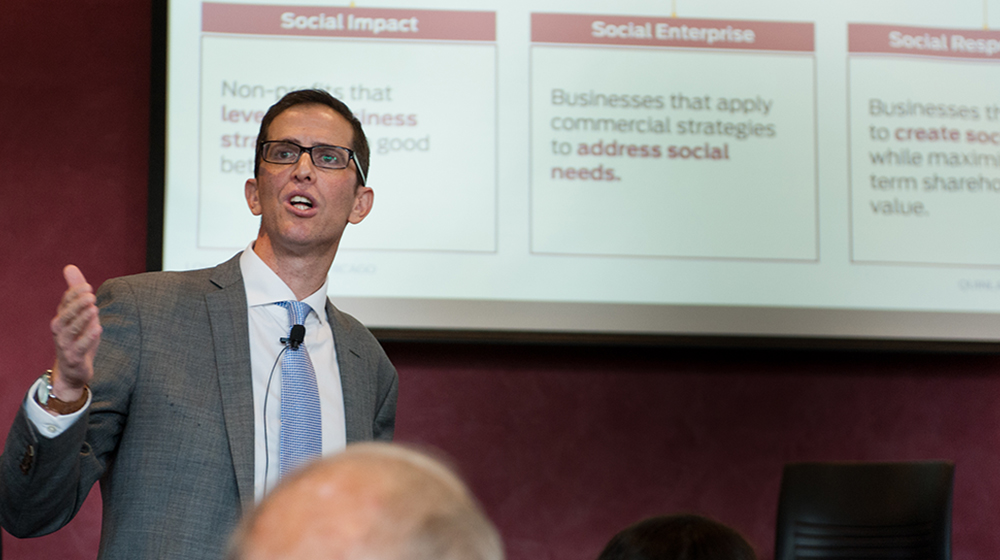 "To solve our most pressing social challenges, we need to harness the scale and insight of all the sectors of our economy, including business," says Seth Green, founding director of the Baumhart Center for Social Enterprise and Responsibility.
Green began directing the Baumhart Center in August 2017, after 15 years of leading institutions at the forefront of fighting poverty and expanding opportunity. The center is a member of the Loyola Business Leadership Hub housed in the Quinlan School of Business.
Here, Green talks about the Baumhart Center and his vision for creating a better world through business.
Tell me about your first 90 days as director.
Joining Loyola has been a thrilling experience. I've been deeply inspired by the Jesuit mission of our University and truly moved by the dedication of my colleagues.
I've spent my first 90 days here collaborating with faculty, students, corporate executives, and social entrepreneurs to develop our strategic plan. We've now completed the planning process, and we've built an ambitious vision to promote social business in Chicago and across the globe.
We've also used these first 90 days to pilot ideas, from hosting our first student dialogue with a social entrepreneur to organizing a learning breakfast for Chicago's foremost leaders. The level of interest and involvement from students and practitioners alike has exceeded my highest expectations and been both energizing and affirming.
What is your vision for the Baumhart Center?
The Baumhart Center serves the goals of Loyola University Chicago's Plan 2020, which is to build a more humane and sustainable world. Our specific mission is to promote social business in the pursuit of that more just world.
Through research, education, and engagement, we seek to prepare students and leaders to tackle society's most pressing challenges. Ultimately, my goal as the founding director is to drive measurable impact on issues such as poverty and climate change through our partnerships, thought leadership, and capacity-building efforts.
What is social business?
Social business is the unification of social purpose and business strategy to advance the greater good. Our center is exploring three distinct dimensions:
Social impact: Nonprofits that leverage business strategy to do good better. Think, for example, of Feeding America applying supply chain strategy to recover and distribute food. It's feeding the hungry (rather than feeding shareholders), but it's using core business insights all the same.
Social enterprise: Businesses that apply commercial strategies to address social needs. Think, for example, of A Safe Haven's landscaping companies that are running a market-based business and providing jobs and training to give people an entry into the workforce.
Social responsibility: Businesses that seek to create social value while maximizing long-term shareholder value. Think, for example, of McDonald's recent commitment to source 100% of its coffee from sustainable sources by 2020, up from 37% today. Their commitment is improving their long-term business by ensuring they have access to high-quality, affordable coffee while transforming the industry to be dramatically more sustainable.
What is distinctive about the Baumhart Center?
Three things set us apart:
Interdisciplinary: Our approach at Baumhart – from who we are engaging to how we are thinking about social business – is interdisciplinary. We are leveraging the skills and knowledge of all academic disciplines, community stakeholders, and sectors of our economy. In a time where the highest-performing nonprofits and businesses are mixing social purpose and business strategy, thinking across disciplines and sectors has never been more important.
Practical: The Baumhart Center is forward-looking and solutions-oriented, applying our ideas in tangible ways that make a direct and measurable impact in our Chicagoland community and world. We believe in service to others and proactively seek opportunities to create social value for the greater good.
Mission-driven: Inspired by St. Ignatius's call to "go forth and set the world on fire," we go to the frontiers of thought, asking critical questions and exploring new ways of doing business. We also seek diverse perspectives, knowing that our ideas are stronger when they reflect the racial, ethnic, socioeconomic, religious, and gender diversity of our world.
What initiative are you particularly excited about?
This spring, thanks to a partnership between Quinlan and Loyola's School of Social Work, we will launch a new course on social enterprise that will bring together MSW (Masters in Social Work) and MBA students to think collaboratively about how to design social enterprises that can impact poverty here in Chicago.
The class is based on the belief that the best social ventures will understand the social context of poverty and the business strategy to scale solutions. We are excited for how this course can bring two essential sets of expertise – social work and business strategy – to address one of our society's most intractable challenges.
About the center
The Baumhart Center was named after Raymond C. Baumhart, S.J., a former Loyola president and one of the country's leading business ethics scholars. An anonymous $5 million gift helped launch the center.
Learn more
Seth Green's profile →
Baumhart Center website