Meet Baumhart Scholar Adam Shafer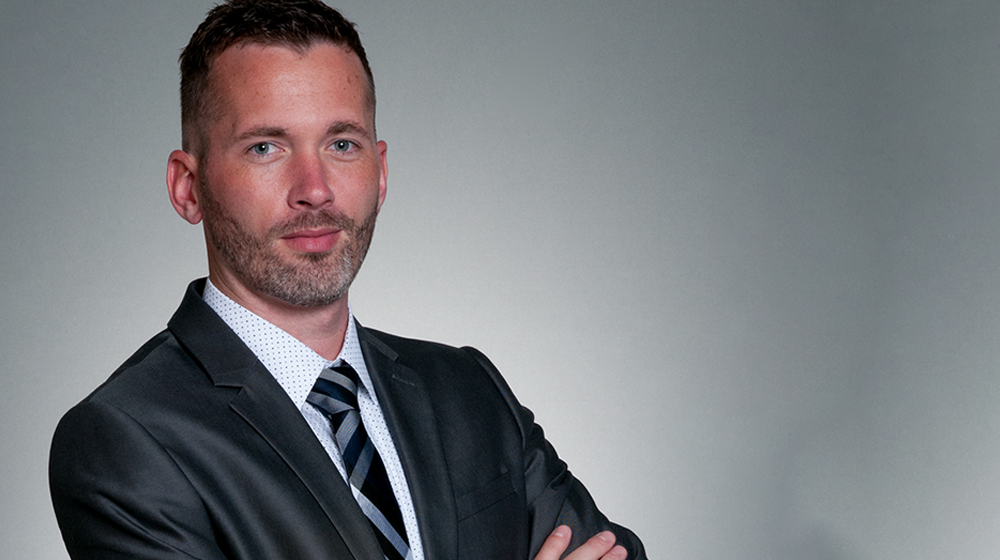 By Jaycie Weathers, Student Reporter
Adam is the Business Development Associate for BuzziSpace, a Belgian furniture company, where he brings his passion for building relationships and creating happy work environments to his position. With a background in teaching and nonprofit administration, Adam continues to find meaningful ways to impact people's lives day-to-day through his work in the private sector.
Baumhart Center: What drew you to the Baumhart Scholars program? What are you hoping to accomplish throughout your MBA experience?
Adam Shafer: Purpose drew me to the Baumhart Scholars MBA program. The program places a strong emphasis on purpose and profit, which is what I am looking for in the next phase of my career. Coming from a successful career in education and non-profit fundraising, I have always been a purpose-driven leader, but I wanted to build my business acumen. The Baumhart Scholars MBA aligned closely with what I have accomplished up to this point and will elevate the next steps in my career as I focus on the private sector, while still infusing purpose in my accomplishments.
BC: Within your organization, how are you promoting social business and social responsibility? What are your immediate goals and long-term visions for your company?
AS: The company I am working for, BuzziSpace, is a Belgian acoustic furniture and lighting company. The purpose of the company is to help create happy, healthy workspaces. Our products help to improve the acoustic environments in the workplace, common space and gathering space so that noise is not a negative, but is controlled and conducive to thought, creativity and social gathering. The purpose of BuzziSpace helps create atmospheres for workers to be better and do better in the workplace.

In terms of social responsibility, BuzziSpace is a sustainable-minded company. One of our main products, BuzziFelt, is 100% P.E.T. recycled plastic, recycling at least 90 plastic bottles for just one square meter of the felt. We also work to sustainably source materials such as wood and fabrics from companies with certified sustainable practices.

As a Business Development Associate, it is my task to share this social consciousness in meetings with our clients and prospective clients. The architecture and design industry is a leader in sustainability, thus highly attractive and important for the industry to learn about the social responsibility emphasis we maintain and encourage at BuzziSpace.
BC: What sparked your interest to be a social business leader?
AS: My career started in the classroom, teaching high school choir and drama for five years. I was fortunate to have a mentor during those years who encouraged me to further my depth and scope of understanding of the arts world. After receiving a Masters in Vocal Performance, I went into non-profit fundraising and marketing at a music school in Milwaukee, Wisconsin. Using my skills in music, education and strategy, I quickly took to the social business leader role. Working cross-departmentally with operations, education, the board of directors and leading the development and marketing department, I helped lead the turnaround of an historic yet struggling music school. Being a part of the team that led this turnaround was an honor and incredible personal growth opportunity. It was this experience that was the impetus to further my pursuit in social business and purpose+profit, which led to my interest in the Baumhart MBA Scholars program.
BC: Who's your role model and why? What values do they hold and how do you strive to emulate them?
AS: I cannot say I have one single role model, but have great respect and admiration for several people in my life. From family members to mentors to friends, I take inspiration from all those around me who are compassionate and motivated people. One of the best aspects of the Baumhart MBA Scholars program is the cohort aspect. We are an incredibly lucky group of 10 Scholars who admire, respect and challenge each other to be better and to take as much out of this program as possible. We keep each other motivated and focused on our course work and purpose.