Meet Baumhart Scholar Jennifer Hodges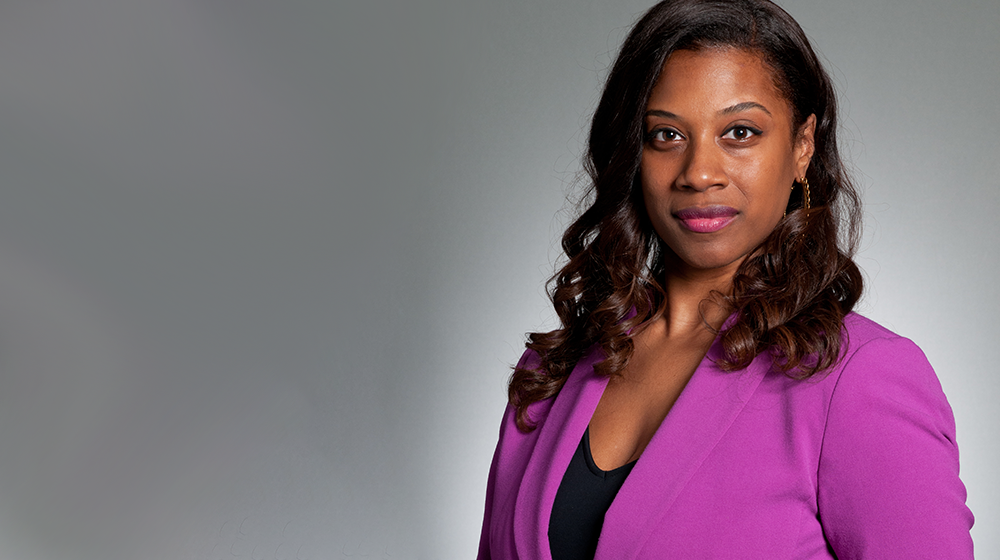 By Jaycie Weathers, Student Reporter
Jennifer is the Director of Whole Child Fund with KIPP Chicago. She brings together educators, families, policymakers, and community members to strategize around improving the holistic development of KIPP students, educators, and families. Outside of work, Jennifer shares her passion for art by educating youth about the fundamentals of acrylic painting and mixed media art. She also serves on the Phillip Murray Language Academy Local School Council and is a board member for Big Shoulders Fund, Calm Classroom, and Black Creativity Council.
Baumhart Center: What drew you to the Baumhart Scholars program? What are you hoping to accomplish throughout your MBA experience?
JH: I chose Loyola's Baumhart MBA because of the intentional integration of business principles and purpose driven leadership. I have navigated my personal life and career with purpose and creativity. I identified ways to learn business skills and mission driven skills by straddling two sectors (corporate and nonprofit). I was a finance major who painted, and wrote poetry in my spare time, who volunteered with nonprofits and helped identify strategies that would generate revenue. I felt like I was operating in two opposing worlds in most of my career. I was thrilled to learn about the Baumhart MBA program, because it offered the kind of education that is authentic to me and nurtures the necessary business skills with consciousness and purpose. They are not mutually exclusive now that the economic environment requires synergy in business and purpose.
My life goal is to elevate human potential. I will do that with the education from the Baumhart MBA coupled with my 13 years of professional experience. I will lead the implementation of lasting solutions and approaches to pervasive and emerging community challenges such as poverty and access to quality education. My vision is to create stable, holistically sound communities that utilize arts and culture as a platform to develop healthy communities and improve emotional intelligence in individuals who have experienced trauma. My vision of a strong community includes leveraging education, career pathways, affordable quality housing with an infusion of arts and culture to beautify neighborhoods and provide social and emotional outlets for the residents of the community.
Baumhart Center: Within your organization, how are you promoting social business and social responsibility? What are your immediate goals and long-term visions for your organization?
JH: I serve as the Director of the Whole Child Fund for KIPP Chicago. I was hired to lead the development of the Whole Child program. The Whole Child Fund is an innovative approach to education that couples rigorous education with the social and emotional support for our students and families. The seven priorities of Whole Child centers the social, economic, and emotional needs of students, parents and teachers. KIPP Chicago serves 3,000 students on the South and West Sides of Chicago. Our students are resilient and brilliant and through Whole Child, we are addressing solutions for families that experience food insecurities, health access, mental health, wellness and wellbeing. The goal of Whole Child is for students to live a life of choice.
BC: What sparked your interest to be a social business leader?
JH: In 2007, following undergrad graduation, I was offered a full-time position with Greenleaf Trust, a Wealth Management company in Kalamazoo, MI. Over the course of three years, I was promoted eventually working my way to the president's office. Working in the office of the president, I was privy to decisions about community development on the North Side (predominantly African American population) of Kalamazoo. Bill Johnston implemented strategies of success that improved the education gaps, wage gaps, economic mobility of the Kalamazoo (North Side and beyond). Witnessing his economic development inspired me and offered greater awareness of what I aspired to accomplish in my career.
BC: What has been your proudest achievement in your professional life?
JH: Achieving my undergraduate degree was one of my proudest moments because of the journey it took for me to achieve it. At the age of 11, I experienced the untimely death of my mother, was raised by my grandmother and mended my relationship with my estranged father. I attended Western Michigan University as an independent student working two part-time jobs as a full-time student majoring in Finance with a Real Estate emphasis. Following the first semester of sophomore year, my financial resources diminished. I returned to Detroit and over the course of 18 months, obtained a Michigan Real Estate License worked full-time retail positions and sold my original artwork in order to reconcile my tuition balance.
Graduation proved my resilience, commitment to education and perseverance through uncertainty. I returned with a renewed commitment to my education and a clear vision of elevating my social capital to become an influential and credible professional. I volunteered as a board member for non-profit organizations, served as a peer mentor, aligned myself with brilliant professionals, obtained mentors, built strong rapport with my professors and marketed my art business. As a result of my diligence, I was selected as a Greenleaf Trust Minorities in Finance Scholarship recipient, obtained an internship with Greenleaf Trust, and was then invited to a full-time position while I completed my bachelor's degree.
BC: Who's your role model and why? What values do they hold and how do you strive to emulate them?
JH: I have a list of powerful and talented leaders I admire both civic and corporate. However, the role model I feel most connected to is Malcolm X because of the manifestation of his character and his ability to elevate his life to greater purpose. Malcolm's evolution represents human resilience. He made mistakes in response to social injustices and personal disadvantages but used those experiences to tell the story of Black America. From hustler, to devout Muslim and national leader, on the quest for transformational spiritual evolution, Malcolm personified the relentless pursuit of truth and commitment to improving the African American community and economic power.
He was a virtuous leader with unshakable integrity, and I admire that he sacrificed security for truth and righteousness. Most leaders are born with economic or political advantages that offer an easier step into high profile leadership positions, but Malcolm's walk into leadership began with struggle and various forms of emotional and physical deprivation. Like Malcolm X, I learned to embrace my disadvantages and use them as building blocks to impact and inform change. My platform in no way compares to Malcolm's, however, I use my leadership and influence to create change for the next generation.
BC: If you could give your 18-year-old self a piece of career advice what would it be?
JH: You are worthy of the best life has to offer, but you must relentlessly pursue it. Trust yourself and believe you are capable. You can learn what you don't know, and the things you know are invaluable.