Rodriguez and Yagan encourage students to be bold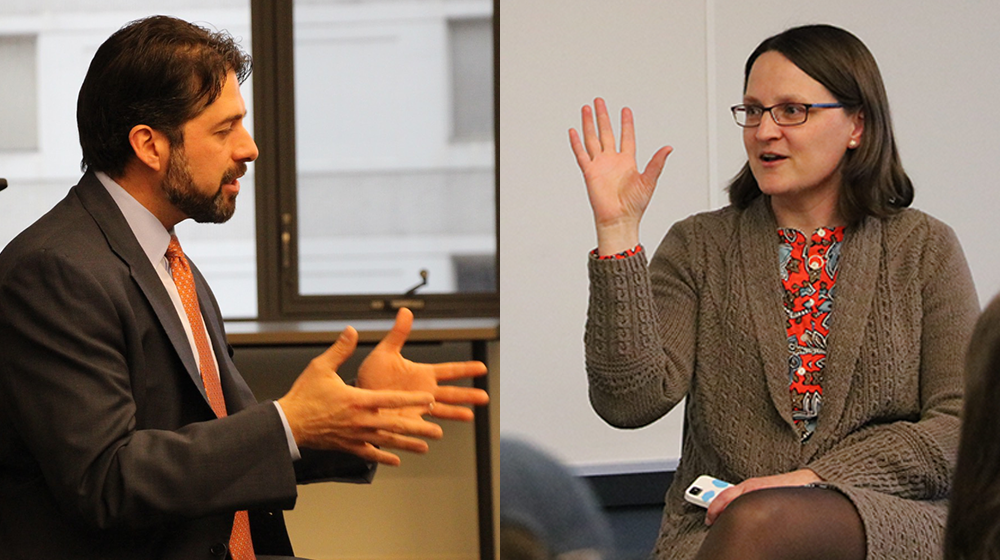 By Mary Ennis | Student reporter
The Baumhart Center's final Tyrell Conversations of the academic year took place in April and offered Loyola students a chance to converse first with Richard Rodriguez, CEO of Acero Schools, and then with Jessica Yagan, Managing Partner of Impact Engine. Both of these high-impact Chicago leaders have led across a wide range of disciplines; drawing from their individual experiences, they offered valuable advice to students about what distinguishes an impactful leader: a strong sense of self.
Base your plan on your character
Rodriguez, who holds a Bachelors degree from Loyola Chicago in Sociology and Communications, advised current Ramblers to "base your plan [for after graduation] on your character" – explaining that those with a values-based approach to their career decisions are both more successful and happier. While students often feel pressure to carve out a defined plan, Rodriguez said they should really be concerned about developing their character and working on their weaknesses. He also emphasized that value of teamwork, reminding students that "you don't make it alone" in the professional world; the strongest leaders articulate their respect daily for their teams by never growing-out of saying 'please', 'thank you' and 'I'm sorry'.
Connect the dots as a career
Yagan's conversation followed a similar theme. She described often being told early-on in her career to stop "jumping around and pick an industry or sector" to advance more quickly. Yet, many years later, she remains thankful that she followed her own path and did not take this rigid advice. Having worked in several remarkable positions ranging from urban economic development to corporate sustainability, she noted that the "most interesting challenges to solve … cut across industries, sectors, ideas, [and] technologies." Yagan emphasized that those with the ability to "connect the dots" across these varying themes are incredibly valuable and will only become more so as social business continues to grow.