Three ways to integrate business and social purpose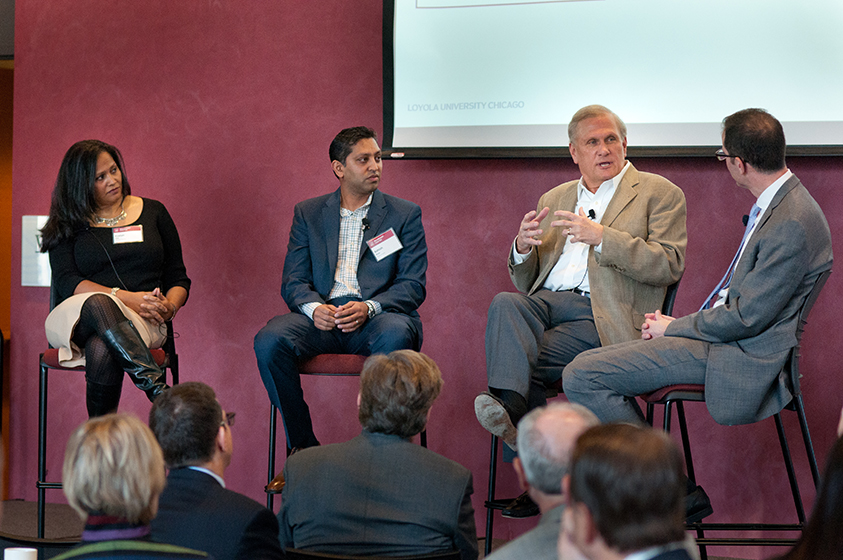 Nearly 150 business leaders explored the concept of "social business" at the November Leading Business for Good breakfast hosted by Quinlan's Baumhart Center for Social Enterprise and Responsibility.
In social business, business strategy and social purpose are unified to advance the greater good, explained Seth Green, founding director of the Baumhart Center.
Three panelists represented three forms of social business: a nonprofit that drives social impact, a social enterprise, and social responsibility efforts at a corporation:
Evelyn Diaz, President of Heartland Alliance
Ashish Shah, CEO & Founder of PreparedHealth
Robert Parkinson, Chairman Emeritus of Baxter International, Inc. and Chair of Loyola's Board of Trustees
Three tips for social business
The panelists offered their top tips for successfully integrating business and social purpose in today's environment.
1. Live and breathe the mission as a leader
"Social purpose cannot be delegated to someone else," said Ashish Shah. As the leader, you must live the social purpose every single day as people look to you to express this, he continued.
Additionally, selecting the right set of partners becomes critical. It's not a simple task, but if "you are aligned on a core mission and purpose, that will get you through some very difficult times," said Shah.
2. Marry business strategy and the social sector
The social sector must think differently, said Evelyn Diaz. "We need to marry business strategy and the social sector to find the sweet spot where we are able to pursue our mission and do a better job of it by using these strategies," she said.
The social sector is beginning to adopt business strategies such as data-based decision making, continued Diaz, but more investment is needed. Funders need to invest in business tools for nonprofits, and nonprofits need to invest in the required internal cultural change.
3. Create a compelling rationale for all stakeholders
All stakeholders can find value in social responsibility, said Robert Parkinson.
An organization's social values contribute to its reputation in the community and to employee retention, recruitment, and motivation. "You need to connect with people's hearts as well as their heads," he said. Parkinson has even found that many young professionals are more interested in a company's sustainability report than its annual report.
Investors are also increasingly looking for companies with strong social values, including diversity, inclusion, and sustainability.
"Benefiting all stakeholders creates value for shareholders," said Parkinson.
Doing business for good
Paul Fisher, chair of the Baumhart Center advisory board, wrapped up the breakfast by expressing how excited he was to see so many business leaders at the breakfast interested in social business.
"In my 40-year career, I have never been so inspired," he said. He continued, saying that he sees the Baumhart Center as a unique opportunity to advance the core values of Loyola and to make a true difference in the world through business.
In early 2018, the Baumhart Center will launch three new initiatives:
Leading for Good conference
Social Responsibility Essentials
Nonprofit Leadership for Business Professionals
Learn more about upcoming Baumhart Center programs and events →
Breakfast photos
View event photos in the gallery below or on Quinlan's Flickr page.