Iva Vurdelja brings CSR toolkit to Nepal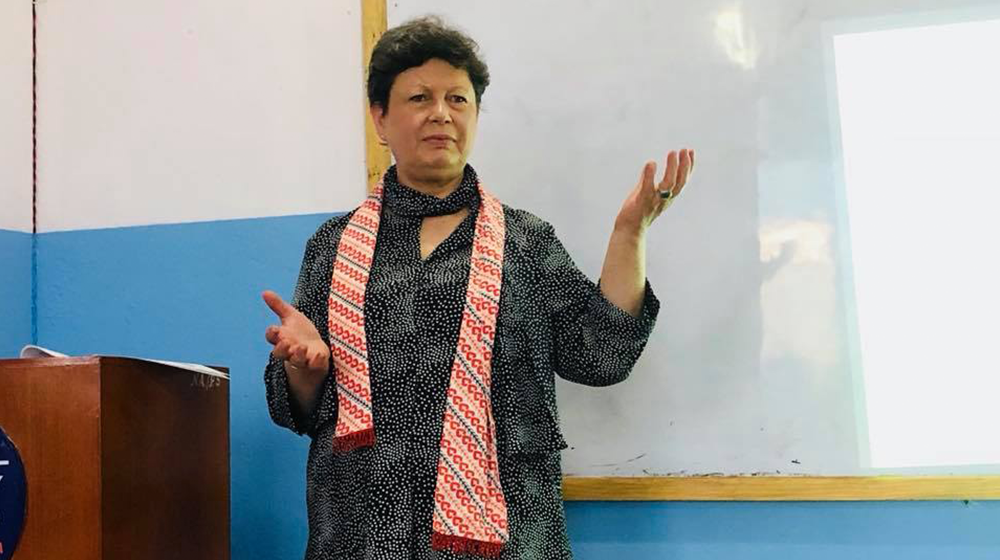 By Brittany Grosser-Basile, Student Reporter
Loyola faculty member, Iva Vurdelja, brought her passion for doing good and developing others all the way to Pokhara, Nepal this fall to teach a course in Corporate Social Responsibility (CSR).
The week-long course guided students through designing their own products and businesses. "I didn't have to teach them how to generate innovative ideas. They already existed in students' minds, I just unleashed them," Vurdelja said. "I was overwhelmed by what they were able to produce in one week. I have never experienced so much passion, dedication, curiosity, and enthusiasm. It was really extraordinary experience.
Vurdelja worked with the students on ideas she believed they had percolating in their minds long before the class began. Project topics ranged from solutions to waste management systems to corruption to human trafficking. Vurdelja said the people of Nepal "already have a CSR mindset, they just needed to know how to think about the ideas, operationalize them, and look for funding."
The week concluded with a forum for business leaders in the region, at which Vurdelja had the opportunity to facilitate a session with various CEOs and deans of universities. The students and Vurdelja took advantage of this opportunity to connect with others in the region and gain access to resources for realizing these ideas.
"I gave them opportunity to express themselves and guided them through the process of articulating what they wanted and turning those projects into viable plans," Vurdelja said.
This was Vurdelja's first time to Nepal, but certainly not her last. At the conclusion of her trip, the university nominated her as a regular visiting faculty member. With this honorary position, she made the commitment to return once a year to teach a course.
"We expanded the definition of corporations existing to increase shareholders value to really working with a broader range of stakeholders to respond to the needs of larger communities," Vurdelja said.
Much of Vurdelja's professional life was spent in the business world. Now, as an instructor, she combines her years of business experience with her learnings from her higher education, particularly what she learned during her time at Loyola while receiving her Masters in Science of Organizational Development. Vurdelja also credits her colleague Dr. Jennifer J.
Griffin, Baumhart Chair of Business Ethics and Professor of Strategy, with helping her develop her CSR toolkit.
"In everything I do, I have to contribute to the common good, otherwise I am not happy," Vurdelja said. "The way I was educated at Loyola has infused this notion of service and doing good."