Nonprofit management students enjoy a special visitor: President Rooney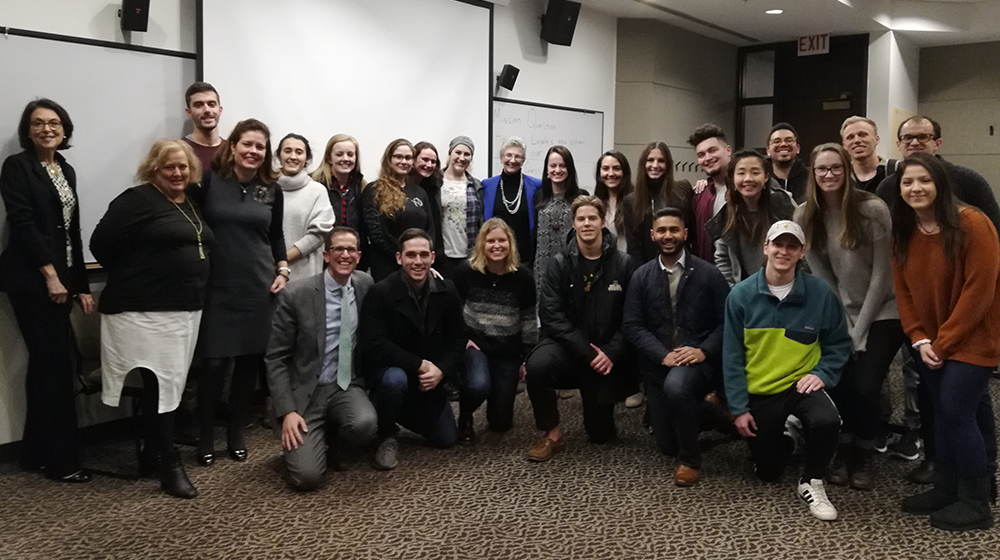 Loyola students exploring nonprofit management had a special visitor in their class in November: Loyola President Jo Ann Rooney, JD, LLM, EdD.
The Managing Nonprofit Organizations class looks at how nonprofits define their missions, develop their strategic plans, and continuously improve their impact. Dr. Rooney shared how she leverages leadership skills and business acumen to lead Loyola, one of Chicago's largest nonprofits.
Case study: A new school at Loyola
To give students a glimpse into University management, Dr. Rooney walked students through Loyola's recent decision to launch the new School of Health Sciences and Public Health.
The school will educate clinicians and health professionals, address critical needs in the healthcare industry, and find innovative solutions to closing gaps in healthcare access and equity. The school begin offering classes in the 2019-20 academic year.
Dr. Rooney shared that the starting place for the new school is Loyola's mission "to serve humanity through learning, justice, and faith." Aligned with that, the University's strategic plan includes a focus on multidisciplinary thinking and addressing health disparities.
Dr. Rooney then spoke about developing the operational and financial plans behind the new school, telling students that nonprofits need to ensure their plans earn the resources to achieve their vision and be sustainable. Dr. Rooney also described the process of working with the board, faculty, and staff, showing students a "Rainbow Chart" that emphasized the collaborative nature of the University's shared governance.
"It was so interesting seeing the beginning stages and all the planning of such an important program that can set Loyola apart from other universities," said senior Rosella Presta. Presta said that by the end of the presentation, she felt that "the mission statement and the values of learning, justice, and faith are coming to life through this new program."
Inviting dialogue with students
After completing her presentation, Dr. Rooney answered questions and invited students to discuss how they thought the new school could best achieve Loyola's mission. Senior Sameer Sawaqed recommended that as Loyola moves forward with the new school, the University should "be student centric, stick to the basics, and not get lost in the potential."
Seth Green, the instructor for the course, was beaming at the end of the exchange.
"This was an amazing opportunity to see into a real-world example of nonprofit management," he said. "I'm so grateful to Dr. Rooney and so proud of my students for asking such insightful questions and offering such sage advice."
Learn more