Supporting Employee Wellness Amidst COVID-19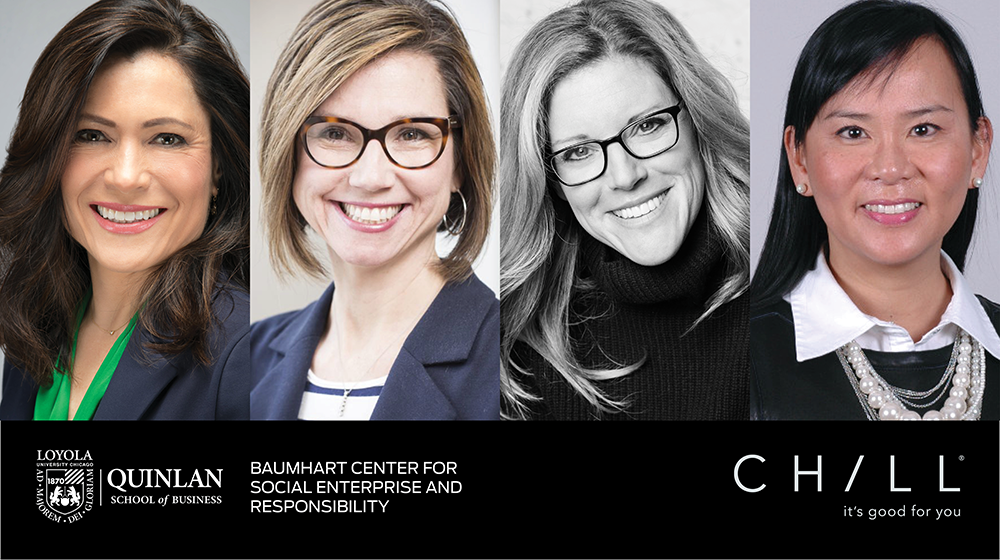 On Thursday, April 16, over 200 business leaders tuned into the Supporting Employee Wellness Amidst COVID-19 Webinar to learn new strategies to support their teams as the pandemic keeps them away from the office. Increasingly, employees trust and rely on their employer to provide mental health support and services, which in turn will foster a stronger workforce. So how can employers extend goodwill and remind employees to take their mental health seriously during this time of social isolation and beyond?
---
Watch the broadcast
---
Key Takeaways From the Webinar
By Jaycie Weathers, Student Reporter
What should an employer's role be in supporting employees' mental wellness?
Laura Sage, Founder and CEO of Chill
Laura explained that Chill aims to reduce stress and increase mindfulness through modern meditation rooted in science. Chill started as a meditation and wellness studio in River North in 2017, but has quickly expanded to various services like education and employee mindfulness programs.
Meditation and mindfulness is the practice of being in the now, which can reduce depression (commonly triggered by stress about the past) and anxiety (worries about the future).
Social distancing and an uncertain view of the future may trigger mental struggles like alcoholism, depression, suicide, chronic stress, and violence among many other possible coping mechanisms.
Now, during a time of crisis and beyond, is the time for workplaces to offer mental health resources and take their role in employees' lives' seriously.
What is mindful snacking?
Christine Montenegro McGrath, Vice President and Chief of Global Impact, Sustainability and Well-Being at Mondelēz International
Christine talked about Mondelez, the company behind many of our favorite snack foods including Oreos, Ritz, and Chips Ahoy. Building on a campaign to encourage consumers to snack in moderation, the company expanded the effort to employees through "snacking mindfully."
Many people find comfort in foods, especially those that are salty or sweet. Mondelēz encourages consumers and employees alike to try snacking mindfully by focusing on the taste, texture, smell, and other sensory experiences that accompany your favorite snack.
This technique can reduce overeating and the guilt that comes with it and increase the benefits of staying present through mindfulness.
Additional mindfulness tools are provided to employees to support them during social distancing and Mondelēz social media channels have been sharing mindfulness tips with followers.
How does a healthcare technology company take care of their employees?
Heidi Farrell, Vice President of People at Strata Decision Technology
Heidi explained that Strata's business is crucial to hospitals on the frontlines of the COVID crisis. The company is also reaching out to ensure their employees are taken care of.
Strata rapidly moved employees to online and remote work and have made sure employees not only have the technology they need, but understand the technology. Frequent communication between teams and leaders is encouraged and important.
Authentic and transparent leadership has been a winning combination at Strata. Making sure all questions are answered, creating social and support Slack threads, and providing other emotional support resources.
How can PwC respond to common employee concerns about working from home?
Vilma Chan Market People Leader at PwC
Vilma said that understanding what employees may be dealing with at home and understanding how it affects their work has formed PwC's "Be Well, Work Well" COVID response.
By outlining the biggest struggles employees are facing during this time, PwC began by addressing those first including, excess anxiety, difficulties with focus and productivity in home working environments, and problems setting work boundaries.
PwC aims to reduce the stigma of being vulnerable about the reality of your work environment. To lead by example, the CEO has been sharing his own experiences with his colleagues.
Giving back to community organizations has been encouraged through internal communication streams.