The Urgency of Climate Action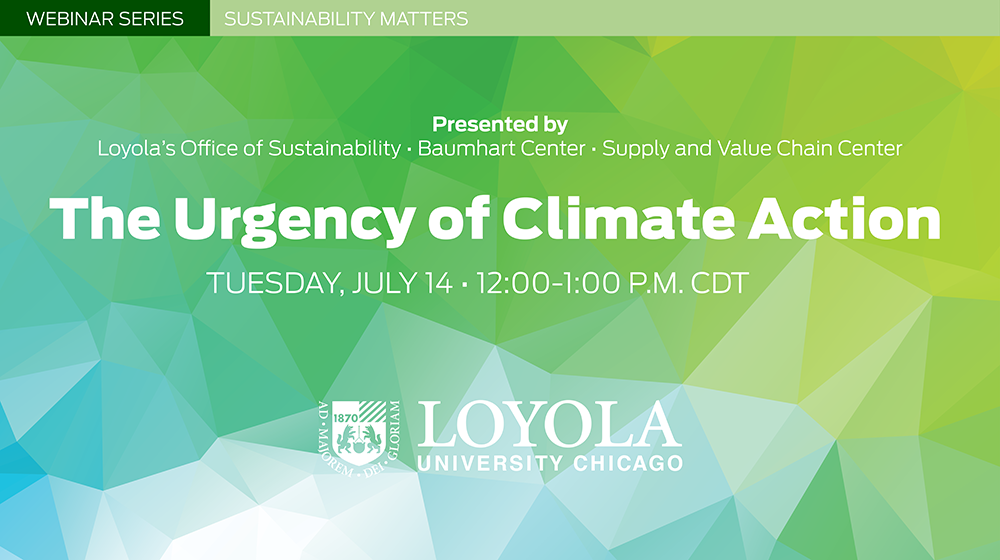 On July 14, 2020, more than 200 leaders from across Chicago joined us for the Urgency of Climate Action. Together, we explored the role of cities, organizations, and corporations in addressing climate change.
Watch the webinar
Featured speakers
Joyce Coffee
President
Climate Resilience Consulting
Aaron Durnbaugh
Director of Sustainability
Loyola University Chicago
Kumar Jensen
Chief Sustainability and Resilience Officer
City of Evanston
Chris Wheat
Director, Strategy & City Engagement
Natural Resources Defense Council
Sustainability Matters webinar series
Sustainability Matters is an interdisciplinary webinar series that explores the urgency and opportunity to advance sustainability efforts in the Chicago region. The four-part, weekly series is a partnership of the Loyola's Office of Sustainability, the Supply & Value Chain Center, and the Baumhart Center.