Best Practices
At Loyola University Chicago, assessment is becoming a recognized part of the academic process. This practice is reflected in the mission of the Faculty Center for Ignatian Pedagogy: "To promote the development of faculty as teacher-scholars and enhance the teaching and learning environment at Loyola University Chicago through an Ignatian pedagogy."
Each academic unit files an assessment plan with the Faculty Center for Ignatian Pedagogy which is reviewed and revised every three years. This practice is, in part, to satisfy accreditation requirements established by the Higher Learning Commission; but more to the point, assessment is a means to continuous review of student performance and curricular effectiveness. Academic units also submit a yearly report of their assessment findings; the Faculty Center for Ignatian Pedagogy reviews the findings and includes them in a campus assessment report. Additionally, staff members work with academic units who have questions about their annual reports and other aspects of their assessment plans and activities.
The Cycle of Assessment:
As a university, we perform assessment in many forms. We assess student performance by measuring student development and providing feedback for improvement. We establish program goals and student learning outcomes and assess the effectiveness of our programs in relation to the stated goals. Through course evaluations and review, faculty reflect on the success of their semester and determine what changes need to be enacted. Regardless of the objective for assessment, the process works most successfully when it is cyclical. The following is an illustration of an effective assessment plan:
The goal for all assessment is to close the loop and view assessment as a continuous process that employs the following steps: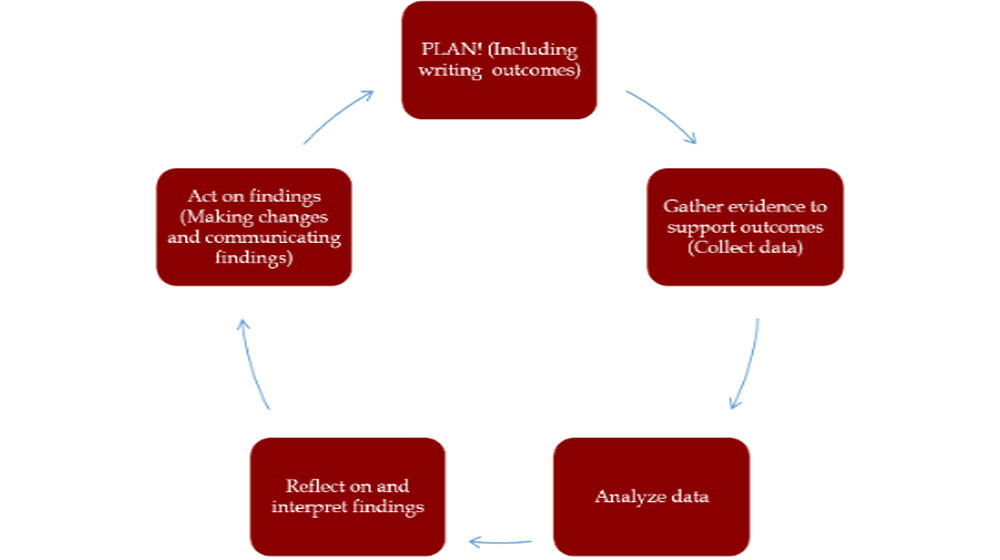 Assessment Steps:
Define course and program objectives in the context of the university mission
Clearly state the purpose of assessment; share this purpose with students
Establish measurable student learning outcomes
Define mechanisms to provide feedback to students based on a set of announced standards (rubrics)
Employ more than one type of assessment

Both direct and indirect assessment are useful in determining program and course success. Relying only on indirect assessment (feedback from students), however, does not adequately measure students' performance

Review and interpret assessment procedures and results

Such review provides an opportunity for faculty to work together to determine what is working and what needs improvement. Involving faculty in this process also helps clarify what outcomes are being addressed in which courses

Consider assessment information when reforming curricular content
Continue assessment as an ongoing part of the curricular process
Assessment Types:
The types of assessments used by any given professor or department vary by what student learning outcomes have been identified and how the discipline measures student success. One strategy that is imperative to remember, however, is that varying assessment types and using more than one way to assess performance benefits students. For example, students' learning styles may prevent them from performing optimally on a certain type of assessment. If that is the only type of assessment used, the faculty member may not be adequately measuring the students' abilities.