Jan Karski Conference 2014
This conference was held to honor the humanitarian legacy of Jan Karski on the Centennial of his birth.
Jan Karski, a Polish diplomat and a courier for the Polish Underground resistance, created a report based on his eye witness account revealing the atrocities that took place in Poland during World War II.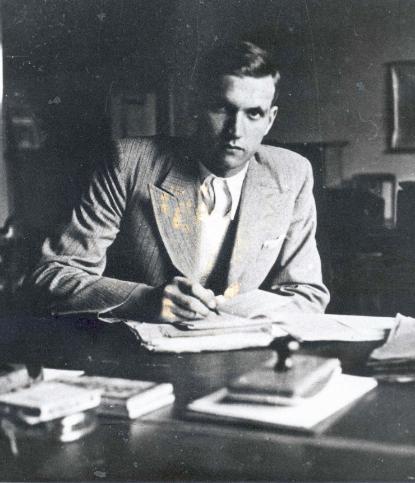 After changing his identity various times, Karski made his way first to France, then England, and finally the United States. He met with the British Foreign Secretary Anthony Eden and later President Franklin Roosevelt at the White House in 1943 to share his report of Poles fighting against German occupation and their atrocities against the civilian population. He was the first person to bring this horrible news in such detail to the Allies. Karski described in detail what he experienced and saw in his book Story of A Secret State published in 1944.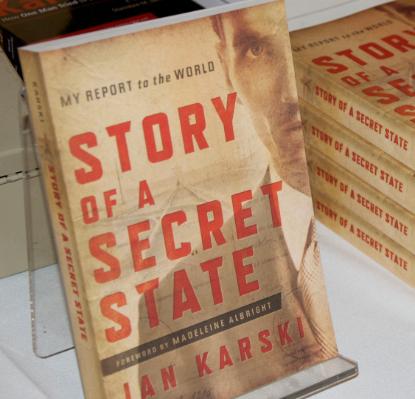 In September 2014, presented the Jan Karski 2014 International Conference on the subject of Memory and Responsibility. The two-day Conference was designed and organized by Loyola University's Interdisciplinary Polish Studies Program in collaboration with the Consulate General of the Republic of Poland in Chicago and the Jan Karski Educational Foundation.
Jan Karski's report in Story of A Secret State so inspired Fr. Michael Garanzini, president of Loyola University, that he provided the funds to underwrite the conference.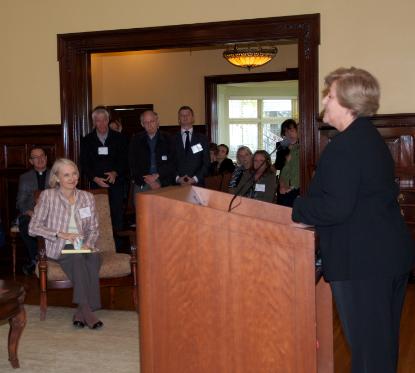 The Conference focused on two major themes that touch our world today: Memory and Responsibility. It brought together scholars and experts from all over the globe to discuss the important global issues that are the core of Karski's legacy and that are still pertinent today.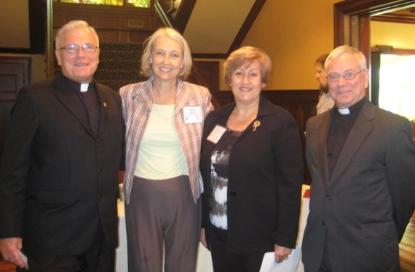 The Conference opened in Piper Hall with welcoming greetings from Bozena McLees and Wanda Urbanska, President of the Jan Karski Educational Foundation. President Fr. Michael Garanzini and Fr. Thomas Regan, Dean of the College of Arts and Sciences at Loyola University Chicago, followed with insightful speeches connecting the mission of the University with the themes of the Conference.
Illinois Senator Dick Durbin, a former student of Jan Karski's at Georgetown University and the keynote speaker at the conference, gave an inspiring speech invigorating the audience to be more like Jan Karski in our world today.
Bozena McLees presents Senator Dick Durbin Jan Karski's photo book published in Poland.
Video of the opening ceremony available here.
Some of the papers and presentations from the Conference are made available here.
First Day Sessions
On Friday the first panel focused on "Jan Karski and His Legacy: The Man and His Unfinished Mission" and was moderated by Wanda Urbanska.
Ewa Wierzyńska of the Polish History Museum and Fundacja Edukacyjna Jana Karskiego in Warsaw, E. Thomas Wood, author of Karski: How One Man Tried to Stop the Holocaust, and Michael Berenbaum of the American Jewish University in LA (who joined the panel via skype). They provided informative insight about Jan Karski and his legacy as a hero. Mr. Wood commented on his affable conversations with Jan Karski during his interviews for his book.
We were lucky to have Mr. Wood around after his panel to sign books for our guests.
‌In Panel 2, John Kurowski (Kurowski Schultz LLC), Michał Balcerzak (Nicolaus Copernicus University, Toruń) and Timothy Waters (Indiana University Bloomington) presented on other 20th century genocides and atrocities, including the Katyn Crime and mass killings in Yugoslavia. After discussing current and past atrocities, the Conference shifted to solutions, answering: how is genocide prevention in practice today?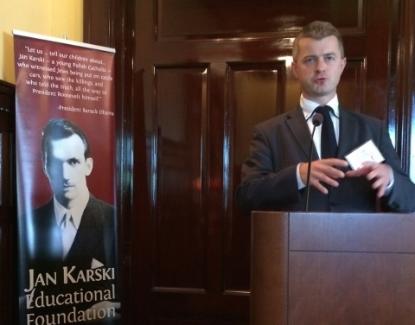 International Law Professor Michał Balcerzak from Nicholas Copernicus University in Toruń.
Gregory Stanton of George Mason University along with Jean-Francois Bussiere-Wallot presented the "R2P Dealing with Deficits of R2P: An Optional Protocol to Genocide Convention." Pierluigi Congedo of the European Law Institute in Brussels presented the European Union's perspective on Responsibility to Protect. More information about the optional protocol here.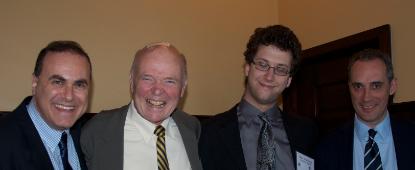 Gregory Gordon, Gregory Stanton, Jean-Francois Bussiere-Wallot, and Pierluigi Congedo.
Samantha Capicotto, Tibi Galis, and Jennifer Smyser.
Tibi Galis and Samantha Capicotto from the Auschwitz Institute for Peace and Reconciliation in NYC, Jennifer Smyser from the Stanley Foundation in Iowa, and Sheri Rosenberg (via skype) from Cardozo Law School in NYC, illustrated how NGO's work to prevent genocide and mass atrocities. More information about AIPR and the Stanley Foundation can be found here and here.
Saturday Sessions
Day 2 of the Conference held in the Quinlan Life Science Building, ran all day long with simultaneous breakout sessions revolving around literature, memoirs, film, history, visual arts and more.
‌
Panel 5A Literature on Responsibility to Tell and Retell the Story. John Merchant presenting "Writing As...?: Jan Karski and the Many Voices of Polish WWII Literature. Tomas Łysak, University of Warsaw, also presented his paper: "Slaughterhouse as a Cognitive Metaphor."

German scholar, Frank Jacob (QCC, Cuny, NYC,) presented his groundbreaking paper on the allied reactions to Jan Karski's 'Report from Hell.' Dr. Jacobs shared recent research by British historian, Michael Fleming, on allied governments' censorship of Holocaust-related information that the Polish government had repeatedly attempted to disseminate.
Luca Bernardini, who flew in from Italy for the Conference. presented his paper "Jan Karski: A Character Between Literature and Historiography." ‌
Adam Puchejda of Jagellonian University, Neal Pease of University of Wisconsin - Milwaukee, along with moderator Marek Suszko of Loyola University discussed issues of remembering and confronting the past in Panel 6.
Mary Skinner is the director and producer of the documentary Irena Sendler: In the Name of Their Mothers, the story of a group of young Polish women, who outfoxed the Nazis during World War II and saved the lives of thousands of Jewish children.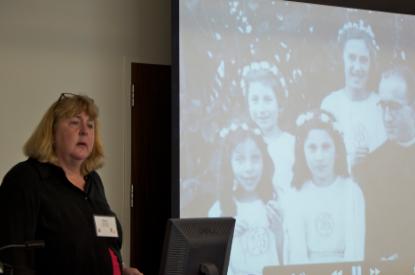 As part of the Conference, the film was screened at the Damen Student Cinema followed by another talk with Mary Skinner.
Arthur Feinsod of Indiana State University spoke of Jan Karski's story as a hero sacrificing his life for the sake of others in his play Coming to See Aunt Sophie. Coming to See Aunt Sophie debuted in Chicago at the Chopin Theatre as part of the Conference Program. Mr. Feinsod presented in a panel with filmmaker Mary Skinner.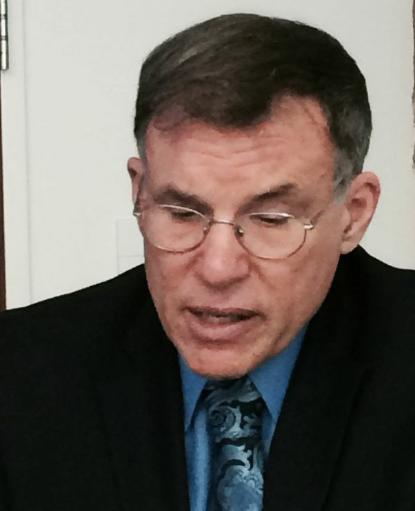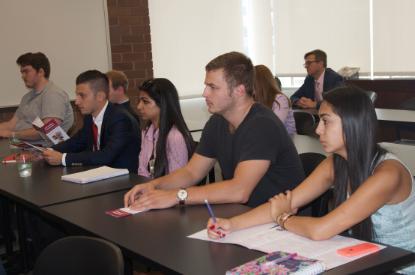 Students listening to panel.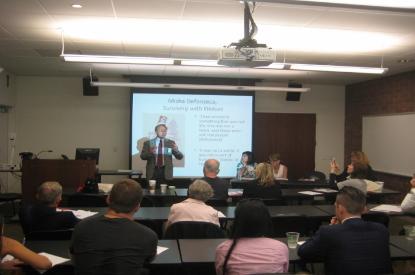 ‌
Panel 7A was dedicated to portrayals of Jan Karski and other "unknown" war heroes in film. Sue Vice (University of Sheffield), and Neal Pease (University of Wisconsin-Milwaukee) spoke of Jan Karski in filmic memory. Mary Skinner spoke of the unknown heroes of WWII: women and children.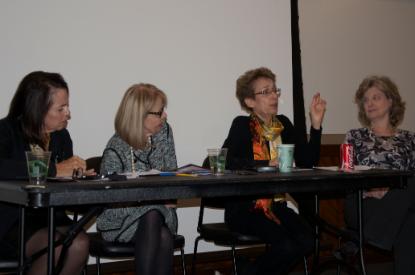 Dean Susana Cavallo of the John Felice Rome Center flew in from Rome for this special occasion. Dean Cavallo presented in an invigorating panel addressing individual and collective memory in memoirs with Ulle Holt (John Felice Rome Center), Rachel Brenner (University of Wisconsin-Madison) and Beth Holmgren (Duke University).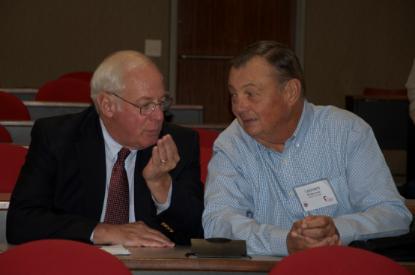 James Centner and Leonard Slotkowski, Loyola of Rome Alumni's in the audience.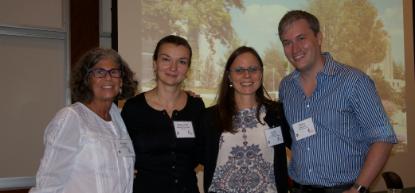 In Panel 8 "Evolving Memory in Public Perception, Spaces and Visual Arts," Noreen Brand ( Illinois Holocaust Museum & Educational Center), Małgorzata Bakalarz-Duverger (New School NYC), Karen Underhill (University of Illinois at Chicago), and Kerry Whigham (New York University) presented stimulating perspectives on how spaces and places today are being used to preserve (or not to preserve) historical memories, especially those of war and trauma.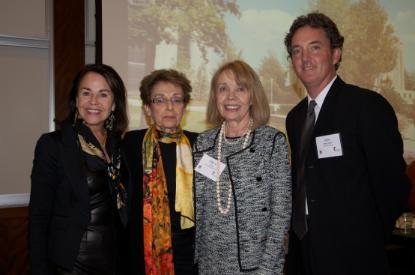 Panel 7: Individual and Collective Memory in Memoirs
Dean Susana Cavallo, Rachel Brenner, Ulle Holt and John Merchant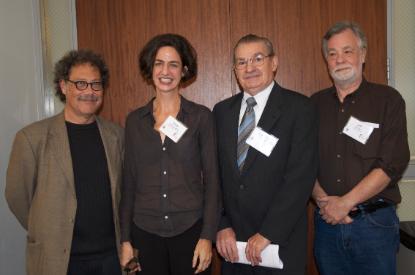 David Chack, Heidi Schlipphacke, Joseph Zurawski, Jeff Harder.
Panel 8A: David Chack (DePaul University), Joseph Zurawski (author of Poland: The Captive Satellite: A Study in National Psychology), and Heidi Schlipphacke (University of Illinois at Chicago) elaborated on Hollywood Portrayals of Jews and Poles in WWII.

The final panel was a roundtable discussion lead by Małgorzata Kot of the Polish Museum of America. Ewa Koch (Polish Teachers Association), Josephine Nocula (Council of Educators in Polonia) Robert Kostro (Polish History Museum), Karen Underhill (UIC), Marek Suszko (Loyola), and Bozena McLees (Loyola) discussed the educational mission of Jan Karski's legacy for teachers and educators.
Fr Michael Garanzini, Janet Daley Duval, Gregory Gordon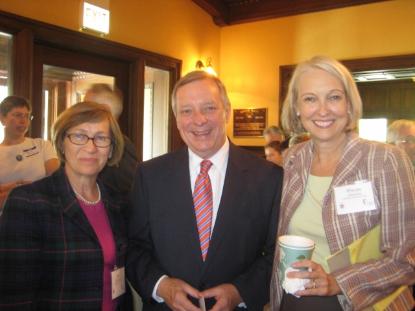 Ewa Wierzyńska, Senator Dick Durbin, Wanda Urbanska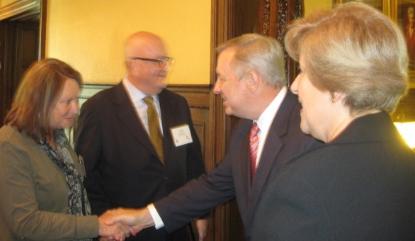 Connie and John Kurowski, Senator Dick Durbin, Bozena McLees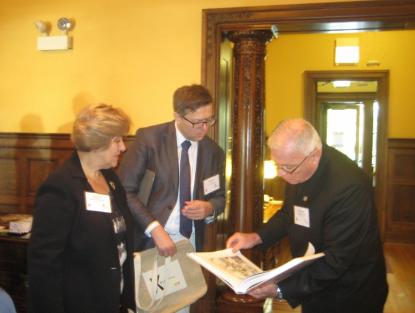 Bozena McLees, Robert Kostro, Fr Michael Garanzini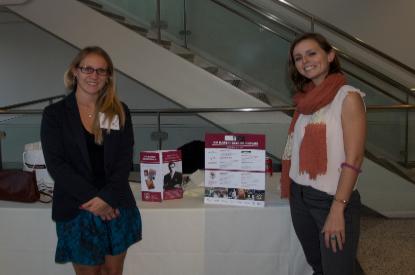 Stacey Brazen (photographer) and Xenia Dylag (assistant organizer)
‌
John Kurowski, Frank Jacob, Ewa Wierzyńska and Luca Bernardini.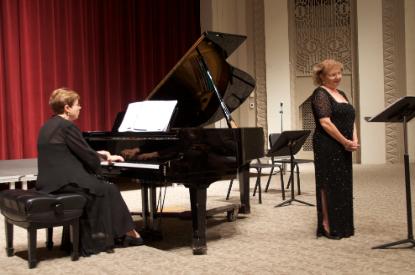 The Conference concluded with a Polish Music Concert in Jo Ann Rooney Hall. The concert opened with words from Fr. Charles Jurgensmeier and followed by Delia Surratt's soulful soprano, with Diana Scmuck on piano.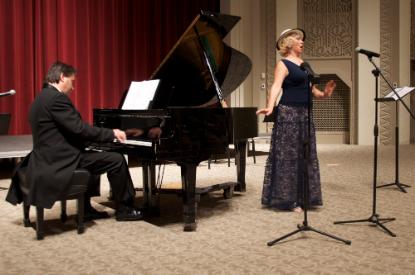 As MC of the second half of the concert, Beth Holmgren (Duke University) entertained the audience with her tantalizing insight of the 1930s and 1940s cabaret culture in Poland. Ewa Kowcz-Fair, soloist of the LIRA Ensemble, and Marek Rachelski on piano, took the audience back in time with their performances of songs such as "Miłość Ci wszystko wybaczy," "Ja się boję sama spać," "Już nigdy" and many more.
Bozena McLees and Xenia Dylag, Conference organizers

On Sunday the 21st, participants and guests had the opportunity to see Arthur Feinsod's play Coming to See Aunt Sophie at the Chopin Theatre with a pre-show discussion with the playwright, director, Dale McFadden, filmmaker and inspiration for Feinsod's play, Mary Skinner, along with Ewa Wierzyńska.