Mintel partners with Loyola to study GenZ consumer habits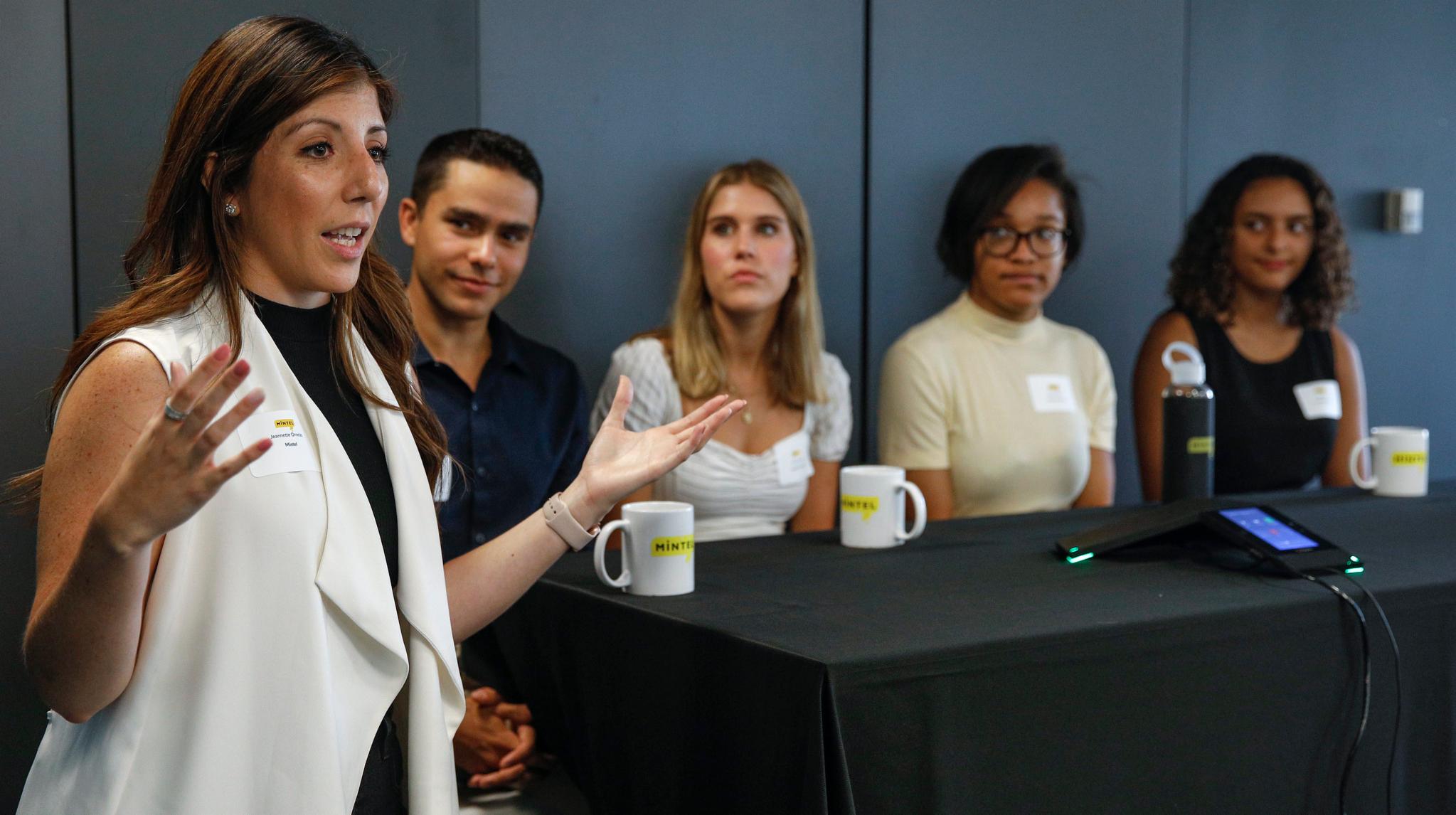 The oldest members of GenZ—the generation born from the mid-1990s to the early 2000s—are now in their 20s, but marketers are still figuring out what makes this generation tick.
That understanding took a big step forward this summer when alumna Jeannette Ornelas (BBA '13) of Mintel, a marketing research firm, teamed up with Prof. Stacy Neier Beran and with Quinlan undergraduate students who are members of GenZ.
The project was rooted in Ornelas and Neier Beran's long working relationship. Ornelas was introduced to Mintel when she herself was a student in Neier Beran's marketing class. Since graduating, Ornelas has regularly visited Neier Beran's classes to provide students with professional insights and advice. The two then developed a pilot project called MintelxGenZ, which engaged Quinlan students to provide insights on GenZ to the company.
Insights about GenZ
The MintelxGenZ project uncovered several key marketing insights about GenZ:
GenZ-ers are digital natives. "There's a misconception that they only want to be online," says Ornelas. "The more we talk to them, they're just convenience-driven and smarter about efficiency. They are conscious of too much screen time and perhaps because so much of their lives is online, offline experiences are truly valued."
GenZ-ers are practical with money. "We tend to assume young people are impulsive and frivolous with their spending," says Ornelas. "Millennials prefer experiences over things. With GenZ, it's very similar, but they're less impulsive and more pragmatic about how they spend their money than Millennials. They're willing to invest in premium brands for higher quality items but will also resell those items or thrift for everyday essentials.
GenZ-ers are learning from Millennials' experiences. "Much of their perception of finances has been shaped by the Millennial curse, which is student loan debt. They've had the opportunity to know more about student loans going into college but financial literacy is still lacking. Millennials didn't necessarily know what they were getting themselves into, with the right tools, GenZ can get off to a better start."
GenZ is less concerned with national identity. "If we look at Baby Boomers, they're more patriotic and hold a national identity. GenZ doesn't see their identity as American, but more as a citizen of the world."
Lessons for marketers
According to Ornelas, brands that want to appeal to GenZ need to be authentic and that means understanding youth culture.
"Brands try to be young and hip, which is not always helpful for them," she says. "GenZ-ers are at an age where their identity is very much contextual. They seek out brands who fit their unique identities and reflect their values. Brands that understand where their brand fits in, rather than forcing a message, do well with Gen Z." This is appealing "because it doesn't feel fake or forced. They're so bombarded with ads all the time, but relevance breaks through."
Brands should also focus on word of mouth.
Today, "it's not only 'I follow you and I saw this', it's 'I heard about you through someone else.' GenZ-ers value the opinion of their peers and respond to ads that showcase people like them. Brand advocacy should be encouraged and rewarded," says Ornelas.
An invaluable project
Ornelas is very pleased with her experience with Quinlan students.
"I was proud to say I had the perfect partner for this in Loyola and these students. Dr. Neier has been immensely indispensable for this project," she says. "It's been such a great experience."
This project earned Ornelas the Most Valuable Performer Award, an honor given to employees at Mintel who go above and beyond expectations and overall exceptional contributions to the company.
Learn more