Transgender communities find funding and community on digital platforms, according to research by Professor Drenten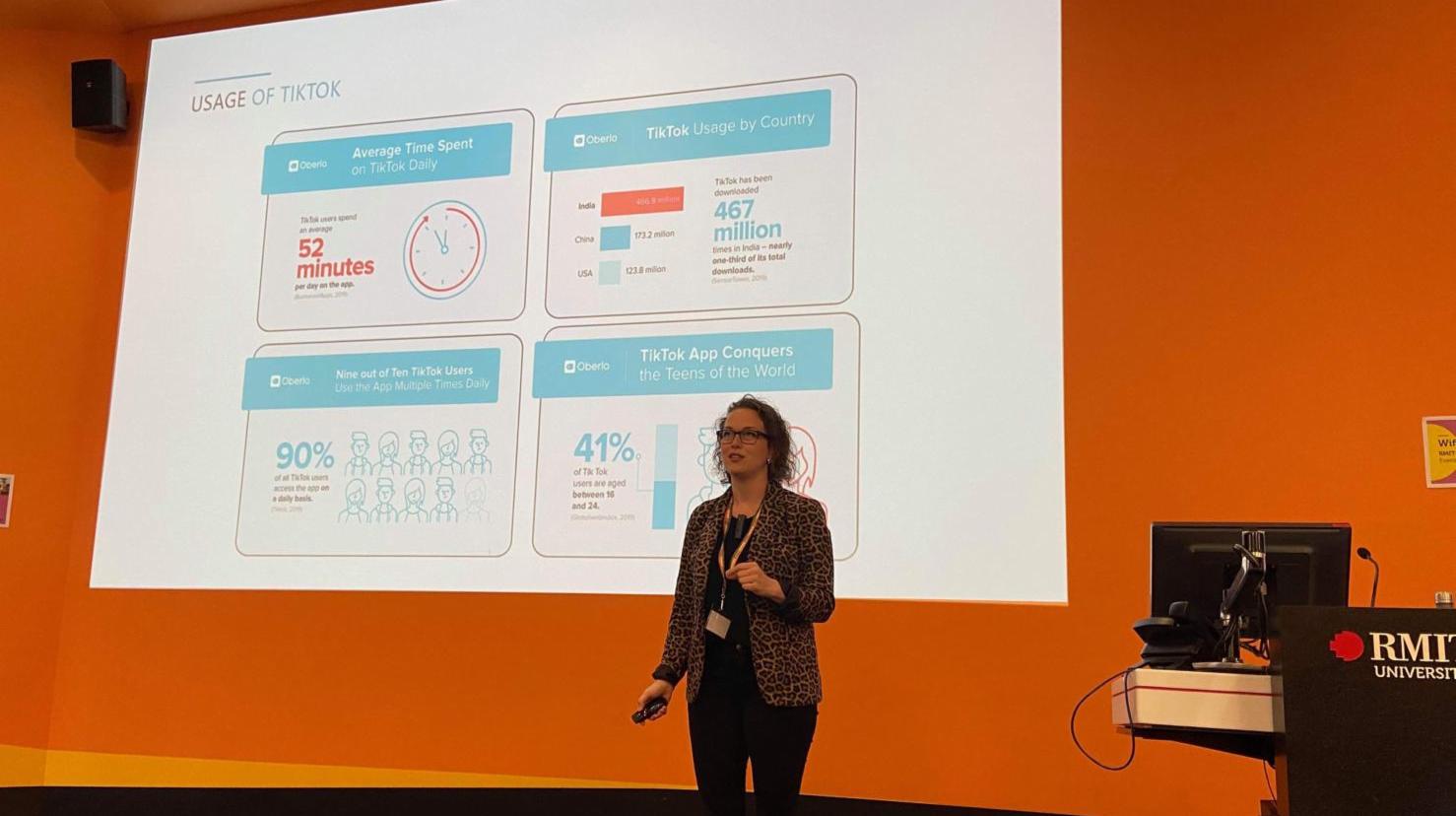 In spring 2020, Associate Professor Jenna Drenten took a deep dive into her research on digital culture and identity, thanks to a Faculty Fellowship from Loyola's Gannon Center for Women and Leadership.
The Faculty Fellowship enables tenure-track professors to take a semester-long leave from teaching to pursue research related to women's experiences. Drenten is the third Quinlan professor to receive this fellowship since 2009. Quinlan's prior recipients are Professors Dawn Harris and Anne Reilly.
Drenten was thrilled to have dedicated time to explore her research.
"I was able to read deeply, go through literature, expand on ideas, and go into projects with really rich insights that were more fractured before I got this fellowship," she says.
Transgender communities and crowdfunding
During the fellowship, Drenten started a research project on the #TransCrowdFund community on Twitter. A cis-gendered person may crowdfund medical expenses for an injury not relating to their gender identity (such as a car accident), whereas crowdfunding for medical procedures in the transgender community is often related gender identity (such as gender affirmation surgery).
"Transgender men and women face increased marginalization in the marketplace," Drenten says. "For example, they are discriminated against at work, making stable employment a challenge. Without employment, they often lack access to health insurance, and even when health insurance is available, it does not cover healthcare expenses unique to their needs.
"In my research, transgender individuals turn to crowdfunding on Twitter, using websites like GoFundMe and links to peer-to-peer payment platforms like PayPal and Venmo. Through the #TransCrowdFund hashtag, people come together to financially support the needs of trans men and women, where the marketplace and public policy have failed."
Drenten says the crowdfunding phenomenon has become exacerbated through the COVID-19 pandemic.
"Throughout the pandemic, businesses, individuals, and organizations have set up crowdfunding campaigns to compensate for financial instability. For example, many families affected by coronavirus have had to crowdfund their living expenses, medical expenses, and sadly even funeral expenses," Drenten says.
"The turn to crowdfunding is not because individuals are unable to provide for themselves, but rather because of systemic failures in our healthcare and public policy systems. Job loss during the pandemic has left many Americans uninsured and lack of access to affordable healthcare places an increased burden on families."
However, Drenten did find many positive and uplifting moments in her research.
"In many communities, including here in Chicago, people have come together to support those in need, such as restaurant workers and the local music industry. It is a beautiful show of humanity to see people come together to support one another," she says. "However, it should not be overlooked that these sorts of crowdfunding initiatives would not be necessary if not for systemic failures in marketplace institutions and public policy."
Sound, transgender communities, and TikTok
Drenten has studied TikTok, a social media platform featuring short-form videos, for more than a year. Her research has focused on what attracts users to TikTok, as well as gender stereotypes and expressions on the platform.
In February, she spoke at a Consumer Culture Theory workshop hosted in Melbourne by RMIT University.
"I talked how the sounds provide a material anchor for people to re-live and interpret their own experiences and create something new to spread through the internet," says Drenten.
One example from TikTok is the "Flip the Switch Challenge" that features the song "Nonstop" by Drake. "When you hear the song, you think of the trend. Certain dances go with certain songs and sounds," she says.
As COVID-19 kept people indoors this spring, TikTok became a major social media platform, says Drenten. "When I presented my research in Melbourne, it was still an emerging technology."
One of the appeals of the platform is that "it's a new way of individuals being able to critically comment on things like beauty norms, gender stereotypes, or gender expressions, and these comments are more interactive than on other social media platforms."
For example, "TikTok has a place for the transgender and LGTBQ community more broadly to give advice and get community education," says Drenten. Some of this advice centers on beauty trends, like if you stand a certain way you can look thinner or which filters make users look more beautiful.
Digital rituals amid COVID-19
Drenten, along with Professor Linda Tuncay Zayer, is now analyzing digital rituals during COVID-19, as many people are seeking entertainment and connection through being online.
"The project studies how people quarantined with their families during COVID-19 are now including their families in their online performances, like dancing in a TikTok video," Drenten says. "Before, the performances may have included roommates but now it's parents and grandparents."
Receiving tenure
While serving as a Faculty Fellow, Drenten received tenure.
"I'm very grateful. The tenure process can be arduous, but the people in my department had my back and wanted me to do well, which was a big part of my success," she says.
Drenten says she now wants to support junior colleagues to pay it forward.
Learn more