Business Schools and Public Service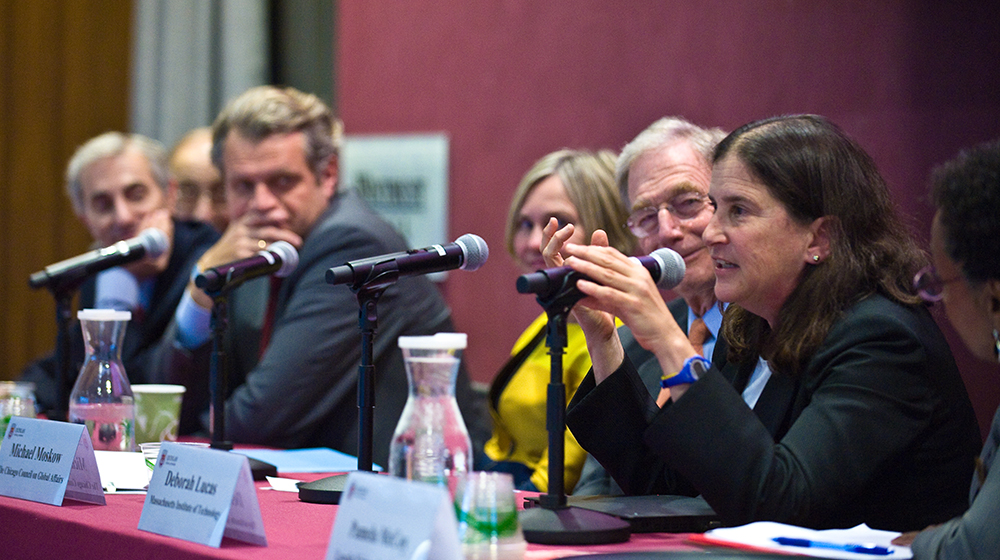 On Thursday, November 12, 2015, a prestigious panel of business school and government leaders converged on Quinlan to consider:
"Should business schools prepare students for public/government service careers in addition to private service careers?"
This is an important issue as employment in public/government entities at the federal, state, and local levels is growing faster than employment in private-sector entities. At the same time, widespread dissatisfaction has been expressed with the productivity of public-sector entities, due in part to the lack of appropriate training of both public-entity and private-sector managers.
This symposium explored whether business schools should provide additional public policy training, particularly for students pursuing careers in public management. The event was sponsored by Quinlan's Center for Financial and Policy Studies.
Event photos
View the event photos in the gallery below or on Quinlan's Flickr page.
Speakers
The speakers were (listed in alphabetical order):
Daniel Diermeier
Dean, Harris School of Public Policy, University of Chicago

Stuart Greenbaum
Former Dean and Bank of America Professor Emeritus of Managerial Leadership, Olin Business School, Washington University

Richard Herring
Jacob Safra Professor of International Banking and Professor of Finance, The Wharton School, University of Pennsylvania

Curt Hunter
Dean Emeritus, Henry B. Tippie College of Business, The University of Iowa

Donald Jacobs
Dean Emeritus, Kellogg School of Management, Northwestern University

Abol Jalilvand
Ralph Marotta Endowed Chair in Free Enterprise and Former Dean, Quinlan School of Business, Loyola University Chicago

George Kaufman
Director, Center for Financial & Policy Studies, and John F. Smith, Jr. Professor, Quinlan School of Business, Loyola University Chicago

Robert Litan
Partner, Korein Tillery

Deborah Lucas
Sloan Distinguished Professor of Finance, Sloan School of Management, Massachusetts Institute of Technology

Tassos Malliaris
Walter F. Mullady, Sr. Professor, Quinlan Business School, Loyola University Chicago

Pamela McCoy
Associate Dean, Quinlan School of Business, Loyola University Chicago

Michael Moskow
Vice Chair and Distinguished Fellow, Global Economy, The Chicago Council on Global Affairs

Sharon Oster
Frederic D. Wolfe Professor of Management and Entrepreneurship and Former Dean, Yale School of Management

Michael Pagano
Dean, College of Urban Planning and Public Affairs, University of Illinois at Chicago

Susan Phillips
Former Dean, The George Washington University School of Business