archive
Reaching for the Stars with Asia Singleton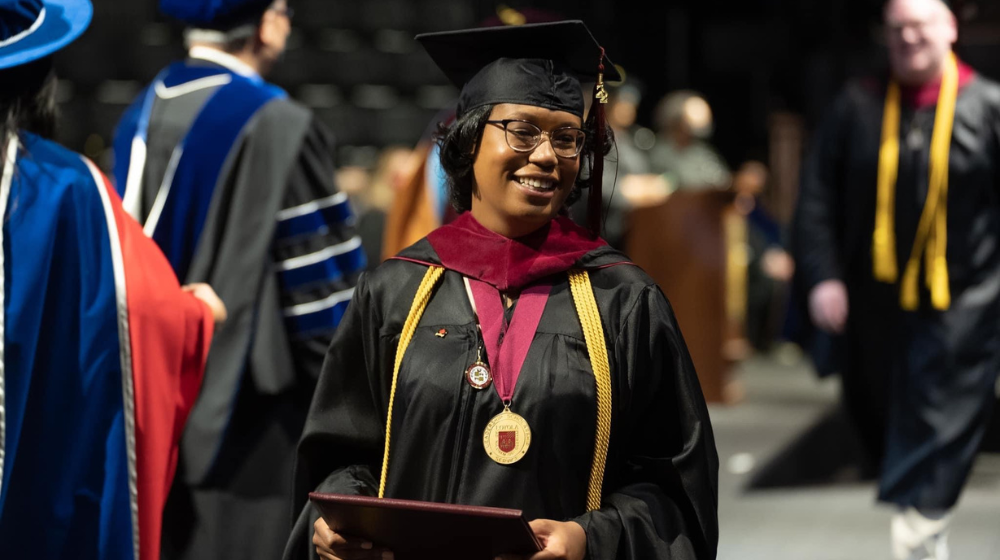 By Destiny Woods
"Without continual growth and progress, such words as improvement, achievement, and success have no meaning." Asia Singleton is a prime example of a School of Communication Rambler that embraces the relevance of Benjamin Franklin's words as a way of life. Her legacy of excellence in scholarship, service, and production has opened many doors for her to pursue her calling and "set the world on fire" through digital media. Without a doubt, Asia knows better than most that the stars are the only limit to someone willing to work to actualize their dreams.
Having begun her academic career at Loyola Chicago's Arrupe College, Singleton graduated from the School of Communication (SOC) with her Master of Communication, concentrating in Digital Media and Storytelling (DMST), in May 2022. "Arrupe checked all the boxes for me to become the student I knew I could be. Father Steve Katsouros [the founding Dean of Arrupe College] gifting each student a diploma frame during orientation was a testament to Loyola's culture; that they believe in our success," Singleton shared in a recent interview. "After completing my bachelor's degree, it was a no-brainer to return to my alma mater to complete my master's degree at the Loyola University Chicago School of Communication."
Joining the DMST program ignited Singleton's passion for impacting the world around her through digitally created narratives. "We are in prime time for storytelling. I am so lucky to be a part of this digital era, where many different mediums exist to tell stories. Being in the Digital Media and Storytelling program at SOC was life-defining; I learned new and unique techniques to perfect my craft, and my professors encouraged me to continuously think outside the box."
Through the power of persistence, individual determination, and excellence, Asia's time at Loyola has been sequined with an array of victories that would make any student proud. Among her many accomplishments include receiving the President's Medallion Award in 2017, becoming a Crystal Pillar winner of the National Academy of Television and Arts and Sciences (NATAS) Chicago Midwest Emmy Awards, and being selected for the Alabama Rivers Alliance Southern Exposure Film Fellowship during her final year of graduate school.
When asked what it was like to win a Crystal Pillar she exclaimed, "I was shocked! It was an extreme honor to receive the Crystal Pillar Award. Sharing that moment with my fellow students and good friends Laura Godoy Figuera and Josh [Joshua] Miller meant the world to me. We all got up and held each other's hands as we walked to the stage. I was still processing the fact that I was holding a Crystal Pillar in my hands. It was such a great night." Thinking back over her experiences, Singleton concluded, "These accomplishments are a testament to becoming the student I knew I could be, showing that you will receive results when you put in hard work. I look forward to continuing to tell more stories with impact and purpose."
Without hesitation, Asia Singleton illustrates that the true key to reaching for the "stars of success" is putting in the work. There may be days that are more challenging than others, but Singleton stresses, "...it is important be honest with yourself and ask if you are putting in the maximum amount of effort or just doing the bare minimum. Sometimes that includes sacrificing long nights on the screen, but it will not go unnoticed." Truly optimizing those efforts requires connection, community, and belonging. "Surrounding yourself with a supportive community is paramount; it's equally as important as the work you put in as an individual," Asia shared. "I wouldn't be the person I am today without the professors I've had at Loyola to guide me, my family, and friends."
Her biggest advice for current and prospective students? "Utilize your resources. Loyola has so many amazing resources, such as the writing center and digital media lab. In addition, there are so many excellent faculty members and staff who have mentored me long after I completed my program. They are eager and willing to help you, too, if you will only reach out and put forth the effort."