archive
WLA Remembers Margery Frisbie
Mundelein College alumna (Class of 1944) and former head of Public Relations, Margery Rowbottom Frisbie, passed away August 8, 2021 at age 98. Margery was a scientist, author, columnist, amateur pilot, and social justice advocate.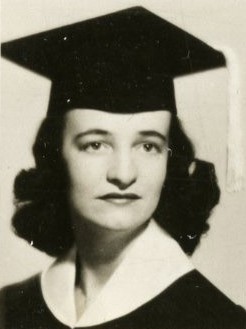 Margery Rowbottom Mundelein College Senior Portrait, 1944
Born in Geneva, Illinois on June 2, 1923, Margery graduated from Mundelein College in 1944 with a degree in Biology. She worked as a researcher for Magnaflux and then as a chemist for a chemical company, where she invented ink for checks that could not be erased. She left the science field in 1948 and became the head of public relations for Mundelein College.
Frisbie held this position during a memorable moment in the college's history and in her own life. In 1949, Mundelein hired Elizabeth Bentley, a former spy for the Communist Party and the Soviet Union. Called in newspapers the "Red Spy Queen," Bentley had recently defected and converted to Catholicism. When Bishop Fulton J. Sheen sent word to Catholic schools requesting a job for Bentley, Mundelein offered her a teaching position. As Public Relations Director, Frisbie held a press conference at Mundelein in response to media interest in the school's new teacher. One of the members of the media attending the event was a reporter for the Chicago Daily News named Richard Frisbie. The two were engaged four months later and married in June of 1950. The couple had eight children.
Frisbie wrote a column for the Archdiocese of Chicago newspaper, The New World, for six years and was a children's book review editor for the National Catholic Reporter. She and her husband co-authored two works: The Do-It-Yourself Parent and The Cana Couplet, the newsletter for the Cana Conference. On her own, Margery wrote several works including histories of St. James Catholic Church, Arlington Heights Library, the First United Methodist Church, a collection of poetry about Arlington Heights, and most prominently, An Alley in Chicago: The Ministry of a Parish Priest, a history of life and work of Monsignor John J. Egan. She wrote a local history column for the Daily Herald for 19 years until her eyesight began to fail in 2016. Margery was active in her community and served on many committees and boards on the local, state, and national level including the National Council of Catholic Women and the Illinois Status of Women Commission.
Frisbie donated her papers to the Women and Leadership Archives soon after the archives were established in 1994. The Mundelein College Records also document her time as an employee and student at the college.
More information on Margery Frisbie:
Margery Frisbie Papers Finding Aid