Timeline
Mundelein College provided Catholic women's education in Chicago from 1929–1991.
1929: Founded by the Sisters of Charity of the Blessed Virgin Mary, the groundbreaking of the Mundelein College skyscraper occurs on November 1. Building details include:
Built in the Art Deco style, the College is 198 feet tall with two guardian angels (Uriel and Jophiel) flanking the main entrance.
Served as a self-contained "Skyscraper college" for the women of the school, housing living spaces, administrative offices, a pool, an auditorium, a gymnasium, classrooms, and laboratories.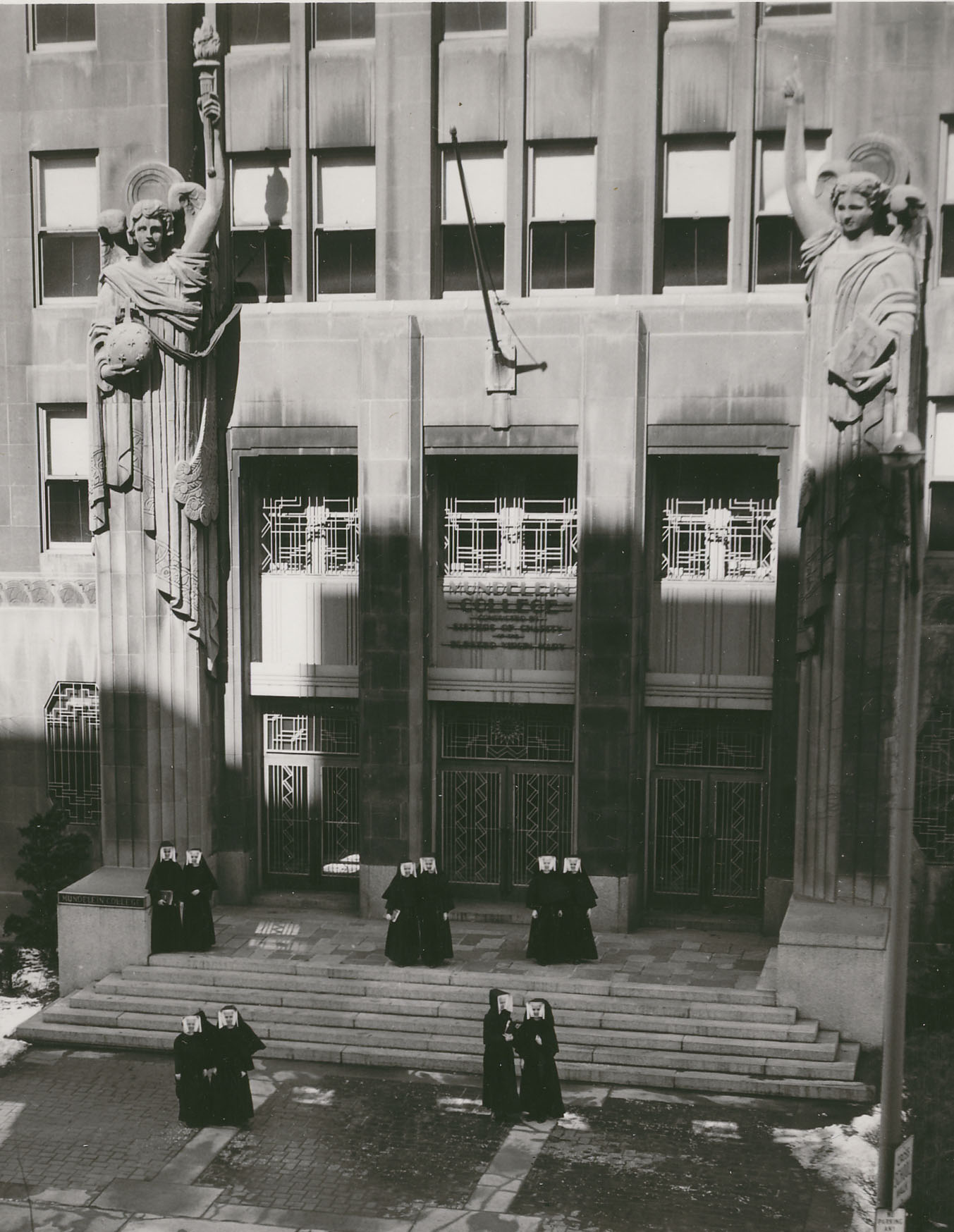 1930: Mundelein College begins classes on September 29 with 378 students enrolled.
1930: Sister Mary Justicia Coffey is the first President of Mundelein College.
1934: The College expands through purchase of Philomena Hall and the White Marble Mansion (now Piper Hall).
1936: Sister Mary Consuela, BVM, is installed as the second President of the college.
1939: Sister Mary Justicia Coffey begins her second term as the college's 3rd President.
1939: By the end of the decade, 22 academic, social, and athletic clubs are up and running. Literary publications such as The Skyscraper and The Tower also begin circulation.
1941–1945: Students and staff join the war effort. Staff and faculty members who join the war effort are granted leaves of absence to enter army or government services. Student activities include planting victory gardens, blood drives, and fundraising for American troops.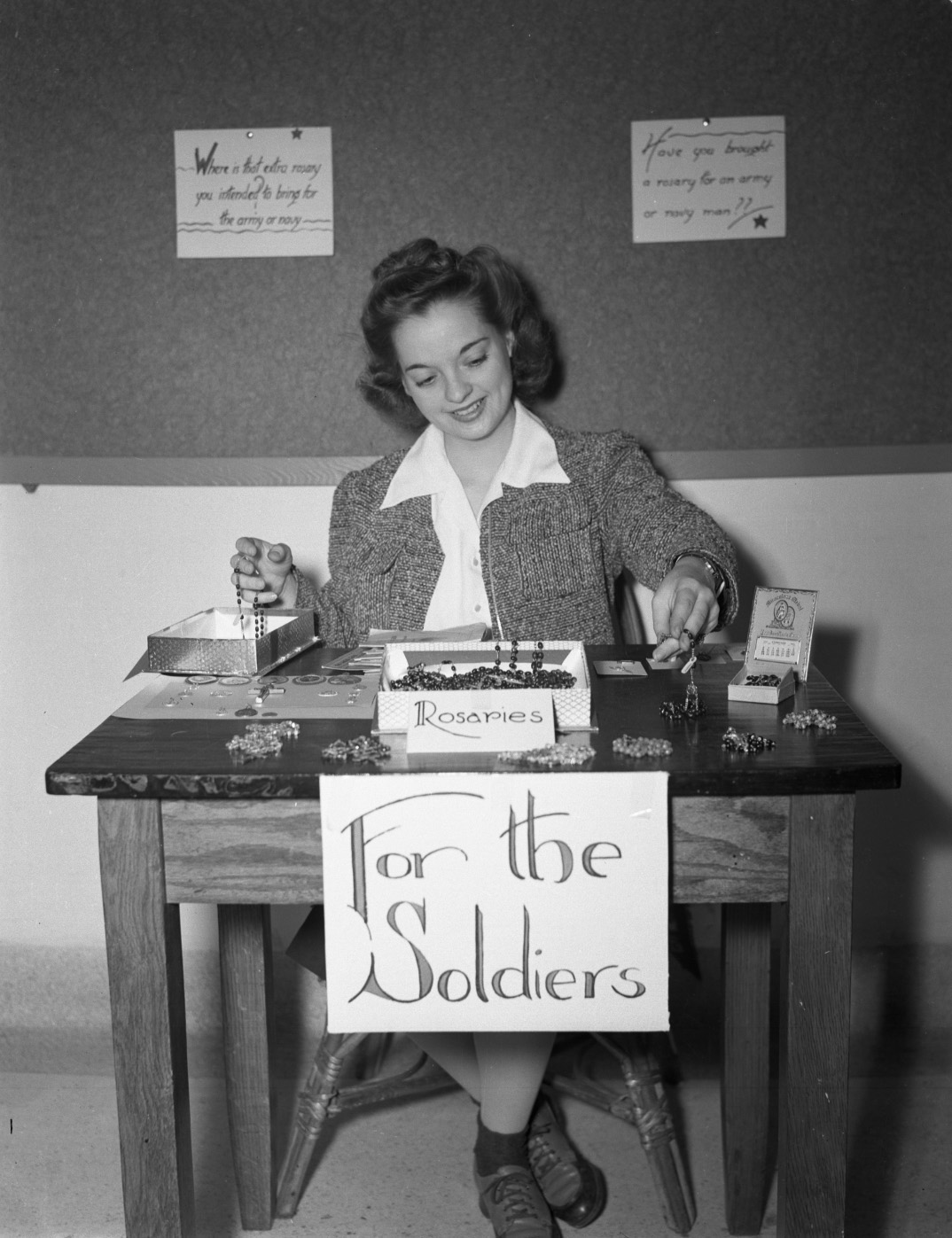 1945: Upon retirement of Sister Mary Justicia BVM, Sister Mary Josephine Malone BVM, becomes the 4th President of Mundelein College.
1951: Following Sister Mary Josephine Malone, BVM, as President is Sister Mary John Michael Dee, BVM.
1955: Mundelein celebrates its 25 year anniversary with a Silver Jubilee Dinner. Cardinal Stritch and Chicago Mayor Richard Daley are in attendance for the festivities.
1957: Sister Mary Ann Ida Gannon, BVM, becomes Mundelein's sixth President. She remains in this office until 1975, becoming the college's longest-serving President.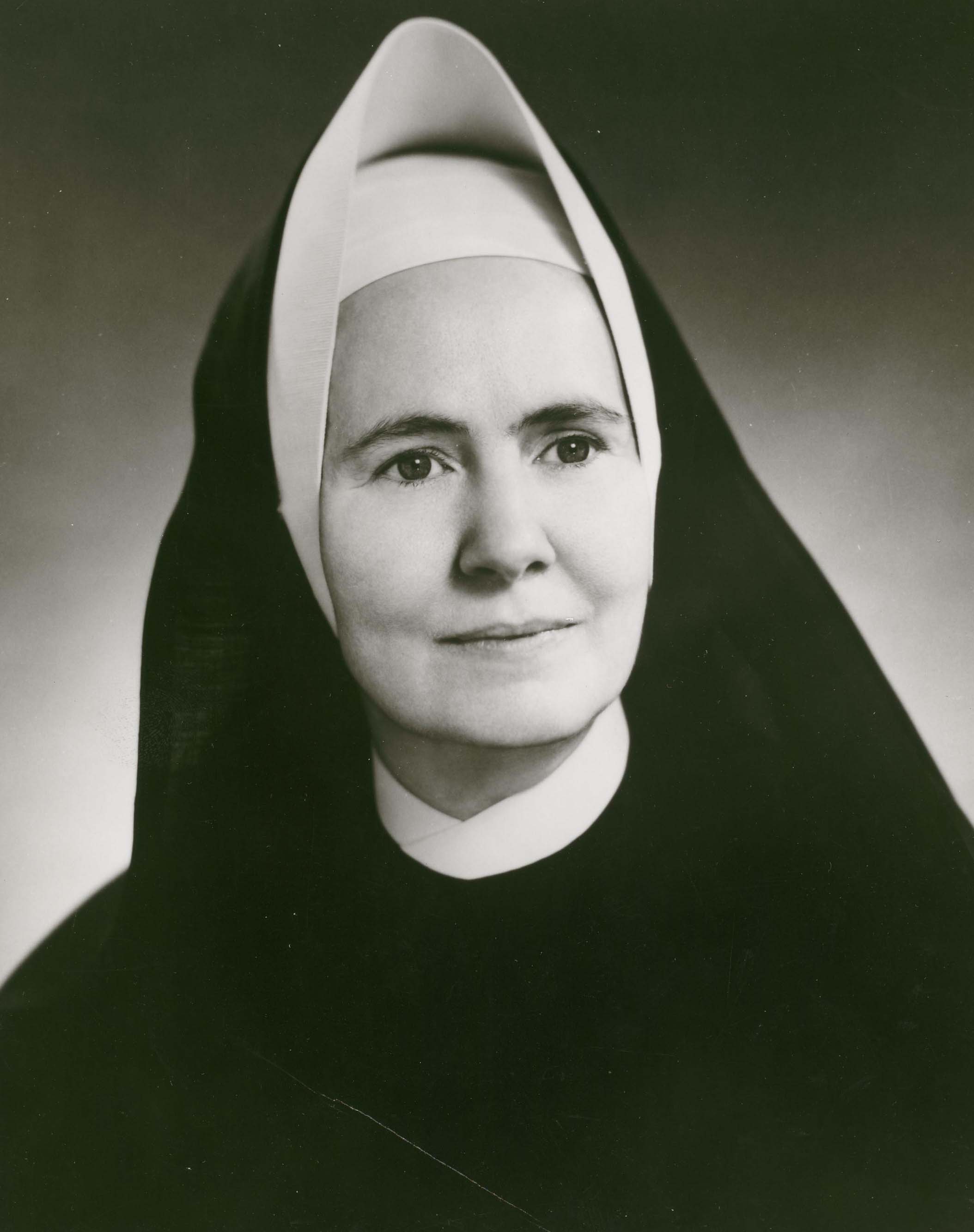 1959: Student groups remain very active on campus. By voicing concerns about issues of the day and getting in the philanthropic spirit, they reach out to outside communities and organizations.
1962–1963: In response to the growth of the school, Coffey Hall and Northland Hall are opened for use by Mundelein students.
1965: Seven Sisters of Charity of the Blessed Virgin Mary and a busload of students participate in the Civil Rights march from Selma to Montgomery.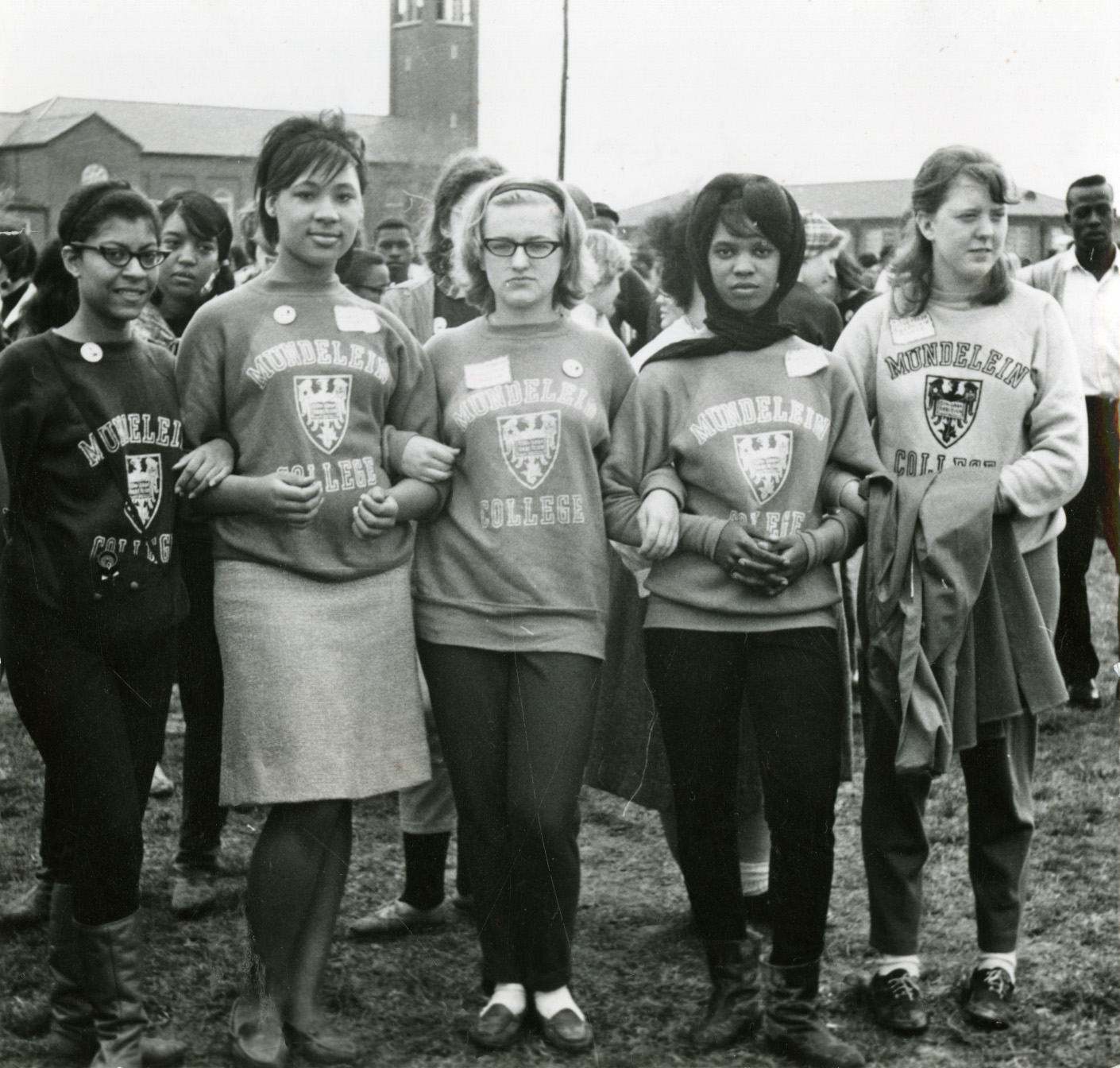 1966: In an effort to increase diversity, a Mundelein College chapter of Upward Bound begins.
1969: Mundelein College United Black Association is (MCUBA) founded.
1970: The campus is declared "on strike." Part of a nationwide movement at high schools, colleges, and universities, the students along with some staff, protest the expansion of the Vietnam War into Cambodia and the tragedy at Kent State University.
1974: In a move to reach more students, Mundelein expands the continuing education program. The college begins offering the nation's first Weekend College courses. Students enrolled in this program can earn a bachelor's degree after four years of attending classes on Saturdays and Sundays.
1975: The college's seventh President, Sister Susan Rink, BVM is installed.
1976: The Hispanic Institute is created in order to address and support both Mundelein and Chicago's growing Hispanic population.
1979: Cesar Chavez, promoting a nationwide lettuce workers strike, speaks at Mundelein College.
1980: An example of exceptional Art Deco architecture, the Mundelein skyscraper is listed on the National Register of Historic Buildings.
1981: In celebration of Mundelein's 50th Anniversary, the college enters a float in Chicago's Columbus Day Parade and hosts the Golden Jubilee celebration. In attendance at the event are Mother Theresa and Chicago Mayor Jane Byrne.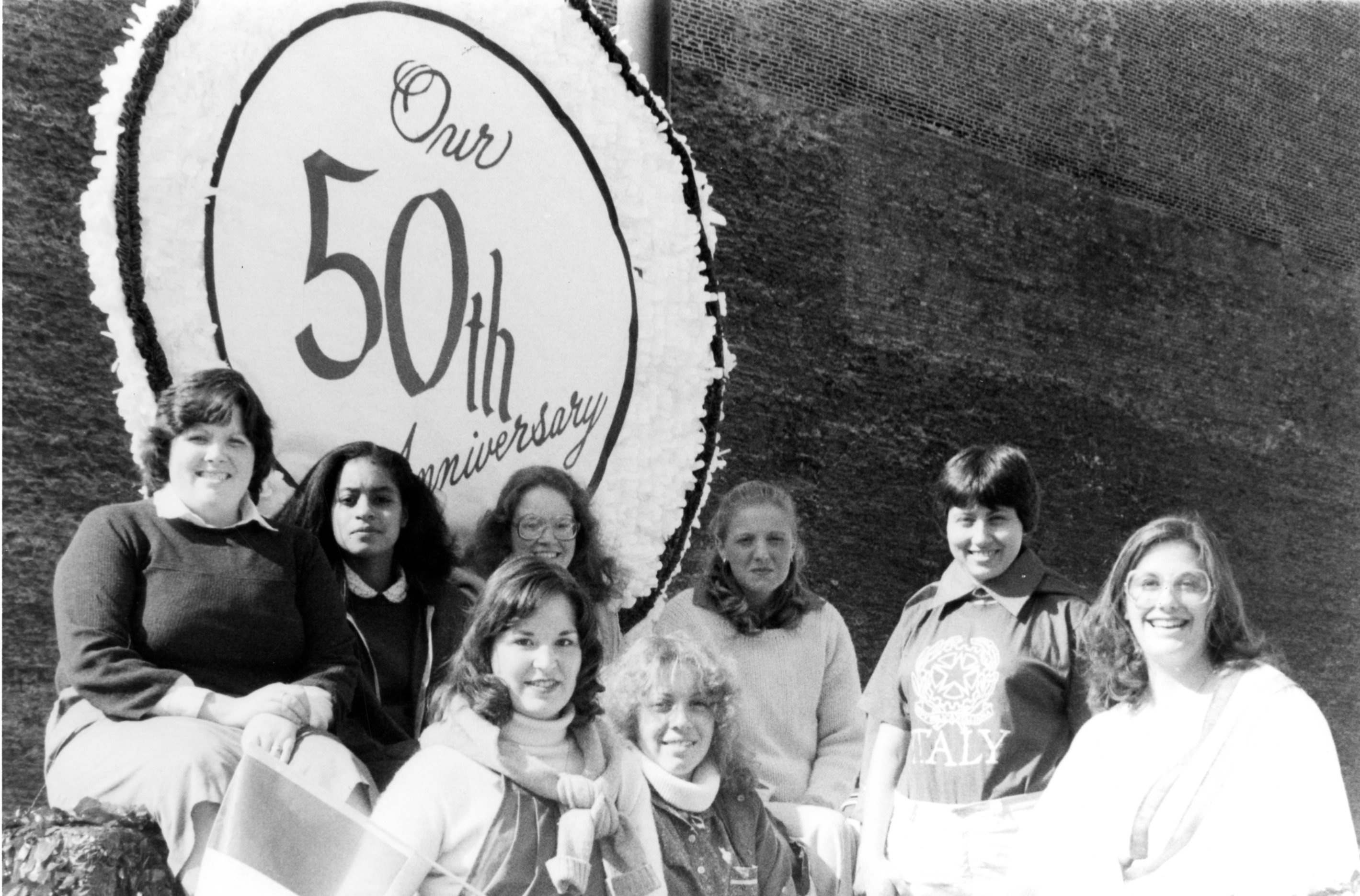 1983: In recognition of women student leaders at Mundelein College, The Sister Mary Ann Ida Gannon, BVM Leadership Award Program is established. Now called the Gannon Scholar's Program, the initiative awards scholarships to incoming students and supports them on the path to becoming student leaders.
1983: Dr. John Richert, the only non-BVM President of Mundelein begins his tenure.
1985: Alumna Sister Mary Brenan Breslin takes over the office of President.
1991: Mundelein College affiliates with Loyola University Chicago. Sister Carolyn Farrell, BVM oversees Mundelein during this transition.