Author, Restoring the Soul of Business: Staying Human in the Age of Data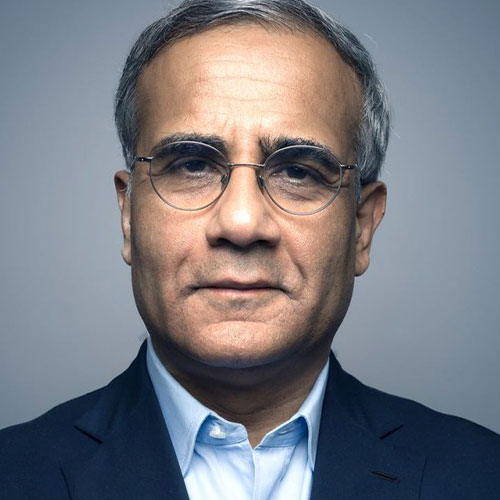 Rishad Tobaccowala is an author, speaker and advisor with four decades of experience specializing in helping people, organizations and teams re-invent themselves to remain relevant in changing times.
Rishad's best-selling book "Restoring the Soul of Business: Staying Human in the Age of Data" was published globally by Harper Collins in January 2020 and focusses on helping people think, feel and see differently about how to grow their companies, their teams and themselves in transformative times. The Economist Magazine called it perhaps the best recent book on stakeholder capitalism.
Rishad speaks on change, future trends and transforming work forces to a range of industries from technology (Google, Facebook, Twitter, Reddit, LinkedIn), to media ( NY Times, Conde Nast, Univision), to blue chip firms ( Walmart, Procter and Gamble, H&R Block, Bayer) to Industry Associations (Blue Cross Blue Shield, US Olympic Swimming, Radio Advertising Bureau). Rishad also teaches programs on Change Management, Upgrading Your Mental Operating System and How to Lead with Soul for many firms and guest lectures at The University of Chicago and Northwestern.
Rishad's advisory clients include global firms such as Publicis Groupe and many executives at Fortune 500 and FTSE 100 companies, private equity organizations such as Growth Catalyst Partner, Venture Capital firms such as Greycroft and technology platforms such as Crisp, Trendline and many more. Rishad spent nearly four decades at Publicis Groupe an 80,000-employee firm comprising companies like Epsilon, Sapient, Digitas, Leo Burnett, Saatchi and Saatchi, Starcom and Zenith dedicated to delivering marketing and business transformation. Before Rishad stopped being a full-time employee with Publicis Groupe in 2019 he served as its Chief Strategy and Growth Officer and served on its Management Committee.
Rishad has also been the Chairman of Digitas and Razorfish, two of the largest marketing transformation agencies in the world with over 11000 employees. Over his 38-year career Tobaccowala has worked across almost every area of marketing and strategy including brand advertising, media, database, direct and interactive marketing. As a pioneer in digital marketing, Tobaccowala helped create one of the first interactive groups and digital agencies 25 years ago and has helped launch a series of initiatives over the years from groups focused on gaming, social, mobile and search engine marketing. Starcom IP, Play, Giant Step, SMG Search and Denuo are some of the brands Tobaccowala helped incubate.
Tobaccowala was named by BusinessWeek as one of the top business leaders for his pioneering innovation and TIME magazine dubbed him one of five "Marketing Innovators. He is the Ad Age Interactive Hall of Fame and has received a lifetime achievement silver medal award from the Chicago Ad Federation.
Rishad is also is chairman of The Tobaccowala Foundation, which helps over 10,000 people gain better access to health and education in India.
Tobaccowala holds a bachelor's degree in mathematics from the University of Bombay and an MBA from the Booth School of Business at the University of Chicago with which he remains closely involved.