Johnson-Scales encourages students to be resilient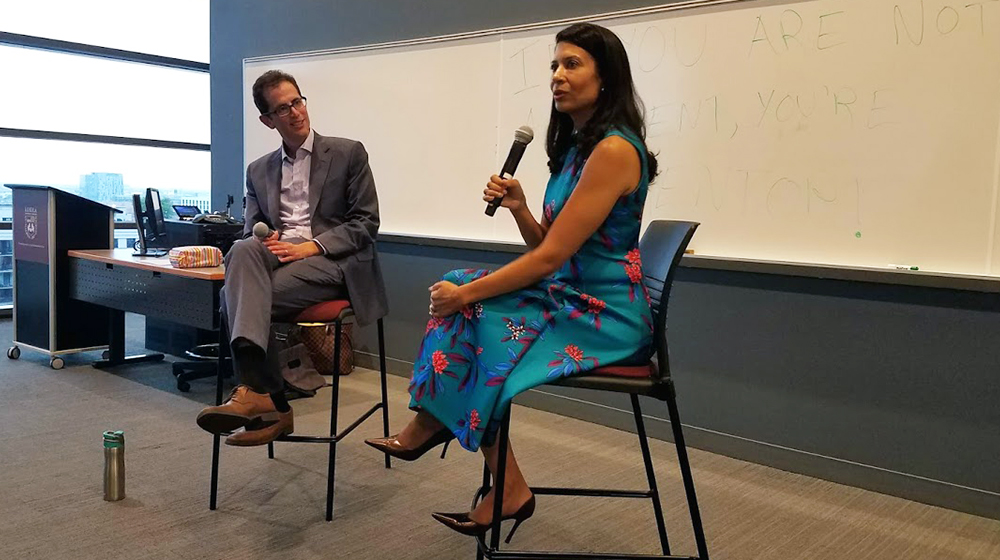 By Brittany Grosser-Basile | Student reporter
Students and mentors alike packed into the Schreiber Center's Board Room on September 24th to hear insights from corporate social impact leader Nicole Johnson-Scales.
Johnson-Scales, the vice president and head of community development for Fifth Third Bank, spoke as part of the Baumhart Center's Fisher Family Conversation Series, which brings foremost executives in social business into dialogue with Loyola students.
Key themes
While discussing her successful career at the intersection of profit and purpose, three themes emerged:
1. Pay attention to your personal brand
Johnson-Scales spoke about being mentored by a senior executive early in her career. At one point, this executive said that he appreciated the social work expertise she brought to the team.
This was her "Aha!" moment. Johnson-Scales actually majored in communications and she wanted to be viewed as a business leader. She realized she wasn't doing an adequate job of connecting her social impact work to the business goals of the company.
Once she understood that, she became very intentional about tying her work directly to helping the business grow.
2. Build strong relationships
Johnson-Scales stressed the importance of building relationships up, down, and across an organization. She treats the bank's administrative assistants and security guards with the same respect she treats the president.
After building strong relationships, she says, you can ask for feedback to better yourself. Even though that can be uncomfortable, "your greatness lies outside of what feels very comfortable."
She emphasized that it's important to have the emotional maturity to ask colleagues what you can start doing, stop doing, and continue doing. Doing this can help you to both build better relationships and be conscious of your personal brand.
3. Be resilient through detours
Johnson-Scales spoke about her journey from the start of college to her current role at Fifth Third Bank. Her path was filled with detours, but she did not let them stop her from achieving success.
"Your detours on your journey do not define who you are," Johnson-Scales said. "When you get these detours along your journey, it's for a reason. It's to make you better, it's for you to develop, it's an opportunity for accountability, and it's an opportunity to reflect. It prepares you for what is next in your career. It prepares you for greatness."
She encouraged the audience to remain positive and have stamina through the detours that they will inevitably face.
Learn more