Friday Morning Seminars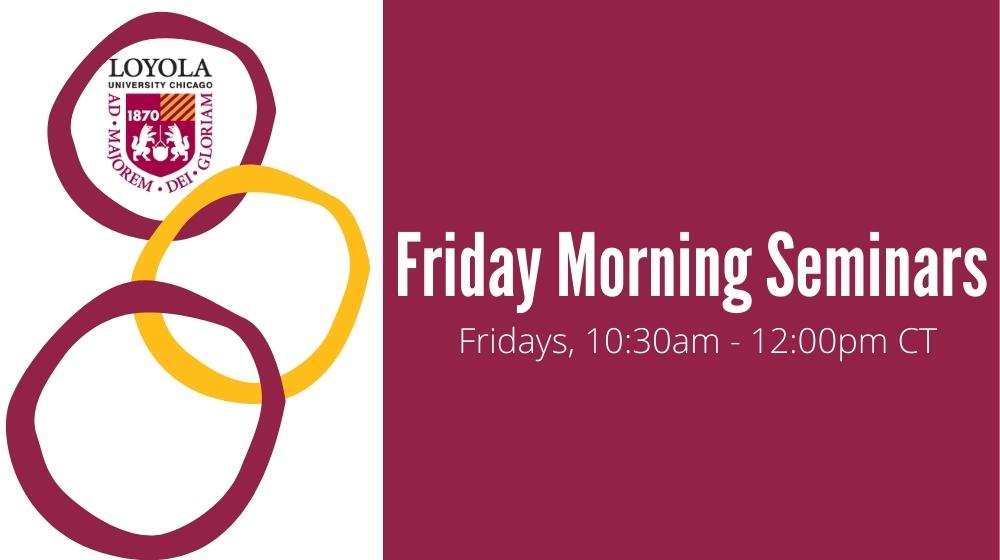 These seminars are a time for all of CURL – graduate students, undergraduates, staff, faculty, and community members – to discuss their thoughts and experiences with community-based initiatives and/or relevant research.
Seminars this semester will continue to be hosted mainly on Zoom and occasionally in hybrid mode in Granada Center Conference Room West, 219, Lake Shore Campus. Please see schedule below for further details. Seminars will continue to be recorded for YouTube.
Spring 2023
Date

Topic

Presenter

January 27

Register Here
Who Owns That? How Ownership Data Can Bring About Housing Justice
Branden DuPont, Deputy Director of Analytics, Center for Criminal Justice, LUC
February 3

Postponed until further notice. Check back for more information.
Not So fast: Race-Neutral Policies' (Constrained) Ability to Promote Racial Equity in an Urban School District
Kate Phillippo, Professor, School of Social Work and School of Education, LUC and Sarah Thorngate, Data Analysis Librarian, Northwestern University / Sociology Ph.D. Student, CURL Fellow, LUC
February 10

Register Here

Stacked Decks: Building Inspectors and the Reproduction of Urban Inequality
Robin Bartram, Assistant Professor of Sociology, Tulane University
February 17

Register Here
We are Chicago's Jesuit, Catholic University: Considering Mission Integration Anew
Claire Noonan, Vice President for Mission Integration, LUC
February 24

Register Here
We Will Chicago: Planning for Equity Across the City of Chicago
Kathleen Dickhut, Deputy Commissioner, City of Chicago, Department of Planning and Development and Jon Schmidt, Assistant Clinical Faculty, School of Education, LUC
March 3
No Seminar
March 10
No Seminar - Spring Break
March 17

Register Here
Focused Deterrence: Evaluating a "Pulling Levers" Approach to Preventing Crime
Amanda Ward, Assistant Research Professor, CURL and Center for Criminal Justice, LUC and David Olson, Professor, Criminal Justice and Criminology Department, Co-Director of the Center for Criminal Justice, LUC
March 24

Co-sponsored with the Office of Sustainability

*This seminar will be held hybrid in Granada Center West Conference Room 291*

Register Here
CNT's Community Oriented Approach to Urban Flooding
Peter Haas, Chief Research Scientist, Center for Neighborhood Technology
March 31

Co-sponsored with Women's Studies and Gender Studies and the Department of Fine & Performing Arts

Register Here
Documenting Trans Youth Across America: Accounts of Survival and Joy
Jesse Freidin, Photographer