Friday Morning Seminars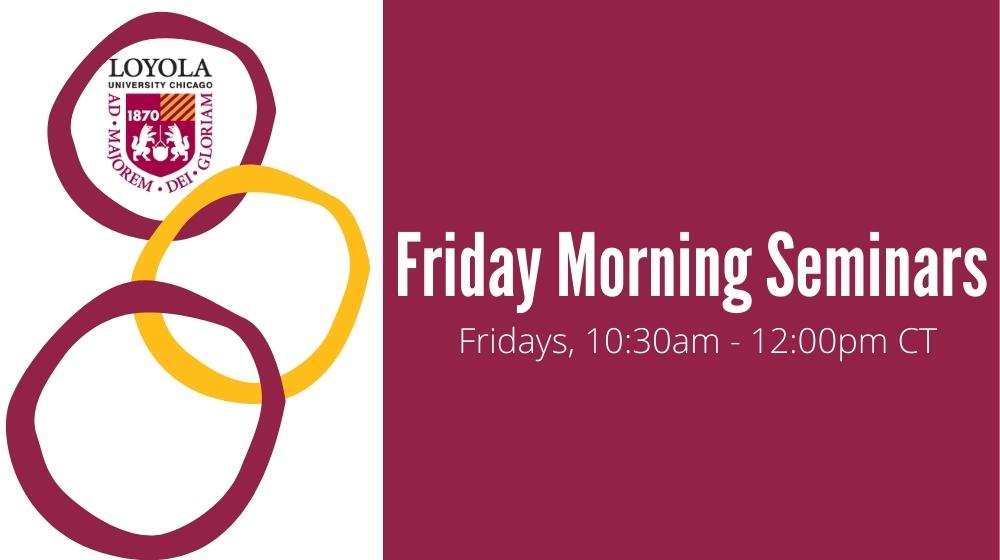 These seminars are a time for CURL graduates, undergraduates, staff, faculty, and community members to discuss their thoughts and experiences with community-based initiatives and/or relevant research.
We are excited to offer another semester of Friday Morning Seminars here at CURL. Beginning this semester, we will be offering a hybrid model of seminar. They will continue to be hosted online via zoom, recorded for YouTube, and additionally, hosted in person here at CURL in Cuneo Hall, Room 417 on the Lake Shore Campus.
Some presenters will be in person while others will still be online. While registration in person is not required, we are requiring masks be worn for in person attendance at CURL's seminars. We look forward to seeing you all throughout the Fall.
Please note: Unavoidable changes may be necessary. Email Teresa Neumann at tneumann1@luc.edu to confirm specific presentations.
Fall 2022
Date

Topic

Presenter

September 9

Register Here
An Innovative Approach to Teaching and Learning at Loyola: Ignatian, Anti-Oppressive and Student-Centered
Bridget Colacchio, Co-Director, and Jessica Mansbach, Co-Director, Faculty Center for Ignatian Pedagogy, LUC
September 16

Register Here
Preparing for the Future of Graduate Education
Emily Barman, Dean of the Graduate School & Vice Provost of Graduate Education, LUC
September 23

Register Here
A Senator's Philosophy of Public Service
Mike Simmons, Illinois State Senator
September 30

Register Here
Data Driven Rationale for the Flexible Housing Pool Program of Chicago and Cook County
Keiki Hinami, Director, Applied Research; Center for Health Equity and Innovation at Cook County Health
October 7
No Seminar - Mid Semester Break
October 14

Register Here
The National Public Housing Museum: Creating a Museum of Conscience
Brad Hunt, Professor and Chair of Department of History, LUC
October 21

Register Here
Crisis Care Expansion: Trends, Models, Opportunities, Threats
Sarah Fletcher, Executive Director of Intensive Outreach, and Chris Mayer, Clinical Director of Crisis Services, Trilogy, INC
October 28

Register Here
MAPSCorps: Using STEM to Engage Youth in Community Research and Advocacy
Maxine Jeremiah, Program Director, MAPSCorps
November 4

Register Here
Addressing Disparities in End-of-life Care and Exploring Solutions
Maureen Burns, Senior Community Education Associate and Community Health Worker for Rogers Park and West Ridge; Kandis Draw, Community Education Associate and Community Health Worker for Chatham and Englewood; Kim Downing, Executive Director of Program Evaluation and Research, The HAP Foundation
November 11

Register Here
CURA @ Work: Imagining New Paths for Student and Faculty Connections
Betsi Burns, Director of Learning & Student Success, and Ashley Williams, Associate Director of Academic Enrichment Programs, Student Academic Services, LUC
November 18

Register Here

CURL Graduate Fellow Alumni Panel
Asma Ali, Specialist Master at Deloitte Consulting, LLC; Julie Hilvers, Research Manager at Feeding America; Amy Kerr, Director of Evaluation at Professional Data Analysts; and Sophia Rodriguez, Assistant Professor of Educational Policy and Urban Education at University of Maryland