Old Files
I am very pleased to announce the inauguration of the Faculty Center for Ignatian Pedagogy, a center to promote excellence in teaching and learning. As described in Loyola's Transformative Education in the Jesuit Tradition document, Ignatian pedagogy seeks to challenge student learners to appropriate their own process of knowing through collaborative learning, engaging experiences, reflective analysis, and understanding oneself. By assisting faculty to become teacher-scholars through Ignatian Pedagogy, the faculty contribute to the development of students as knowledgeable, well-skilled, and ethically responsible leaders for careers, community, and the world.
In my judgment, most of Loyola's faculty are already practitioners of Ignatian pedagogy, even if what they do is not ordinarily described in these terms. Through the new Faculty Center, however, faculty will have more professional opportunities created intentionally to support the teaching craft, along with more opportunities to engage one another in conversations about the science and art of effective teaching and student learning.
Leading the Faculty Center for Ignatian Pedagogy are Co-Directors Nancy Tuchman, Ph.D., Vice Provost and Professor of Biology, and Carol Scheidenhelm, Ph.D., who has served as Director of the Center for Learning Technologies and Assessment (LTA) for the past five years. Their work will be supported by current staff in the LTA office, other faculty administrators and, in time, a faculty Advisory Board to the Center. Among the consulting services in development are integrating mission into teaching, effective practices for technology in teaching and learning, pedagogical and technology support for online learning, development of effective collaborative and engaged learning environments, assessment of student learning, and many others.
A center dedicated to the promotion of excellence in teaching and learning will only flourish with the help of your ideas, advice and creativity, and it is a key goal of the Center to involve Loyola faculty in the sharing of teaching and learning strategies throughout the coming year. I know that I am joined by Drs. Tuchman and Scheidenhelm in inviting you to share with them your teaching skills and ideas at facultycenter@luc.edu, by visiting the Center's offices at the Lake Shore Campus in the Granada Center, Suite 400, or by visiting their website at http://www.luc.edu/facultycenter/.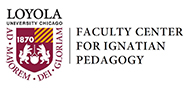 Carol Scheidenhelm, Ph.D.
Director, Faculty Center for Ignatian Pedagogy
Cuneo Hall 408
773-508-7489
cschei1@luc.edu
Ann Marie Ryan, Ph.D.
Faculty Fellow
Cuneo Hall 406
773-508-8856
aryan3@luc.edu
FCIP Welcomes Our New Interim Director
Academic Year 2022-2023 Ignatian Pedagogy Faculty Scholar Position Description and Application Information
Overview
To support Loyola educators' (faculty, staff, and graduate student) interest in Ignatian Pedagogy (IP), the Faculty Center for lgnatian Pedagogy (FCIP) seeks diverse candidates for an IP Faculty Scholar for the 2022-23 academic year.