Voting rights warriors
Loyola lawyers fight for all voices to be heard
Doug Poland (JD '94) is a battle-scarred veteran of the Map Wars. In those decennial courtroom battles over the shape of legislative districts redrawn in state capitals after each census, Poland, an attorney in Madison, Wisconsin, has won important victories. He successfully challenged legislative district maps produced by the Republican-controlled Wisconsin State Assembly as unconstitutional examples of partisan gerrymandering—the political dark art by which parties deftly carve their states into shapes designed to help elect their candidates. He was part of the team that won a ruling in federal court invalidating the legislature's redistricting plan as politically biased.
A courtroom setback demonstrated just how high the stakes were in such redistricting cases. In 2018, the United States Supreme Court vacated that win on a technical legal ground called "standing," effectively undoing Poland's earlier victory, and then in 2019, the Supreme Court ruled that federal courts are powerless to hear challenges to partisan gerrymandering, no matter how outrageous.
"For anyone who cares about democracy, to allow one party this much control over a state is a problem."
"It was clear that this was going to be a problem for Wisconsin," Poland says. "Partisan gerrymandering allows one political party an intractable grip on the state." What's more, Poland says, the state's historic status as a laboratory for political innovation means that events in Wisconsin are often predictive of what is to come across the nation.
In response to the ruling and the erosion of other guardrails of democracy, Poland and fellow attorney Jeff Mandell launched Law Forward, a donor supported law firm to champion progressive causes in Wisconsin and combat the legal armies of the state's political right.
"So often Wisconsin has been a test bed for radical change to the mechanisms of democracy. Ideas are tried out here and then move to other states," Poland says. "For anyone who cares about democracy, to allow one party this much control over a state is a problem. And a problem this significant needs significant attention."
Poland is just one of the Loyola law graduates working to secure the rights of voters and promote electoral processes that are more just. The work includes not only litigation but also public education and mobilization, and touches on not just gerrymandering and redistricting but also access to the polls and the fair administration of elections. In Chicago, Justin Sia (JD '20) aims to strengthen the voting power of the city's Asian Americans, its fastest-growing ethnic group, giving them a greater voice in city government. Arthur Mitchell (JD '18) promotes more transparent redistricting processes in feverishly contested states like North Carolina and Ohio. Like Poland, they believe that the nation's way of doing electoral business is eroding public trust in local, state, and federal governments and robbing some people of their full voting rights.
"There is enormous cost in people feeling like they don't have a voice in their government," Sia says. "It costs them and costs all of us."
Twin traditions
The fight for equal voting rights in America is as old as the American electoral tradition itself. The cause's first heroes may have been the early 17th-century Polish artisans of Virginia's Jamestown Colony. Skilled woodworkers (including "Robert, a Polonian" and "Matthew, a Polander," as they were identified in colony records) were recruited to Jamestown as early as 1608. The colony's only real economic success in its first years came from exporting hemp, flax, tar, and pitch produced by workers from Poland.
Yet when Governor George Yeardley established Virginia's House of Burgesses in 1619to extend "free liberty to all men through freely elected representatives," the franchise was extended only to Englishmen. The colony's Poles were left without voting rights. Thus, two great American traditions—representative government and electoral injustice—were established at once. The Poles had to resort to a work stoppage to secure the right to vote.
As noted in The Records of the Virginia Company of London, "Upon some dispute of the [Poles] resident in Virginia, it was agreed (notwithstanding any former order to the contrary) that they shall be enfranchised and made as free as any inhabitant whatsoever." A later entry says, "the Polackers are returned to their work."
The expansion of voting rights in America has continued to be a struggle ever since, marked by a cataclysmic civil war, monumental protest movements, and eight constitutional amendments. The United States Supreme Court declared in 1964, "no right is more precious in a free country than that of having a voice in the election of those who make the laws." Yet the mechanics of how, when, and if we vote are decided mainly by state law and local implementation. According to the nonpartisan coalition Election Protection, 23 states created new obstacles to voting in the second decade of this century.
As Grant M. Hayden writes in The Oxford Companion to American Law, "The history of voting in the United States has not been characterized by a smooth and inexorable progress toward universal political participation. It has instead been much messier, littered with periods of both expansion and retraction of the franchise with respect to many groups of potential voters."
Protecting voting rights now involves litigation to challenge unconstitutional barriers to voting, grassroots advocacy to promote more transparent legislative processes, and nonpartisan efforts to register historically underrepresented populations to vote.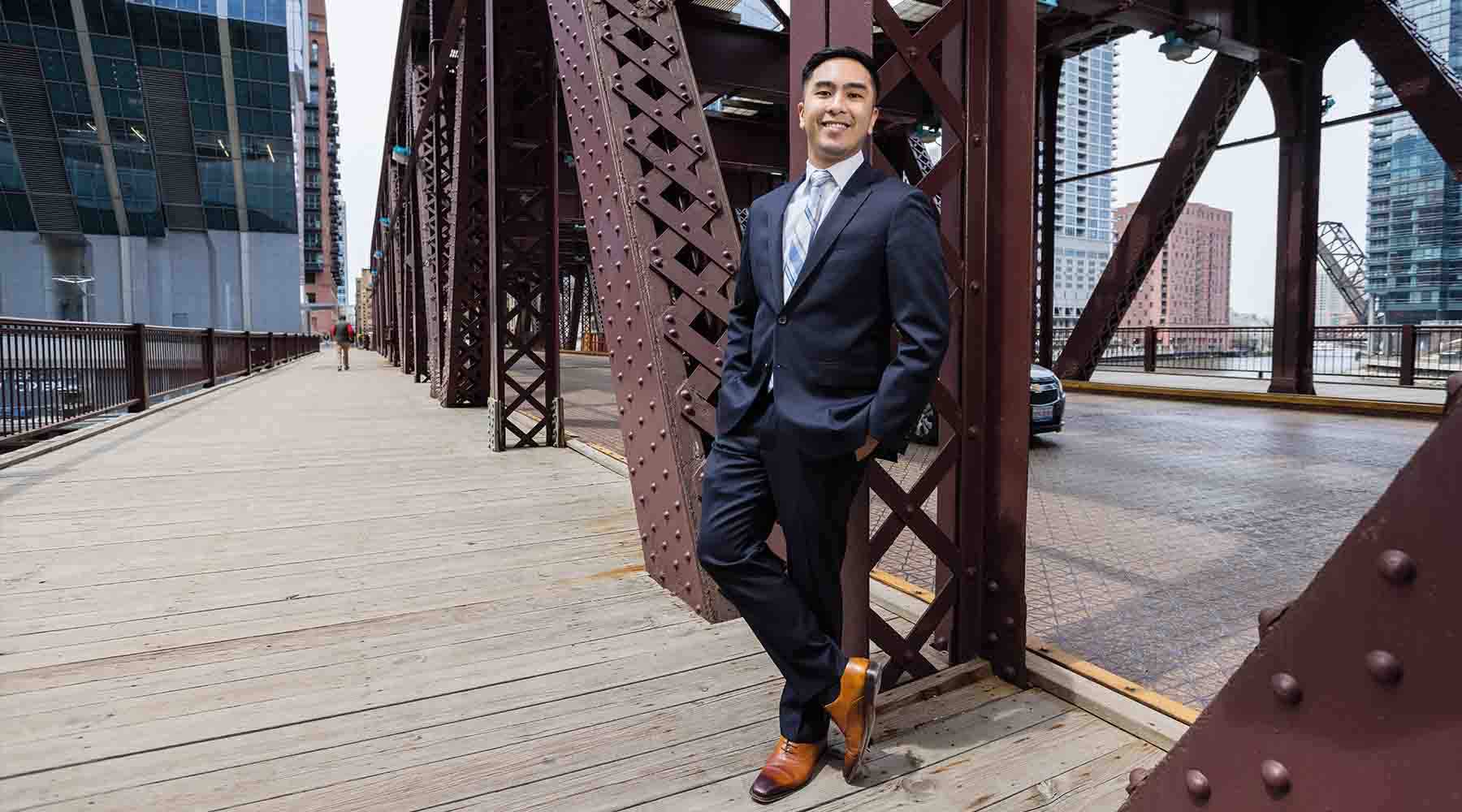 Who gets a voice?
When Justin Sia (JD '20) served as democracy, voting rights, and redistricting counsel at Asian Americans Advancing Justice Chicago, he saw his mission as amplifying the underrepresented political voice of Chicago's Asian American community. Asian Americans make up 7 percent of Chicago's population and are the city's fastest-growing ethnic group. But the city's Asian communities have long been splintered among different wards represented by different aldermen in the City Council, depriving the Asian American community of a seat on City Council.
With the Chinatown community, Chicago's largest Asian American community, split among three wards, Sia advocated for a redrawing of the Chicago ward map to unify the community in one ward with an Asian American majority during the 2021–2022 redistricting cycle. In May 2022, Sia and advocates successfully pushed the City Council to approve a new citywide ward map that contains such a ward in Greater Chinatown, marking a historic moment for Asian American representation in Chicago. Earlier this year, Mayor Lori Lightfoot selected Nicole Lee to fill a vacant seat in the 11th Ward, making Lee the first Chinese American to represent part of Chinatown.
"There is enormous cost in people feeling like they don't have a voice in their government."
"When we talk about redrawing a map, it really means determining which communities have a voice and which don't," Sia says. "Having the Chinatown community split among several wards made it difficult for the community to advocate for itself."
Asian Americans Advancing Justice and partner organizations last year produced a new 11th Ward map that demonstrated how a single, majority Asian American ward could be created on Chicago's near southwest side. Sia reached out to all 50 of the city's aldermen, was able to meet with about half, and secured pledges from the City Council's Latino and Black caucuses, along with the vast majority of the City Council, in support of creating a single Asian American ward, the first in Chicago's history.
"I'm Asian American and I grew up in a culture that taught us to keep our heads down and don't raise our voices," Sia says. "My work is about giving a voice to my community."
As a School of Law student, Sia honed his skills in the Legislation and Policy Clinic, where he was first a member, then a fellow. He helped to represent foster youth seeking access to higher education in Illinois.
"It taught me to think like a lawyer and find ways to serve a marginalized community," he says.
Sia says that the creation of anew Chinatown ward was only a first step. The area around Devon Avenue on Chicago's North Side may be the next neighborhood that could support a mostly Asian American ward. And he would like to see the ward-drawing process reformed to be more transparent and encourage public input for the next redistricting cycle in 2031.
"I was disappointed in the current redistricting process. The goalposts kept shifting on us," Sia says. "So, as important as this redistricting cycle was, it's only the beginning for our community."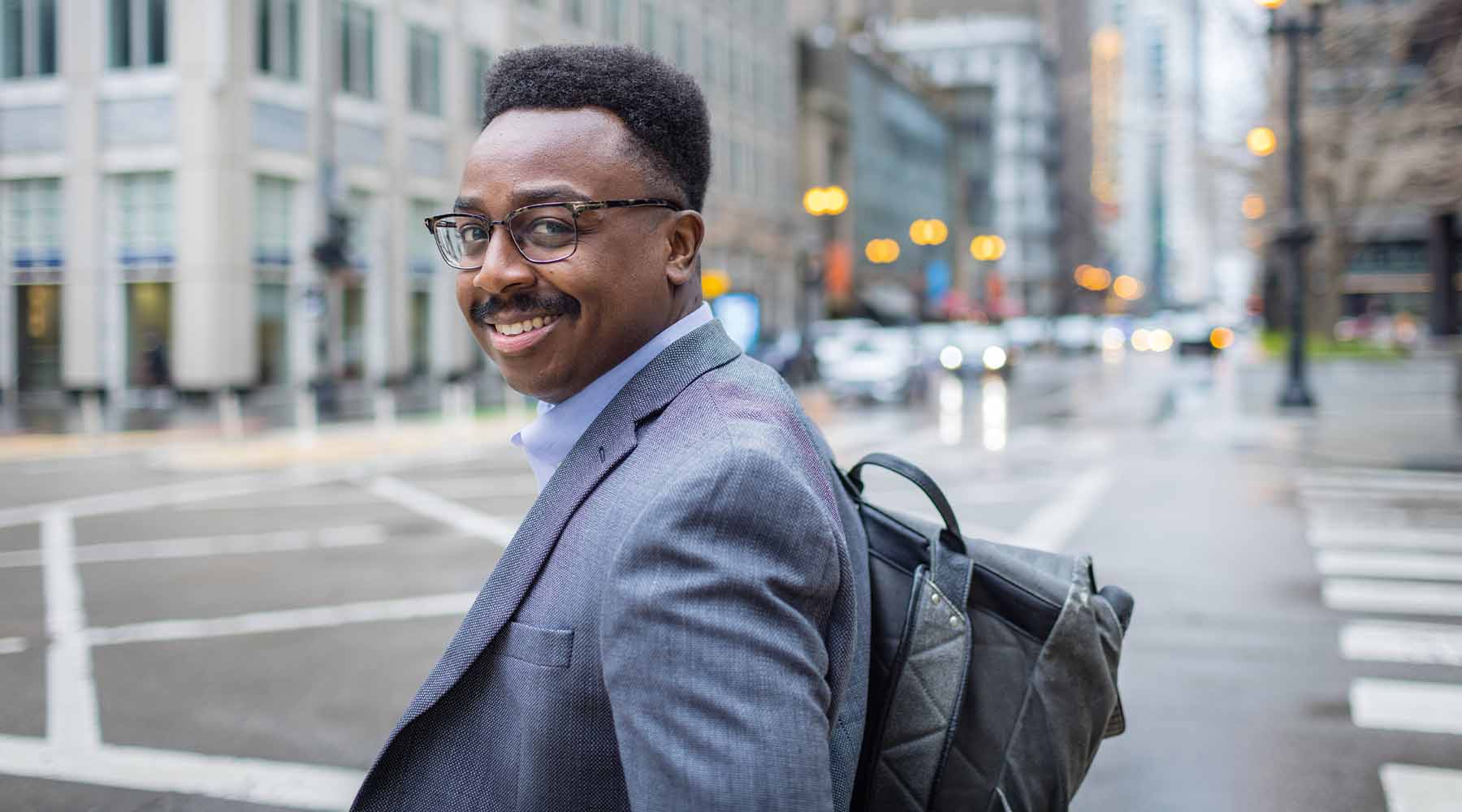 Lightning striking
Arthur Mitchell (JD '18) had not heard of the National Democratic Redistricting Committee until a friend mentioned the group at a backyard gathering a few years ago. The group, launched by former attorney general Eric Holder, backs litigation and reform to produce fair election maps, pushing back against aggressively partisan Republican gerrymandering. The friend told Mitchell that the group was hiring.
"That was like lightning striking for me," says Mitchell, who was working at a large Chicago law firm at the time. "The more I looked into it, the clearer it was that I wanted to do this kind of work."
Mitchell is a deputy director for litigation and policy at the NDRC and its nonprofit wing, the National Redistricting Action Foundation. The role, he says, places him "in the thick of things." Wherever redistricting plans are being contested—and the conflicts works with state directors and local activists to help, in his words, "make democracy more democratic."
"We have to reinvigorate public trust."
Mitchell likes to point to some of the unfairness of recent electoral maps. In the 2018 congressional election in North Carolina, for example, Republican candidates won 50 percent of the votes and Democrats 49 percent. But thanks to district maps that favored the GOP, Republicans made up 77 percent of the elected congressional delegation, and Democrats just 23 percent.
"No one is suggesting that the delegation should be exactly proportional, but this does seem awfully odd," Mitchell says. "We have this self-perpetuating system by which politicians get to choose their voters, instead of the other way around."
Mitchell says that independent commissions that encourage input from all sides and work transparently and in public view offer one hope for America's electoral problems.
"We have to reinvigorate public trust," Mitchell says. "The issues can seem so esoteric and complicated, but in the end, it's about, 'Will my vote count?'"
Mitchell says his work is partly inspired by the Jesuit social justice tradition he encountered at Loyola.
"I'm not a practicing Catholic," he says, "but I've embraced the Jesuit mission of service to others as an important ideal in my work as an attorney."
The battle continues
Securing voting rights through litigation is such a costly project that the usual model whereby clients pay for legal services simply is not practical. Poland of Law Forward says he did pro bono work worth $750,000 in the high-profile Gill v. Whitford case.
"Practically speaking, who has the money to be able to do this?" Poland asks. "It's not tenable." Nonprofit law firms have taken on some of the most impactful voting rights litigation, working on behalf of clients who would not otherwise be able to pursue their claims. Poland says that Law Forward, because it focuses its efforts on Wisconsin, can bring a uniquely useful knowledge of the local political landscape to its work. That local expertise can be critical, given the diverse local and state rules that govern how and where we vote.
In Wisconsin, the rules for absentee voters using dropboxes are the source of yet one more legal battle. A case before the state Supreme Court asks whether ballot drop boxes should be legal and whether voters should be allowed to drop off other voters' ballots. Even the language employed by each side of the controversy illustrates the political divisions in the state. Democrats talk about the need for "ballot return assistance," especially for the elderly and people with disabilities. Republicans sometimes refer to these and other practices as "ballot harvesting." In February, Law Forward filed a brief with the Supreme Court explaining why the ballot return measures are legal and necessary.
"Without ballot return assistance, a lot of people simply wouldn't be able to vote," Poland says. "I'm lucky; I have the means to exercise my rights. It's not always the same for others." –Andrew Santella (Summer 2022)
By the numbers: Voter Suppression
Since the 2020 election, at least 19 states have passed voter suppression laws.
400+
Restrictive voting bills have been introduced since the 2020 election
34
Voter suppression bills have been enacted
49
States have introduced restrictive voting bills
Source: Brennan Center for Justice
Some key milestones in U.S. voting rights
1870
The 15th Amendment is ratified, granting Black men the right to vote. However, laws, including poll taxes and literacy tests, are enacted in mostly Southern states, suppressing Black voting rights.
1920
The 19th Amendment is adopted, granting women the right to vote. But some states—mostly in the South—work to restrict minority women from voting through the passage of discriminatory laws.
1924
Congress enacts the Indian Citizenship Act, granting U.S.-born Native Americans the right to vote. Still, some states continue to suppress these rights.
1943
The Chinese Exclusion Act, which had barred Chinese people from becoming citizens since 1882, is repealed. Chinese immigrants and their American-born families become the first Asian Americans eligible to naturalize and gain citizenship—and vote.
1964
The 24th Amendment is ratified, prohibiting the use of poll taxes in federal elections.
1965
President Johnson signs the Voting Rights Act into law, banning barriers to political participation by racial and ethnic minorities, prohibiting election practices that deny the right to vote on account of race, and requiring jurisdictions with a history of discrimination in voting to obtain federal approval for changes in their election laws before they can take effect.
1971
President Nixon signs the 26th Amendment, granting the right to vote to U.S. citizens who are 18 or older.
1975
President Ford signs an extension of the Voting Rights Act that requires districts with significant numbers of non-English-speaking voters to provide instructions or assistance in registering and voting.
1982
President Reagan signs a 25-year extension of the Voting Rights Act that includes provisions to make voting easier for the elderly and people with disabilities.
1993
The National Voter Registration Act of 1993, known as the "motor voter" law, is signed into law by President Clinton. The law requires state motor vehicle agencies to offer voter registration opportunities. It also requires states to offer mail-in voter registration applications and voter registration opportunities at certain state and local offices.
2006
Congress extends Section 5 of the Voting Rights Act for an additional 25 years. Section 5 requires that changes in voting laws and procedures in certain states and jurisdictions be precleared by the federal government before implementation.
2011
State lawmakers nationwide introduce a record number of restrictions to voting, including photo ID requirements, cuts to early voting, and restrictions to voter registration. Many of these states have histories of voter discrimination and are covered under the VRA.
2013
The U.S. Supreme Court, in a 5-4 vote, rules that Section 4(b) of the Voting Rights Act is unconstitutional, holding that its constraints on voting law changes are outdated. After the ruling, which affected nine states and several counties and townships, a federal commission found at least 23 states had enacted "newly restrictive statewide voter laws" such as polling place closures, voter ID laws, limiting early voting, and more.
2016
14 states institute new voting restrictions for the first time in a presidential election.
Sources: History.com, ACLU.org, Brennan Center for Justice