New Acquisitions
Infant Christ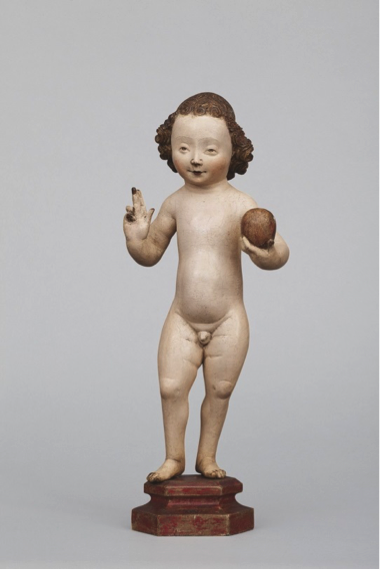 ‌
LUMA is 10 years old. As the museum's curator, I would like to mark this institutional milestone by adding a special work of art to the Martin D'Arcy, S.J. Collection. What better object could there be, as we enjoy the 8th annual presentation of Art and Faith of the Crèche: The James and Emilia Govan Collection, than this sweet-faced, chubby-legged infant?
We see both a vulnerable infant and God, the Redeemer, who holds the world in his hand and blesses all of creation. Such sculptures were popular across Europe around 1500, and were incorporated into devotional practices that focused on Christ's humanity. This particular figure was made by an unknown artist in Mechelen. It has the distinctive facial features of works from that Flemish town, such as almond-shaped eyes, a sweet smile, a long torso, and plump thighs. And it bears physical witness to the devotion that it inspired. Previous owners have played with its delicate, child-like features and rubbed away the paint on His nose, chin, fingers and toes.
To secure this treasured object for the collection, please click on the link below. The names of every contributor will be acknowledged on the object label, whenever and wherever the piece is exhibited.
Your support of LUMA, as it moves into its second decade, and of the D'Arcy Collection, one of the most important collections of European art in the Midwest, is greatly appreciated. I wish you the message of the angels this holiday season:
Peace on earth and goodwill to all!
Jonathan P. Canning
Senior Curator and Curator of the Martin D'Arcy, S.J. Collection
Image: Infant Christ, ca. 1500, Flemish (Mechelen), Polychromed walnut