David Lee Csicsko: Sacred Visions in Art and Design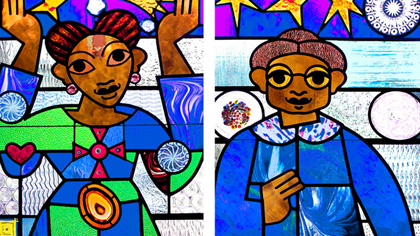 ‌
June 16 – September 9, 2007
David Csicsko is a Chicago-based artist, well known for his designs for leaded glass windows in Chicago churches. The artist melds traditional images of Christian saints and scripture with a contemporary urban look. Two of his Chicago commissions include the leaded glass windows in Saint Benedict the African and Saint Ailbe's.
This exhibition incorporated Csicsko's wide range of sacred and secular graphic work, including 90 works of leaded glass, prints, drawings, mosaics, and textiles. Three of Csicsko's commissioned windows were included in the exhibition, along with a newly executed window completed for this showcase, and examples of Csicsko's newest work in ceramic mosaics.
Image: David Lee Csicsko, Stained Glass from St. Benedict the African East, Chicago. Photo by John Faier.