I Remember Purim: Molly J. Schiff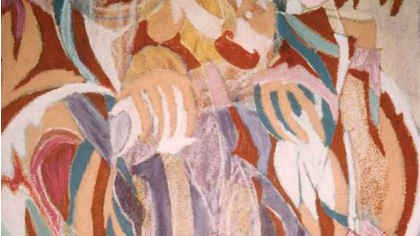 February 17 – April 29, 2007

The subject matter of Molly J. Schiff's paintings on paper is based on her fond memories of Purim, a Jewish holiday that commemorates the time when Jews living in Persia (now Iran) during the 3rd or 4th century B.C.E. were saved from extermination by the heroic act of their queen, Esther.
Using an oil stick and acrylic resist technique and a bright palette of traditional spring colors, the artist works both figuratively and abstractly. Each work is playful in its depiction of Old Testament figures and epitomizes the spirit of Purim as one of the most joyous celebrations of the Jewish calendar. This presentation was part of a larger body of paintings and drawings done on Purim over several years.
This exhibition illustrated not only the story of Esther but also the continued celebration of the queen's heroic story. Molly J. Schiff holds an MFA from the School of the Art Institute of Chicago. She is a well-known instructor, lecturer, and organizer of unique travel programs.
Image: Molly J. Schiff, Vashti "Ribbon Lady"