Faculty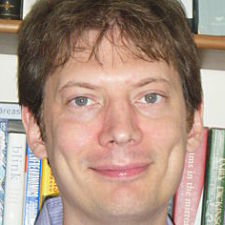 Peter Rosenblatt, PhD
Title/s: Associate Professor
Director of the Urban Studies program at Loyola
Specialty Area: Urban Sociology, Sociology of Education, Research Methods
Office #: Coffey 438
Phone: 773.508.3422
Email: prosenblatt@luc.edu
CV Link: CV_Rosenblatt
About
Dr. Rosenblatt's research falls within two branches. One branch, rooted in residential mobility scholarship, seeks to understand the way institutional practices of contemporary housing policy interact with the lived experiences of low-income households. A second branch of research, rooted in scholarship on racial inequality and urban redevelopment, looks at the way racial segregation is perpetuated through contemporary housing markets and public housing policy.
Over the past several years, he and his colleagues have conducted interview studies in multiple cities to understand why low-income families end up stuck in a cycle of multiple moves across poor and segregated neighborhoods, even when their housing costs are subsidized with Section-8 vouchers. This work has illustrated the ways in which the conditions of life in poverty shape not just how families use the voucher program, but cause us to rethink our assumptions about why poor people move.
His work also involves evaluations of policies specifically designed to address concentrated poverty. His recent publications with Stefanie DeLuca on the Baltimore Housing Mobility Program (in Housing Policy Debate) and the Sandtown-Winchester Neighborhood Transformation Initiative (in Urban Affairs Review) look at two different policy approaches to helping families and children escape the harms of growing up in distressed neighborhoods.
The second branch of Dr. Rosenblatt's research explores the significance of urban redevelopment for ongoing racial inequality. One piece of this research agenda looks at the geography of investor lending across the period of housing boom and bust that took place during the first decade of the 2000s, uncovering a dual housing market in Chicago that facilitated riskier lending in African-American communities. A second piece explores the roots of racial inequality in the policies of the past, and the way these divisions are remade through contemporary practices such as public housing demolition and redevelopment.
Dr. Rosenblatt embraces a model of engaged scholarship; in addition to academic publications, he has written multiple research reports and policy briefs in order to help share stories such as those of low-income voucher users in Milwaukee WI, Mobile AL, and Baltimore MD with those best positioned to assist them and others like them.
Degrees
PhD, Sociology
Johns Hopkins University, Baltimore, 2011
MA,Sociology
Johns Hopkins University, Baltimore, 2008
BA, Sociology
Wesleyan University, Middletown, CT, 2002
Selected Publications
DeLuca, Stefanie, Holly Wood, and Peter Rosenblatt. 2019. "Why Poor Families Move (and Where They Go): Reactive Mobility and Residential Decisions." City & Community. 18(2): 556-593.
Rosenblatt, Peter and Jennifer Cossyleon. 2018. "Pushing the Boundaries: Searching for Housing in the Most Segregated Metropolis in America" City & Community 17(1): 87-108.
Rosenblatt, Peter and Steven J. Sacco. 2018. "Investors and the Geography of the Subprime Housing Crisis" Housing Policy Debate. 28(1): 94-116. DOI:10.1080/10511482.2016.1242021
DeLuca, Stefanie and Peter Rosenblatt. 2017. "Walking Away from The Wire: Housing Mobility, Neighborhood Opportunity and School Quality in Baltimore." Housing Policy Debate. 27(4): 519-546. DOI: 10.1080/10511482.2017.1282884
Rosenblatt, Peter and Stefanie DeLuca. 2017. "What Happened in Sandtown-Winchester? Understanding the Impacts of a Comprehensive Community Initiative" Urban Affairs Review 53(3) 463-494.
Rosenblatt, Peter and Stefanie DeLuca. 2012. "'We Don't Live Outside, We Live in Here': Residential Mobility Decisions of Low-income Families." City & Community 11(3) 254-284.