2014 Staff Recognition and Excellence Award Winners
2014 Staff Recognition and Excellence Award Winners
University Staff Council Celebrates the Winners of the 2014 Staff Recognition and Excellence Awards
The nominees and winners of the annual Staff Recognition and Excellence Awards (SREA) were honored Monday, November 24, 2014, at a ceremony held in the Damen Student Center. University Staff Council and Human Resources host the event to honor staff members and departments that go above and beyond expectation.
This year University Staff Council received over 60 unique nominations from faculty, staff, and students plus 66 monthly Commitment to Excellence Award winners. All recipients of the Commitment to Excellence award are also nominees for the Staff Member of the Year. Nominees represent all three Loyola campuses and an incredible range of departments and schools.
This year's nominations also pointed to countless acts of kindness, generosity of spirit and recounts of notable staff members consistently going above and beyond "the call of duty."
The 2014 event was one of the largest SREA ceremonies since it has been a stand-alone event. This year, over 260 staff, faculty, administrators, and special guests came together to celebrate all Loyola staff.
The 2014 Staff Recognition and Excellence Award winners are:
* Rising Star Award: Monica Cohen, Achieving College Excellence Advisor, Academic Enrichment and Retention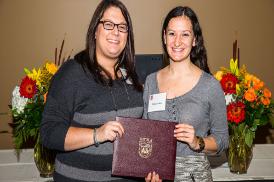 * Team Spirit Award: Career Development Center/ Pre-Health/ Student Employment Staff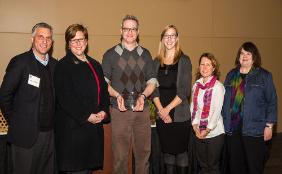 * Megs Langdon Award: David Van Zytveld, Associate Director, Center for Urban Research and Learning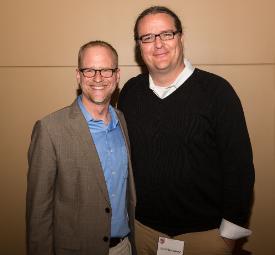 * Student Service (or Person for Students) Award: Kyra Calhoun, Program Manager, Stritch School of Medicine Student Affairs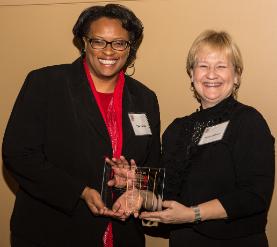 * Kay Egan (or Person for Others) Award: Denise Hall, Office Coordinator, Department of Chemistry and Biochemistry
* Staff Member of the Year: Michael Lambesis, Assistant Dean, Stritch School of Medicine Student Affairs