Welcome from VP Champagne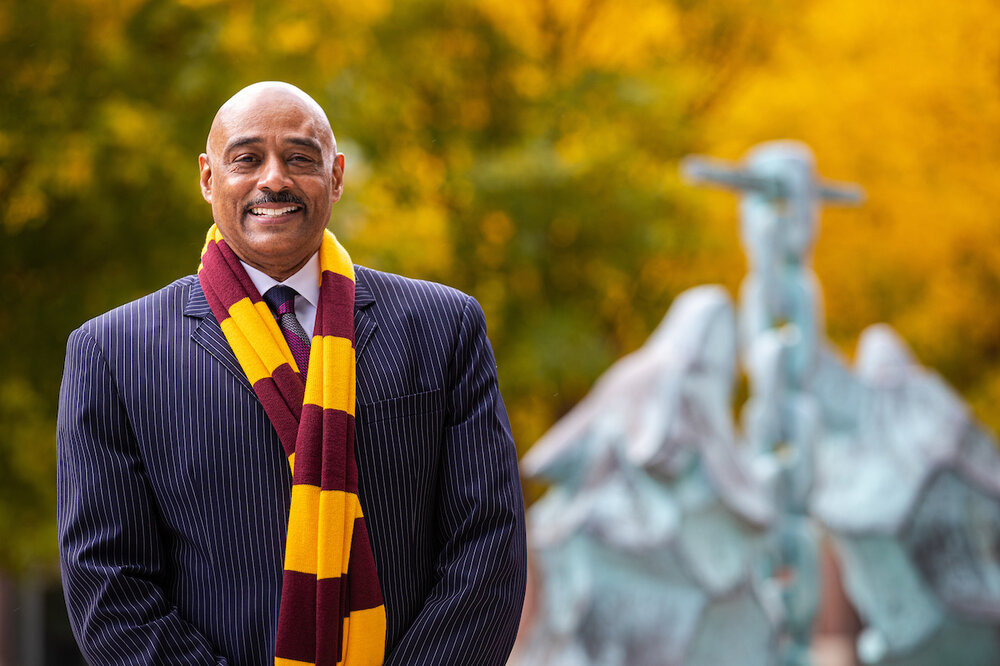 Dear students,
Welcome to Loyola University Chicago (LUC)!
As someone who attended a Jesuit university, and as the first person in my family to go to college, I believe in Loyola's comprehensive mission and values, its focus on social justice, diversity, equity and inclusion, and the care of undergraduate, graduate, and professional students. Our mission is to prepare LUC students to learn, live, and lead in a diverse, inclusive, global, complex, technological, and rapidly changing world. I am honored to do this collaborative work with an exceptional Senior Leadership Team, talented staff in the DSD, and our campus partners.
Striving for excellence in all that we do, we aim to be a premiere division that facilitates a transformative experience for every one of our students at each of our campuses, and within all academic programs. Since I joined the LUC community in December of 2021, DSD has made progress in a number of areas, which include (but are not limited to) taking the following steps:
Created a new position, the Assistant Vice President for Diversity & Student Engagement. In this role, Astrid Beltrán provides leadership for strategies promoting diversity, equity, and inclusion. She also oversees these departments:

The new Center for Black Student Excellence - Cory Barnes, Director

The Center for Diversity & Inclusion (formerly Student Diversity & Multicultural Affairs) - James Thomas, Director

The Center for Student Engagement (formerly Student Activities & Greek Affairs) - Marissa Lucchesi, Director

Graduate, Professional, & Adult Student Life – MacKenzie Rotherham, Director

Developed and are in the process of implementing plans to expand wellness and other student support services at the Health Science Campus.

Initiated a re-branding campaign for the CURA Network (formerly known as the Center for Student Assistance & Advocacy).

Welcomed a new position to DSD, the Director Special Projects and Strategic Initiatives. In this role, Jim Flavin will focus on partnerships, outreach, and program development.

Launched the Rambler Brotherhood Project, which is co-directed by Cory Barnes, and Jim Flavin.
A focus on diversity, equity, and inclusion, and a spirit of inclusive excellence is a constant priority in all that we do. To demonstrate our commitment to being available and accessible, I have been meeting with student groups, and inviting students to join me at coffee hour events. Starting this year, I will meet regularly with a Student Advisory Council, and will establish a Family Advisory Council to connect with the parents and families of current students.
In over 25 years of experience in higher education, I have focused on increasing access, success, a sense of belonging, and graduation rates for students while employing innovative approaches, and seeking continuous improvement in all that we do. I look forward to continuing to do this important work at LUC in the 2022 – 2023 academic year, and beyond.
Sincerely,
Keith M. Champagne, Ph.D.
To read more about Dr. Champagne, please review this press release and view this story.