EEE: Engaging Engineering Experts
Catherine Haden and her partners – David Uttal, PhD (Northwestern), Chicago Children's Museum and Evanston Public Library – received a grant from the Institute of Museum and Library Services (IMLS) through its STEMeX grant initiative. The project focuses on approaches for engineering experts to incorporate objects and oral narratives into family STEM programs.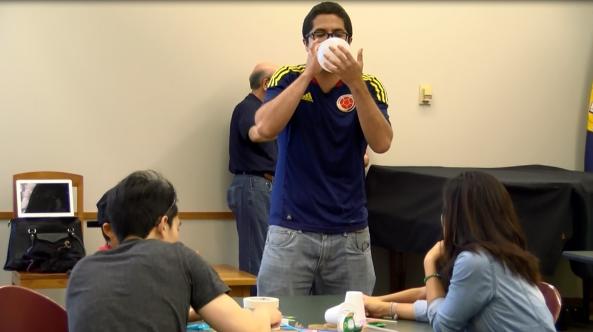 Expert 1: The engineering expert invited families to build balloon-powered cars using everyday materials. In his narrative, he talked about his experiences making robots to help people. Program iterations over three sessions included adding models and more communication about the connections between the experts work in robotics and the engineering design process.
Our engineering experts are tinkerers, mechanical, nuclear and costume engineers, with varying levels of experience and backgrounds. These experts work with the research team, Museum and Library, to create a workshop or program where children and their families can create a novel project following engineering concepts.
Expert 2: The expert shared a narrative about a time when she used problem solving to design a robotic arm for manufacturing equipment. The families were then encouraged to create the tallest iteration of their tower that they could without having the tower fall over.
More information about the IMLS STEMeX projects is available at: https://www.imls.gov/news-events/news-releases/imls-announces-22-million-new-stemex-grant-initiative