Research Team
‌ Meet the members of our lab!
‌
Dr. Catherine Haden
‌‌Graduate School: Emory University (1995)
Undergraduate: Wake Forest University (1989)
Current: Professor of Psychology at Loyola University Chicago (since 1997)
Interests: Information about Dr. Haden's research and teaching interests is available here‌
Haden is a Fellow the American Psychological Association (APA) Division 7 (Developmental) and the Midwestern Psychological Association (MPA). She has served as Program Chair, Membership Chair, and Member-At-Large, and Secretary of the Executive Committee, and is currently President-electof APA Division 7. She has also served as a Program Committee member, the Program Chair and Council Member of MPA. She is an Associate Editor of the Journal of Experimental Child Psychology. When she isn't working, Dr. Haden enjoys watching her daughter swim, and her son run, and walking her dog Sugar.
Dr. Graciela Solis

Current: Post-doctoral Fellow, Tinkering and Learning Engineering Stories
Graduate School: Phd in Developmental Psychology, University of California, Santa Cruz
Undergraduate: BS Psychology, Roosevelt University/ BA English Literature, Roosevelt University
About: Graciela is passionate about research and social justice. Her research adopts a sociocultural perspective encouraging the view that cultural communities must be examined within the context of meaningful activity and valued practices. Her research focuses on science education, narrative, pedagogy and child knowledge development, particularly among families of Mexican descent. Beyond research, she strives to give back to the communities she is a part of and seeks out environments that respect and value the experiences of non-dominant communities.
Diana Acosta‌‌
Current: Doctoral Graduate Student, Developmental Psychology
Undergraduate: University of Illinois at Chicago (UIC), BA Psychology, Suma Cum Laude
About: Diana's research interests include: understanding how children are learning about STEM at the museum, children's narrative reflections, identifying ways that parents can scaffold their children's learning, and cultural variations in informal learning. In her free time, Diana enjoys watching and attending Chicago Blackhawks hockey games, watching Netflix, and playing with her nephew.
Lauren Pagano
Current: Doctoral Graduate Student, Developmental Psychology
Undergraduate: Loyola University Chicago, BS Psychology, Magna Cum Laude & Psychology Honors
About: Lauren gained an interest in parent-child interactions and children's informal learning when working in the Children's Memory and Learning Lab as an undergraduate. She plans to continue researching this topic in graduate school. When outside of the lab, Lauren enjoys creative writing, drawing, animation, and voice acting.
Naomi Polinsky
Current: Doctoral Graduate Student, Cognitive Psychology, Northwestern University
Undergraduate: Barnard College, BA Psychology
About: Naomi studies how young children problem solve and learn in informal learning settings, such as at children's museum and even at home when they play with cool new toys and touchscreen computers. She is curious about how parents, the instructions for the activity, and even how the design of the learning space or game help facilitate and promote children's ability to work through these challenging problems and games and ultimately complete the task knowing that they have the skills to solve future problems as well! When Naomi is not checking out cool new children's toys, she enjoys dancing, hanging out with friends, and trying all of Chicago's ice cream shops!
Autumn Crowe
Current: Project Coordinator, Tinkering and Reflection Project
Undergraduate: BS Psychology, Loyola University Chicago
About: Autumn has enjoyed the opportunity to work with cross-sectional data, and learn more about research in service-to-practice. In addition, she has been able to explore her interest in parent and child interactions through the lens of parent engagement with their children in an informal learning environment. Autumn plans to pursue a Ph.D. in child clinical psychology with an emphasis in pediatric psychology. Apart from her research endeavors, Autumn enjoys cheering for the Cubs, watching Netflix, brunch dates with friends, and spending time with her family and pets
Gabriela Perdomo
Current: Project Coordinator, TALES Project
Undergraduate: B.S. Applied Psychology, New York University
About: Gaby's interest in child-parent engagement and narrative building began through her research at NYU, and she hopes to further expand her understanding through her work with the TALES project. In addition to working in the developmental psychology field, Gaby is interested in mental health advocacy for underserved populations, including women and children of color. As such, she intends to pursue a doctoral degree in Clinical Psychology. When not in the lab, Gaby enjoys true crime podcasts, all things Harry Potter, cooking, and hanging out at her local library.
‌
Meriem Sadoun
Current: Project Coordinator, Tinkering and Reflection Project, Northwestern University
Undergraduate: BS Psychology, Loyola University Chicago
About: Meriem has conducted research domestically and abroad in Tunisia, England and South Africa. Her current research explores the social influences on the athletic experiences of young Muslim women on high school sports teams. Meriem is excited to be working with the Tinkering Reflection And Engineering Learning (TRAEL) project at the Children's Memory Lab because of it's focus on narrative formation. She hopes to continue developing her technical skills in storytelling and applied research.
Undergraduate Research Assistants
Grace Avila
About: I am a Psychology major with a minor in Women Studies and Gender Studies. I am interested in researching learning, behavior, and gender in children. I plan on pursuing a masters and Ph.D. in Developmental Psychology. Outside of lab I teach violin to kids, as well as assist a boy with Autism.
Megan Bailey
About: Megan is a Psychology major working toward becoming a pediatric occupational therapist. By working in the lab, she hopes to broaden her interest in working with children and gain research skills. In her free time, she enjoys riding horses and watching crime shows.
Celeste Carsello
About: Celeste is a freshman at Loyola University Chicago working to get her BS in psychology and her BA in philosophy. She plans on getting a Phd in child and adolescent clinical psychology and becoming a child and adolescent therapist. This is her first experience with research and is excited to learn what being on a research team entails. In her free time she plays the drums, draws, and has a philosophy podcast hosted with her friend.
Charlene Cortez
About: Charlene is a third-year Psychology major on the pre-med track. She wants to pursue a career in the medical field as a physician, with a focus in pediatrics. She became involved with the Children's Memory and Learning Study to learn more about the workings in the minds of children, and to gain experience in a research setting. Outside of school, Charlene volunteers at Presence St. Joseph's Hospital emergency room and enjoys exercising, trying new foods, and spending time with her friends and family.
Kaitlin Henderson
About: Kaitlin is a senior undergraduate working towards a BS in Psychology with a minor in Criminal Justice. As part of the lab team, she hopes to gain a deeper understanding of children's learning and brain development when participating in hands-on workshops. In the future, she hopes to attend graduate school to receive her Ph.D. in School Psychology and work with students struggling in lower SES locations. In her free time, she enjoys playing and writing music, learning about different cultures, and going for long runs along Lakeshore.
Jacqueline James
About: Jacky is a Cellular-Molecular Neuroscience major with a minor in Bioethics. After graduation, she plans on attending medical school and to one day practice psychiatry. As a research assistant, she hopes to gain a better understanding of developmental psychology and learn about conducting and analyzing observational research. In her free time, Jacky likes to paint and draw, watch travel food shows, and spend time with her friends and family.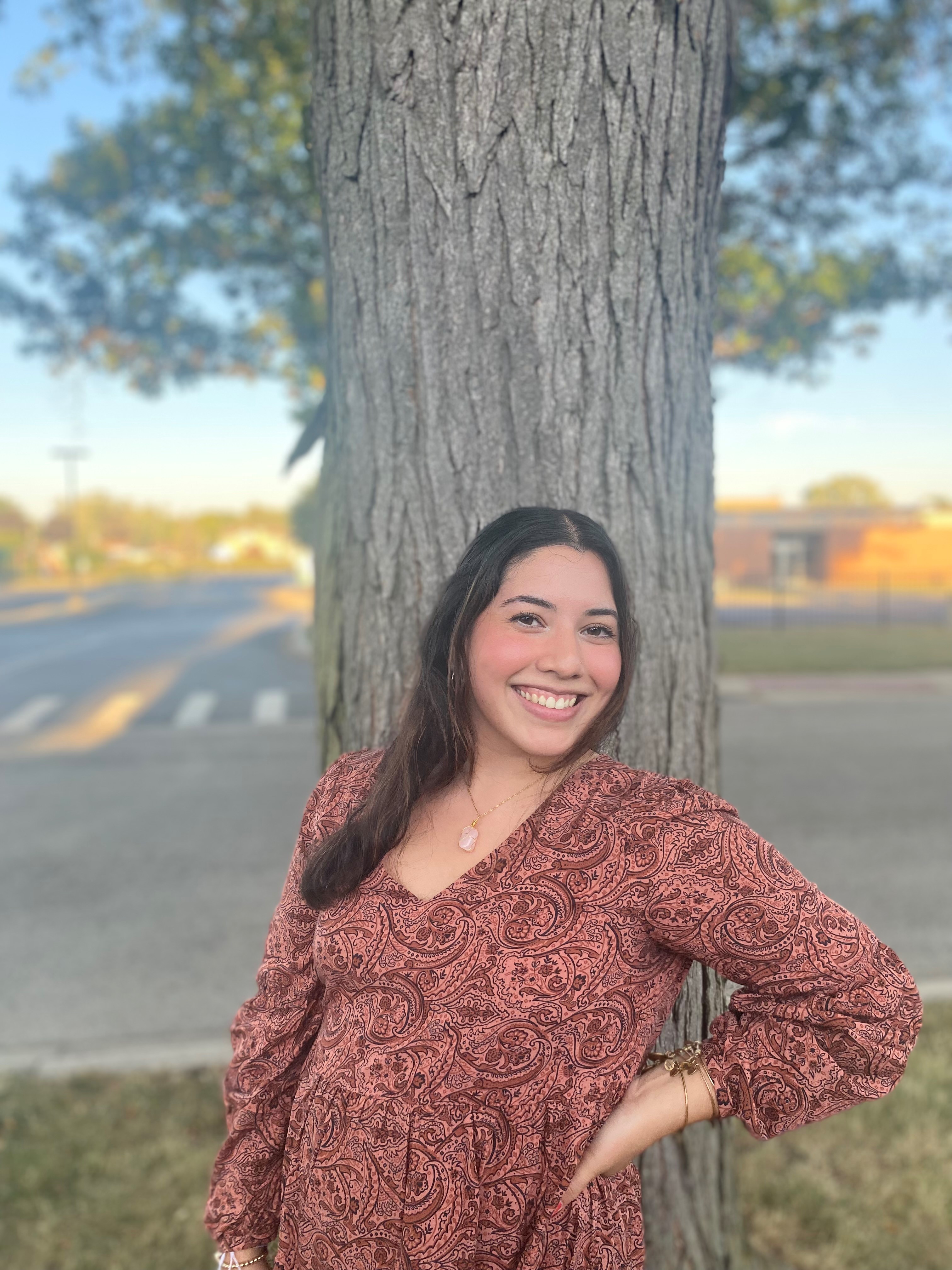 Chelsea Maldonado
About: Chelsea Maldonado is from Mount Prospect, IL and is a third-year undergraduate student at Loyola. She is currently pursuing her Bachelor's in Psychology with a minor in Neuroscience. Chelsea is proficient in Spanish and this is her first research opportunity. She hopes to continue her research track in the future and focus her research primarily on children of color to help advocate and promote social justice.
Hannah Melo
About: Hannah is a Biology with a minor in Psychology. She plans to attend medical school and pursue a career in pediatric medicine. While working in the lab, she hopes to gain a better understanding on children's memory and cognitive development, as well as learning different research techniques. In her free time, Hannah enjoys baking, finding new boba places, and spending time with friends and family.
Lab Alumni
Maria (Mia) Marcus, Ph.D. (2016)
Assistant Professor, Roosevelt University
Erin Wilkerson, Ph.D. (2011)
Visiting Assistant Professor, Binghamton University
Nora Brodson Benjamin, Ph.D. (2007)
Instructor, College of Lake County
Karen Kolmodin MacDonell, Ph.D. (2006)
Research Associate Professor, Pediatric Prevention Research Center, Wayne State University
Amy Hedrick, Ph.D. (2006)
Associate Professor, Lenoir-Rhyne College
Sam Fazio, Ph.D. (2005)
Director of Medical and Scientific Relations, Alzheimer's Association
Part-Time Faculty, Northeastern Illinois University
David Rudek, Ph.D. (2004)
Associate Professor, Aurora University
Barbara Havlik O'Brien, Ph.D. (2002)
Adjunct Lecturer Santa Clara University