archive
CURL's 25th Anniversary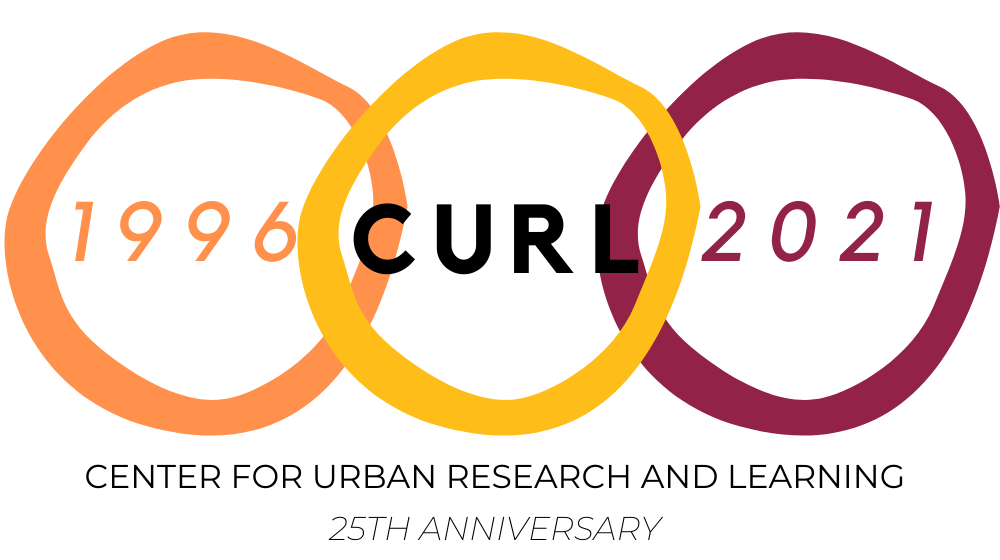 As we moved into the Fall semester here at CURL, we began to live and work in the next stage of the pandemic – partially on campus and in the community and partially working from home. Our classes were back in person and our fellows have returned to the office in many cases; it was good to see some life up on the 4th floor of Cuneo Hall. We even have had a few days where all of the full-time staff/faculty at CURL were in the office at the same time. Something that hadn't happened since March of 2020! While the return is still a work-in-progress, we are grateful to see folks (masked) face-to-(masked) face.
But not everything came back in person. Our Friday Morning Seminars continued to meet via Zoom (see more below) and many of our regular student and staff meetings continue to meet virtually. In fact, much of our research is still conducted using online technology and virtual spaces.
Of course, the other CURL event to be impacted by the pandemic has been a big party and fundraiser for our 25th anniversary. As many of you might remember, we have had fine and festive gatherings for our 5th, our 10th, and our 20th anniversaries. Clearly all of us at CURL like a good party!
We had hoped that we might gather together in person in 2021 to celebrate with all our partners in the community and the university. But that will not be possible. Perhaps we will find ourselves in a different place next year and we can celebrate the 1st anniversary of our 25th anniversary or something equally catchy in its title.
As we have reflected and remembered our 25 years of shared work, we do want to take a moment to ask you for your tangible support in this time of thanksgiving. We have what we think is a request that is keeping with our mission to nurture community-university research and learning collaborations.
We are asking that you consider making a donation to CURL. You can donate to our General Fund or to our Kale Williams Scholarship for undergraduates. Any amount – $2.50, $250, $2500 (do you sense a theme?) or more – is appreciated and makes it possible for us to expand our work. Nothing particularly unusual in that request.
But CURL is nothing without our community partners. We were created to connect and collaborate with them. We have work because they have work. We are able to educate our students in new and creative ways because they educate our students alongside of us. Over the last 25 years, our contributions to creating a more just world is because we have joined up with our community partners in their pursuit for justice for their communities.
And herein lies the "collaborative spin" on our request for your support: whatever you donate to us, we ask that you donate an equal or greater amount to a community group of your choice. (If you need inspiration, you can take a look at our ever-growing list of partners and our project history webpages, but we really want you to support a group that is important to you.)
Sure, that might mean that some people will have to cut their donation to CURL in order to make the match. And that is just fine by us. Indeed, it seems to us to be the best way to honor our collaborative work over the last 25 years! We hope you'll join us in a bit more collaboration.
We promise to have a party down the road. When have you known CURL to skip a party or a chance to eat and drink in celebration? For now, we are thankful to have you on our journey with us and we humbly ask that you celebrate this collaborative work done by so many!