11/2/17: Arab Women Rising
The Gannon Center for Women and Leadership
invites you to attend
"Arab Women Rising"
A panel conversation with
three young Arab women professionals as they reflect on
their experience and practice of leadership.‌
| | | |
| --- | --- | --- |
| | | |
| Eman Sarwat Abd El Malak | Safia Mohamed Hisham El-Soly | Marwa Mohssen Tosson |
| Teacher | Status of Women Researcher | Field Supervisor |
| Mahmoud Hassan Ismail Secondary School, Egypt | Al-Azhar University, Egypt | Care International, Egypt |
Thursday, November 2, 2017
4:00 p.m.-6:00 p.m.
Piper Hall, First Floor
Loyola University Chicago ● Lakeshore Campus
‌‌‌
‌
Eman Sarwat Abd El Malak
Mahmoud Hassan Ismail Secondary School, Egypt
Eman is a founding member of the Voice of Youth Foundation for Training and Development (MAAN Foundation in Egypt), a volunteer organization that tackles community projects related to training and education in soft skills, reproductive health, local elections, and women's empowerment in public or political work. Eman is currently focusing the organization's efforts on training for young women leaders to run for office in the upcoming elections. She is also a French teacher at Mahmoud Hassan Ismail Secondary School in Assuit, Egypt. Eman holds a BA in French from Assiut University in Egypt.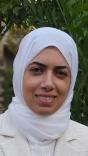 Safia Mohamed Hisham El-Soly
Al-Azhar University, Egypt
Safia El-Soly is an Egyptian Scholar at the English Literature and Translation Department of Al-Azhar University in Cairo. She is conducting research on a comparative study of the status of women in selected autobiographical stories by Egyptian writer, Aisha Abdel Rahman, and British writer, Antonia Susan Byatt.
Safia is also a motivational speaker and a professional trainer who develops workshops to empower women and who is dedicated to teaching women practical skills which support developing and maintaining a balanced life. She works with Egyptian organizations that provide leadership training for women. Recently, she has started a women empowerment initiative by translating and presenting international books, about and by women for women in her city, Giza.
Safia leaves a lasting impression with anyone who interacts with her, and she has the capacity to reach hundreds of women through her motivational words and thoughtful discussions. In the future, she would like to own her own organization or have her own TV show to facilitate these much-needed discussions to challenge women's role in Egyptian society.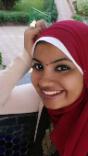 Marwa Mohssen Tosson
Care International, Egypt
Marwa is a Field Supervisor at Care International in Egypt where she works to improve access to formal and informal education for Egyptian and Syrian (refugee) students. Her goal is to reduce the education and social gap between the two demographics, and works on programs focused on children's rights and rights of adolescent girls. Marwa is also a regular volunteer at Heya Masr (She is Egypt), a nonprofit organization that provides leadership training, nutrition awareness, and sexual assault awareness to young girls in Egypt. Marwa works with girls ages 10-14 in a conservative part of Egypt to implement these trainings and contribute to the positive character-building of girls. Marwa has a Bachelor of Arts from Cairo University, and holds a Youth Participation Diploma from the Swedish Institute in Stockholm.
Marwa is dedicated to children's rights and the rights of young adolescent girls. Her background in working with local communities is evident through her professional and voluntary work. Throughout her career, she has worked in the field with women, children, and refugees, and her long-term goals involve working with these populations in a greater capacity and perhaps starting her own NGO one day. Marwa hopes to learn more about leadership and empowerment programs for young girls in the US, and is looking forward to networking with colleagues from the MENA region as well.