Piper Hall: Past and Present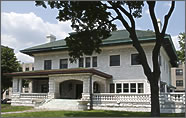 Piper Hall is currently home to the Gannon Center for Women and Leadership, in addition to serving as a venue for Loyola functions and private events. Built in 1909, the building is one of the few remaining early 20th century mansions that once lined Chicago's North Sheridan Road along Lake Michigan.
Architect William Carbys Zimmerman built the home in the American Foursquare architectural style for Albert and Cassie Wheeler. They sold the home in 1916 to Albert and Bessie Johnson. In 1929, the Sisters of Charity of the Blessed Virgin Mary (BVMs) built Mundelein College, a Catholic women's college, in the same block to the west of the home. During the Great Depression, the Johnsons sold the house to Mundelein, who converted the space into the college library.
Mundelein College used the structure for various purposes including a student center and the religious studies center. In 1975 the facility became Piper Hall, named for Kenneth and Virginia Piper, long-time Mundelein College supporters.
Piper Hall became part of Loyola University Chicago in 1991 when Mundelein College affiliated with Loyola. The restoration of the building in 2005 returned portions of the structure to the original design as well as provided space for the Gannon Center.
Currently Piper Hall's first floor is used for Loyola functions and private events. The Gannon Center staff offices, as well as a classroom and conference room, are on the second floor. The third floor is home to the offices and public research space of the Women and Leadership Archives (WLA), which is part of the Gannon Center and Loyola's University Libraries.