Carolyn Farrell, BVM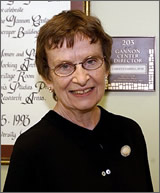 Carolyn Farrell, BVM, a member of the Sisters of Charity of the Blessed Virgin Mary (BVM), is an educator and social activist who integrates the political and the spiritual. Carolyn was the associate vice president and director of the Ann Ida Gannon, BVM, Center for Women and Leadership, Loyola University Chicago, since July 1, 1996, after facilitating the development of the Gannon Center during the transition period following the 1991 affiliation of Mundelein College with Loyola University Chicago.
Carolyn holds degrees in history and education and participated in a year-long leadership program at the Hubert Humphrey Institute for Public Affairs, University of Minnesota. Carolyn's roles in the public arena are varied and diverse, ranging from serving as mayor of Dubuque, Iowa, in 1980, to principal of St. Patrick Elementary School, also in Dubuque. In 1989, she was the first coordinator of the Women's Office of the Sisters of Charity, BVM. Carolyn has been involved in BVM administration; director of continuing education, Clarke College, Dubuque, Iowa; and served on numerous boards, some of which include the National Council for Research on Women, the Greater Chicago Chapter of UNIFEM and the Chicago Religious Leadership Network. Carolyn's travels to Beijing in 1995 for the Fourth International Conference on Women reinforced her commitment to strive for inclusiveness of women in different social, ethnic and cultural backgrounds.