Alice Bourke Hayes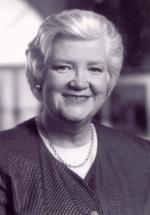 Alice Bourke Hayes, Mundelein College '59, is President Emerita, University of San Diego, where she was president 1995 to 2003. In recent years, Hayes served as executive vice president and provost at Saint Louis University, and for 27 years before at Loyola University Chicago, where she served as vice president for academic affairs, associate academic vice president, dean for the natural sciences and chairperson of the department of natural science. From 1960 to 1962, she conducted mycology research for the Municipal Tuberculosis Sanitarium.
Hayes is on the boards of trustees of The Pulitzer Publishing Co., St. Louis Science Center, The Urban League of Metropolitan St. Louis and Catholic Charities. She has been a member of the National Aeronautics and Space Administration's Space Biology Program and served on advisory panels of the National Science Foundation.
Hayes won awards for leadership and service from the National Multiple Sclerosis Society and the Holocaust Memorial Foundation.
---