Kumiko Watanuki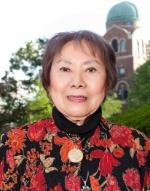 Kumiko Watanuki, Mundelein College '84 and '87, is an active professor, business consultant, and trainer with more than 35 years of experience in corporate planning, marketing, human resources administration, management training and development, operations management and organization development and transformation. Her extensive professional track record includes work with both for-profit and not-for-profit organizations.
Since 1992, Dr. Watanuki has owned a private consulting firm, Watanuki & Associates, and has served as a adjunct professor at DePaul University. She has traveled around the world for business and currently travels annually to Bankok, Thailand, as a visiting professor at Assumption University.
Dr. Watanuki has published a number of articles, books and presentation, including the autobiographical East Meets West: Life Story (2007) and her dissertation, "Excellent and Culturally Sensitive Teaching and Learning in Adult and Higher Education" (2005).
---