The Passing of Ann Ida Gannon, BVM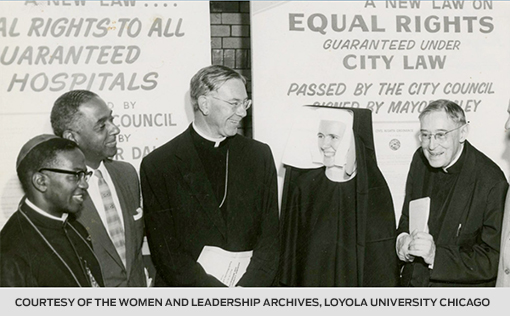 Dear Friends,

It is with great sadness and a deep sense of loss that I inform you of the peaceful death of Sister Ann Ida Gannon, BVM. She died on June 3 after suffering a fall over the Memorial Day Weekend. She was in the caring and compassionate hands of her sisters who loved her for 85 of her 103 years. She was a source of great leadership, wisdom, and grace for us while we were young and as we continued to grow as women leaders in our Church and world.

One of the joys I had as the director of the Gannon Center for Women and Leadership was the chance to be in direct communication with Sister Ann Ida. I learned much from her, and at each encounter, I came away with a deeper appreciation for her sheer genius and immense love. Over the course of the years, she said that she had just two regrets in her life: that she had not insisted Sister Jean Dolores attain a PhD and that the Equal Rights Amendment was not ratified by the State of Illinois. With Sister Jean earning a Honoris Causa PhD in 2016 and the passage of the Equal Rights Amendment in Illinois this last week, one can only imagine that Sister Ann Ida could begin the next chapter of her eternal life with no regrets on this end.

The BVM Sisters will be holding Sister Ann Ida's funeral at Mt. Carmel, the Sisters of Charity of the Blessed Virgin Mary (BVM) motherhouse in Dubuque, Iowa, on Friday, June 8. Knowing that many of you may not be able to attend that service, the BVMs will be establishing a live stream and recording of the wake, sharing of memories, and Mass of Christian Burial. In addition, Loyola University Chicago and the Mundelein Alumnae Board will be hosting a Memorial Mass for Sister Ann Ida in late July. We will contact you with the specifics for that Mass in the near future.

Sister Ann Ida frequently asked me to remind our alumnae of how deeply proud she was of us and our contributions as women leaders. Today, I will take the opportunity to join with you in expressing how deeply proud we all are of Sister Ann Ida Gannon and the transformative influence she had upon our lives.

May God comfort us all with our faith in the community of saints.

In deep sympathy,
Janet W. Sisler
Director
---
Special video of Sister Gannon
As part of the Loyola University Museum of Art's 2014 Crossings and Dwellings exhibit, Sister Gannon was featured as a Sister Builder in this wonderful video. Watch video.

Memorial gifts
Memorials gifts may be sent to the Sister Ann Ida Gannon, BVM, Center for Women and Leadership or made online.

Loyola bereavement page announcement
Read more about Sister Gannon on Loyola's website.