archive
Loyola Faculty, Staff, Students and Alumni Present at the Society for Social Work and Research Annual Meeting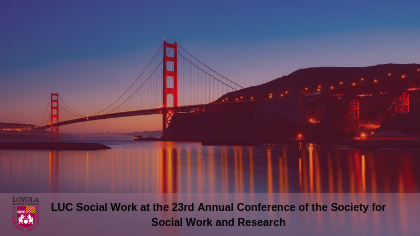 SSWR 23rd Annual Conference in San Francisco, CA from January 16 - 20, 2019.
There are different ways you can connect with our School of Social Work during the conference:
Add to your agenda the numerous talks from our faculty, students and alumni: Loyola SSWR 2019 Presenters Schedule.
Visit our reception on Friday January 18 from 8-9 pm at the Hilton - San Francisco - Union Square Rooms 3 & 4
Follow our Twitter feed @LoyolaSSW, we will be tweeting updates regularly using #SSWR2019
The SSWR Annual Conference offers a scientific program that reflects a broad range of research interests, from workshops on the latest quantitative and qualitative research methodologies to symposia featuring studies in child welfare, aging, mental health, welfare reform, substance abuse, and HIV/AIDS. Over 500 symposia, workshop, roundtable, paper and poster presentations.