archive
MSW student completes internship in Thailand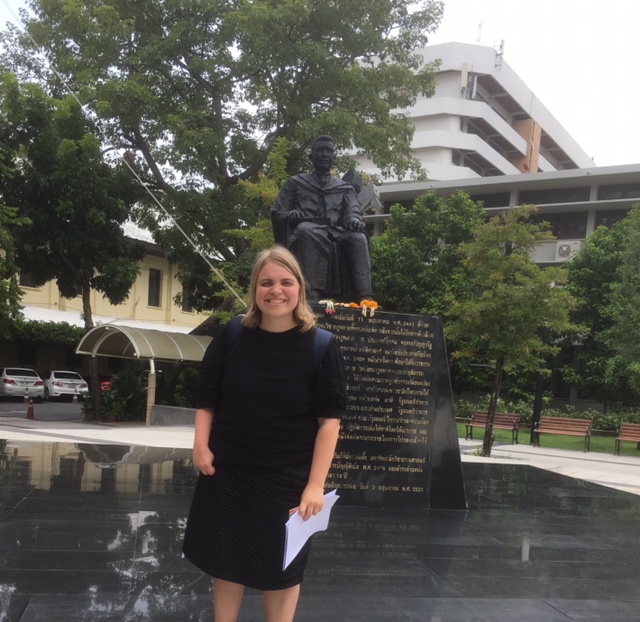 My name is Nicole Betteridge and I am a recent MSW student at Loyola University Chicago. While I have been studying in the United States, my love of international social work has taken me to many parts of the world. I am currently completing my final MSW internship through a partnership between Thammasat University in Bangkok and Loyola University Chicago. My internship is in the Child and Adolescent Psychiatry Department of Siriraj Hospital in Bangkok, Thailand. Situated on the banks of the Chao Phraya River, Siriraj Hospital is one of the oldest and largest hospitals in Thailand. It was established in 1888 by His Majesty King Chulalongkorn and covers a land space of 73 rai (approx. 117,000 square feet).
As a medical social worker in Thailand our cases may be much more diverse than a social worker may find working in a department of a USA hospital. We handle cases of children living in severe to moderate poverty with a single parent or grandparent, children with learning disabilities and low IQ's, child victims of rape and other sexual abuse, drug use, school refusals, mental and mood disorders, such as depression and suicidal thoughts, schizophrenia, anxiety, adjustment and conduct disorders. The department also works with a few cases of asylum seekers (currently from Pakistan). Our work with children and adolescents is broad and takes us to many parts of Bangkok as well as outlying locations for court hearings, school consultations, and home visits. As a teaching hospital we also have time with senior level doctors for seminars on medical conditions and research as well as case analysis and review.
While the situations faced by Asian children and youth may sound similar to that of many children and adolescents in the United States, there are many differences to the work here. There are only two universities in Thailand where an individual can obtain a Bachelor's or Master's degree in Social Work. Therefore, institutions, such as hospitals, lack enough professionals needed to help advocate and empower vulnerable children and youth. Thai culture is very collective and community focused. Thai people remain tranquil throughout the most traumatic of events. These cultural behaviors play an important role in the work we do at Siriraj Hospital.
I strongly encourage you to take the time to explore international social work opportunities as you further your education or career. While exploring international social work may seem irreverent to some people or take them outside of what is familiar (your "comfort zone"), I guarantee that an awareness of global social work will strengthen an individual's understanding of what it means to be a social worker. This is essential today as our world continues to become internationally interconnected!